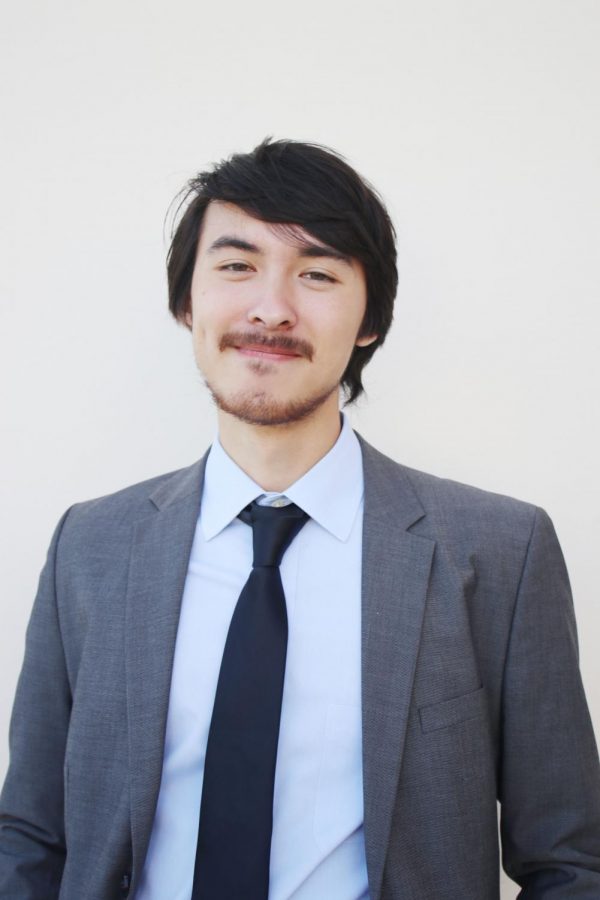 Christian Leonard is a junior journalism major whose affinity for chickens is really getting out of hand. He can often be found singing in the office, wrapped around a book, or arguing for the classification of cereal as a soup.
[email protected]
I came to Biola a nervous freshman, not really sure what I wanted to do during my time at university. Years of prayer and waiting seemed fruitless, until an academic counselor recommended I contact the Chimes, since I had shown a modest interest in journalism. I figured it was worth a shot, so I got in touch with the news editors. After a brief chat, I left, figuring I would write for them the following semester.
I was assigned my first story a few days later. The following semester, I became a news apprentice, stepping into a full editorship my sophomore year. Through the experience, I gained a greater appreciation for the bustling community that is Biola—its students, its administration, and its culture—and a deeper desire to serve it through storytelling.
As my time as news editor drew to a close, I was encouraged to apply for the editor-in-chief position, a prospect which both intimidated and thrilled me. Yet I ultimately saw it as a way to better support the publication through which God showed me His desire for my life. Now, as I oversee the Chimes, I am committed to upholding myself and the newspaper to standard of excellence, and to helping train the next generation of student journalists.
Christian Leonard, Editor-in-Chief
Apr 10, 2019

BREAKING: Science dean Paul Ferguson announced as next APU president

(Story)

Apr 01, 2019
Mar 19, 2019

Crime Log — March 12 – March 19

(Story)

Mar 05, 2019

Students return to dorms after gas leak stopped

(Story)

Feb 26, 2019

Crime Log — Feb. 19 – Feb. 26

(Story)

Feb 19, 2019

Crime Log — Feb. 12 – Feb. 19

(Story)

Jan 29, 2019

Crime Log — Jan. 22 – Jan. 28

(Story)

Jan 16, 2019

Biola deals with three-hour-long power outage

(Story)

Jan 15, 2019

Crime Log — Dec. 10 – Jan. 15

(Story)

Dec 23, 2018

The Chimes' fall 2018 editors' picks

(Story)

Dec 04, 2018

Crime Log — Nov. 27 – Dec. 4

(Story)

Nov 27, 2018

Crime Log — Nov. 13 – Nov. 27

(Story)

Nov 20, 2018

Campus Safety, LASD release man suspected of attempting to bring gun onto campus

(Story)

Nov 12, 2018

Trespassing suspect arrested, tased in Sutherland parking lot

(Story)

Nov 09, 2018

Biola Veterans Association finds home in the SUB

(Story)

Nov 09, 2018

Campus Safety arrests bike theft suspect

(Story)

Nov 09, 2018

Photo: Metzger Hall blocked off by fallen tree

(Story)

Nov 06, 2018

Crime Log — Oct. 31 – Nov. 6

(Story)

Nov 02, 2018

14 bicycles stolen from Biola

(Story)

Oct 23, 2018

Crime Log — Oct. 16 – Oct. 23

(Story)

Oct 18, 2018

Student Development takes closer look at anxiety and depression

(Story)

Oct 16, 2018

For the chief of Campus Safety, student mental health is personal

(Story)

Oct 15, 2018

Norwalk sheriff's station faces increasing mental illness reports

(Story)

Oct 10, 2018

Exercising influence without authority

(Story)

Oct 09, 2018

Crime Log — Oct. 2 – Oct. 9

(Story)

Oct 02, 2018

Crime Log — Sept. 25 – Oct. 2

(Story)

Oct 01, 2018

Blackstone Cafe delivery service cancelled due to lack of profit

(Story)

Sep 24, 2018

Campus Safety and LASD partnership leads to recovery of 22 bicycles

(Story)

Sep 18, 2018

Crime Log — Sept. 11 – 18

(Story)

Sep 11, 2018

Authorities respond to active shooter reports at hospital near campus

(Story)

Sep 04, 2018

Crime Log—April 10 – Sept. 4

(Story)

Sep 03, 2018

Letter from the editor: A new beginning

(Story)

Apr 25, 2018

Link between alcohol and sexual assault needs examination, departments say

(Story)

Apr 24, 2018

Faculty and students get the IDEA about professor evaluations

(Story)

Apr 18, 2018

New catalog focuses liberal arts by lowering some requirements

(Story)

Apr 16, 2018

Hispanic Conference helps pastors impact communities

(Story)

Apr 15, 2018

SGA passes four proposals

(Story)

Apr 11, 2018

Beyond the Bubble: Facebook data leaked

(Story)

Apr 11, 2018

Alumni question fairness of Title IX process

(Story)

Apr 11, 2018

Art department gets recommended for Bardwell

(Story)

Apr 10, 2018

Faculty discuss divide between conservative and liberal ideology

(Story)

Apr 10, 2018

New office prepares Sexual Assault Awareness month

(Story)

Apr 10, 2018

SGA launches rebrand

(Story)

Apr 04, 2018

Friend group defends character of student arrested for gun possession

(Story)

Apr 04, 2018

Students disagree on newspaper importance

(Story)

Apr 04, 2018

Crime Log ― March 27 – April 3

(Story)

Apr 03, 2018

Students rescue yearbook from phase out in SGA survey

(Story)

Mar 29, 2018

Crime Log ― March 20 – March 27

(Story)

Mar 29, 2018

Beyond the Bubble: Orange County opposes California sanctuary state policy

(Story)

Mar 28, 2018

Students desire awareness on Title IX

(Story)

Mar 28, 2018

Student receives Ruby Award for showing strength in adversity

(Story)

Mar 27, 2018

Student arrested on weapons charge

(Story)

Mar 21, 2018

Crime Log ― March 13 – March 20

(Story)

Mar 21, 2018

Fallen panel causes middle campus closure

(Story)

Mar 21, 2018

Beyond the Bubble: Five bombs go off in Austin

(Story)

Mar 21, 2018

Campus Safety adjusts active shooter procedures for tabletop exercise

(Story)

Mar 14, 2018

eyond the Bubble: North Korea opens denuclearization discussion

(Story)

Mar 14, 2018

Crime Log ― March 6 – March 13

(Story)

Mar 14, 2018

"Mother Teresa of Cairo" receives award at Missions Conference

(Story)

Mar 13, 2018

Music students express disappointment with university recognition

(Story)

Mar 13, 2018

Committee seeks change to doctrinal statement

(Story)

Mar 08, 2018

Crime Log ― Feb. 20 – March 5

(Story)

Mar 08, 2018

Students, faculty and staff pray for DACA

(Story)

Mar 07, 2018

Board funds online programs to ease tuition burden

(Story)

Mar 07, 2018

New food pantry to promote basic needs of students

(Story)

Mar 06, 2018

Christian Clubbing: Students unite over love for film

(Story)

Mar 06, 2018

Chase gym receives first renovation in eight years

(Story)

Feb 22, 2018

Senators pass two internal proposals

(Story)

Feb 21, 2018

Guy chosen as new dean

(Story)

Feb 21, 2018

Crime Log ― Feb. 13 – Feb. 20

(Story)

Feb 21, 2018

Administration seeks to protect undocumented students through legislation

(Story)

Feb 20, 2018

Gender climate assessment to gauge experiences

(Story)

Feb 15, 2018

McCoy Davis wins SGA election with 50.3 percent

(Story)

Feb 14, 2018

Students vote for representatives

(Story)

Feb 13, 2018

Christian Clubbing: KCM holds seminar on biblical role of men

(Story)

Feb 12, 2018

Faculty to teach healthy disagreement through public discourse

(Story)

Feb 11, 2018

Crime Log ― Feb. 6 – Jan. 13

(Story)

Feb 07, 2018

Beyond the Bubble: Winter Olympics present Korean peace

(Story)

Feb 07, 2018

Crime Log ― Jan. 31 – Feb. 6

(Story)

Jan 31, 2018

SCORR helps attendees find suitable workshops

(Story)

Jan 31, 2018

Crime Log ― Jan. 23 – Jan. 31

(Story)

Jan 31, 2018

Hispanic undergraduate enrollment increased 1.2 percent in fall 2017

(Story)

Jan 31, 2018

Christian Clubbing: "Star Wars" club discusses artistic depictions of series

(Story)

Jan 30, 2018

Campus Safety to offer emergency medical services to students

(Story)

Jan 26, 2018

Crime Log ― Dec. 17 – Jan. 23

(Story)

Jan 24, 2018

Elevators receive overdue safety permits

(Story)

Jan 22, 2018

Lower campus to improve barriers to deter criminals

(Story)

Jan 19, 2018

Community groups have first spring kick-off

(Story)

Jan 18, 2018

Crime Log ― Dec. 8 – Jan. 17

(Story)

Dec 07, 2017

Crime Log ― Nov. 29 – Dec. 5

(Story)

Dec 07, 2017

Deck the Haven lives on

(Story)

Dec 07, 2017

University Plan to shape students' future

(Story)

Nov 29, 2017

Crime Log ― Nov. 21 – Nov. 29

(Story)

Nov 29, 2017

Nursing survived, barely

(Story)

Nov 28, 2017

Crime Log ― Nov. 14 – Nov. 21

(Story)

Nov 28, 2017

Greatest Christmas films—according to us

(Story)

Nov 21, 2017

Subway robbery suspect fled through campus

(Story)

Nov 15, 2017

Speaker suggests solutions to poverty

(Story)

Nov 13, 2017

Birds of a feather flock together

(Story)

Nov 08, 2017

Students' book sparks immigration discussion

(Story)

Nov 08, 2017

Students seek hope after church shooting

(Story)

Nov 08, 2017

Christian Clubbing: Club sings for Japanese suicide awareness

(Story)

Nov 08, 2017

Crime Log — Oct. 31 – Nov. 7

(Story)

Nov 01, 2017

Students encounter assault suspect

(Story)

Nov 01, 2017

Nursing anniversary hosts science building tour

(Story)

Oct 30, 2017

Crime Log ― Oct. 17 – 25

(Story)

Oct 30, 2017

President Corey goes on leave

(Story)

Oct 30, 2017

Senators pass four open proposals

(Story)

Oct 29, 2017

All clear given for active shooter alert

(Story)

Oct 27, 2017

Calves bring home the money

(Story)

Oct 25, 2017

Lower campus dorms promote mental health

(Story)

Oct 18, 2017

Beyond the Bubble: In the wake of the storm

(Story)

Oct 18, 2017

Earthquake simulator shakes up students

(Story)

Oct 17, 2017

Crime Log ― Oct. 10 – 17

(Story)

Oct 15, 2017

New library liaison assists transfer students

(Story)

Oct 12, 2017

Students welcome the Holy Spirit

(Story)

Oct 11, 2017

Biola suffers internet outage

(Story)

Oct 08, 2017
Oct 05, 2017

Crime Log — Sept. 26 – Oct. 3

(Story)

Oct 05, 2017
Oct 04, 2017

Slight enrollment increase sparks hope

(Story)

Oct 04, 2017

Mosquitos buzz onto campus

(Story)

Sep 28, 2017

Crime Log: Sept. 19 ― Sept. 26

(Story)

Sep 27, 2017

CIA visits Biola students

(Story)

Sep 25, 2017

SPA enforces, endorses, reinforces club oversight

(Story)

Sep 21, 2017

Crime Log: Sept. 12 – 19

(Story)

Sep 20, 2017

Caf undergoes surprise inspection

(Story)

Sep 19, 2017

Science center move-in delayed

(Story)

Sep 19, 2017
Sep 16, 2017

Christian Clubbing: Anthropology Guild events widen perspectives

(Story)

Sep 16, 2017

Coordinators promptly present conference subject

(Story)

Sep 12, 2017

Crime Log: Sept. 5 – 12

(Story)

Sep 08, 2017

Hope continues to rise

(Story)

Sep 07, 2017

Orientation adjusts to shorter program period

(Story)

Sep 07, 2017

Crime Log: Aug. 31 – Sep. 5

(Story)

Sep 07, 2017

Crime Log: July 5 — Aug. 31

(Story)

Sep 07, 2017

President Corey launches LEARN

(Story)

May 27, 2017

Commencement remembers departed student

(Story)

May 17, 2017

Technology Commons to offer new services

(Story)

May 16, 2017

Crime Log ― May 8-15

(Story)

May 09, 2017

Talbot to start first fully online programs

(Story)

Apr 28, 2017

APEX flies to first

(Story)

Apr 25, 2017

Senators pass internal proposal

(Story)

Mar 27, 2017

Welcome center prepares to open

(Story)

Mar 23, 2017

Students enjoy film on being unashamed

(Story)

Feb 22, 2017

Symposium remembers Supreme Court Justice

(Story)

Dec 06, 2016

Music regulation revisited: responses a year later

(Story)