Christian Clubbing: "Star Wars" club discusses artistic depictions of series
Returning club uses new exhibit to spark conversations and camaraderie.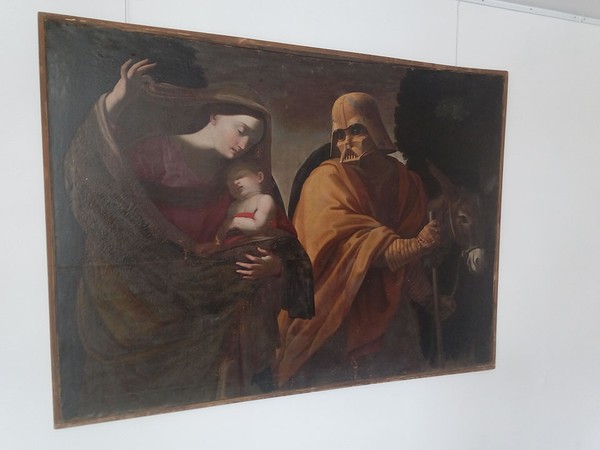 The recently reborn "Star Wars" club visited a small art exhibit which integrates 17th and 18th century art styles with characters and iconography from the popular movie series.
RETURN OF THE CLUB
Club president and alumnus Raymond Mendiola IV took club members to see the Gallery 30 South exhibit, titled "Religious Paintings of the Expanded Galaxy." This remained one of the first events the club held after transitioning to a sponsorship from Alumni Relations in fall 2017. Mendiola revived the group in spring 2017 with a May the Fourth event after it laid inactive since 2014.
"One of the reasons I came to Biola—I'd say it was one of the top two—is that I heard there was a 'Star Wars' club. But when I came in 2011, there wasn't a club, so I restarted it then," Mendiola said. "'Star Wars' has always been a big part of my life since late 2007 and at least for me it's not enough to enjoy something by yourself."
Junior business administration major Joseph Eastham believes the trip helped foster a community between the attendees, though not simply because of their destination.
"The parts I enjoyed… were not the parts I expected to enjoy," Eastham said.
Eastham believes that while the exhibit proved somewhat disappointing due to the relatively few number of paintings, the presence of the other members allowed him to share his love of the subject material during the two hour drive as they discussed the films and their characters.
MAKING CONNECTIONS
Freshman political science major Devin Tienken also appreciates the sense of community the club provides, which he believes remains distinct from that of Biola.
"Those two guys who were there, I didn't know them, and now I do. And I feel like that's the situation that can come from that, because that's not something you encounter at Biola," Tienken said. "At Biola everyone is biblically minded, so everyone is really pushing ideals at all times, and something like [the club], you don't come into conflict about interpretations of the Bible… you're just there for 'Star Wars.'"
Nonetheless, Mendiola connects many of the themes found in "Star Wars" to biblical concepts. For instance, he recognizes the character of Anakin, whom the series portrays as a Chosen One born from an immaculate conception, as a type of Jesus.
"Some of the beauty of 'Star Wars' is that it's not all cut and dry and it's not that defined in some aspects. In that way it's very universal, but there's a lot of Christian elements, or at least elements that work well with the Christian faith," Mendiola said.
The club plans to hold other events in the near future, including a visit to Death Valley where some of the scenes from the movie were filmed.