Students rescue yearbook from phase out in SGA survey
The President's Cabinet decided against discontinuing The Biolan after students expressed support.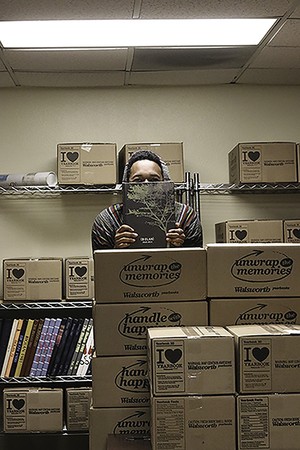 Due to a wave of student support, The Biolan has survived a phase out after the President's Cabinet reviewed survey data calling for its retention.
CABINET AWAITS STUDENT RESPONSES
During the campus-wide prioritization process last year to reallocate budgets, the cabinet decided it needed more information from students. With The Biolan's budget of $95,000, the cabinet requested the Student Government Association administer a survey which gauged student demand for the yearbook.
On Tuesday, the cabinet reached its decision: it would not phase out The Biolan. The cabinet found students enjoyed the yearbook for its quality and believed it worth cost.
Reflecting on the positive feedback after a tense period of waiting for the cabinet's response made Biolan photographer and junior cinema and media arts major Adam Washington grin with glee.
"Hearing some of the comments that students have said about the yearbook really brings joy… that we're communicating the stories well, that people are enjoying what we're putting out. So I'm really happy to hear that," Washington said.
The staff of The Biolan reeled when they learned their publication could undergo a phase out, according to Washington. He feels the phasing out of The Biolan would have caused Biola to lose some of its history.
"So many moments would not be purposely captured," Washington said. "From SOS week on, all the way to Missions Conference, intramurals and everything else… a lot of that special history would not be captured."
Senior director of University Communications and Marketing Brian Miller, who has also served as The Biolan's advisor for over 15 years, received 330 responses from the surveys.
"I kind of expected that more students would be indifferent. And what I was surprised to see is that there are a lot of students who really care about this publication and see it as a tradition that would be a shame to eliminate. It's not everybody by any means, but I was actually surprised to see the love for this publication come through in the survey," Miller said.
Miller initially believed the cabinet would make major changes to The Biolan's publishing model if it survived the phase out. However, the cabinet did not give any mandates after arriving at its decision.
STUDENTS EVALUATE YEARBOOK
While Miller and The Biolan staff believe the publication provides an important service to the community, not all students feel as enthusiastic about the yearbook.
"I personally don't really see the point of having a yearbook when you're in college," said Allie Orth, junior design major. "I have so many books that I need, that a big yearbook of a bunch of people that I may or may not know doesn't really feel like a priority, especially if it's expensive… That money could be going toward something better."
Freshman mathematics major Jayne Hanna disagrees. She wants a copy of the yearbook, even if she must opt in for it.
"I think that the yearbook is a fun way to hold on to memories of your time in college, because it passes by so quickly. It was encouraging to me as a freshman coming in and seeing the yearbook, seeing how much fun people had and their words of wisdom, even, in there. It just seems like a fun expression of the student body," Hanna said.