Birds of a feather flock together
New club flies to Midnight Madness to generate audience enthusiasm.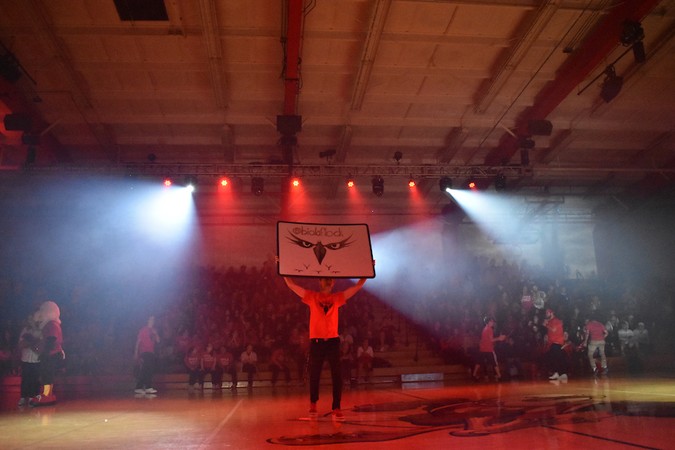 The Flock rallied students in celebration of Biola's movement to NCAA Division II during Midnight Madness, joining the other teams in stirring the crowd to screams of excitement.
At previous sports events, the Flock appeared to raise enthusiasm for Biola's athletic teams, but the club took the opportunity to introduce themselves to the greater student body, sprinting into the gym and tossing out the new spirit scarves to audience members. The crowd received them with piercing cheers and shouts of glee.
"That was so encouraging, because we've gone to some volleyball games already and the turnout hasn't been good," said Caleb Bailey, vice president of the Flock and sophomore English major. "But now they're getting lit and they know that this is what it's about, so now they're going to show up, hopefully."
To kick off the event, Xopoc and the Biola Dance Crew rallied the audience with their choreography and athletic skill.
For the first time, the pep band performed independent of any acts from the cheer team. The audience responded to the music with thunderous applause as the band celebrated Biola's entry into Division II.
"I think it's really cool that we're going into the NCAA," said Chloe Rogers, junior music in worship major. "There are a lot of Midnight Madnesses, like it's an annual thing, but it's really special this year for Biola, so I think that this school's really showing a lot of spirit for that, which is nice to see everyone come out and unified together as we go into this."
Women's and men's basketball players were introduced individually before the traditional three-point and dunk contests. Senior men's basketball player Steve Herve, who has to sit out this year due to injury, got the loudest cheer of the night. The Cameroon native has been a fan favorite at Biola for years.
While Herve and his teammates saw the audience's enthusiasm as the start of another year of constant crowd support, the women's basketball team hoped it was a sign of better things ahead for them.
"We don't have a lot of fans so it's good that [the students are] like all coming out and having a good time," said junior women's basketball player Jessica Shill.
Looking to avenge their loss to the women's team in last year's three-point contest, men's basketball trotted out four newcomers: freshmen Michael Bagatourian, Jake Satter and Kenneth Arrick II and junior Christian Carroll. The women countered with sophomores Danielle Kennedy, Kayla Macedo and Tatum Brimley and freshman Danita Estorga. The men's team took back the title with a narrow 22-20 win.
Redshirt freshman men's player Tyus Dennis won the dunk contest easily over sophomore teammates Trevor Treinen and Levi Auble, solidifying his victory with an authoritative two-handed slam. He had been eyeing this event for a long time.
"When I signed my letter of intent, I already wanted to win this thing," Dennis said. "I already had [this] goal in mind."
These athletes have earned the praise they received at the event, according to Bailey.
"They deserve a student section, they deserve fans, they're at a college so we should be there supporting them. So we want to be able to support them and also create a fun atmosphere for the students, like it's for the students," Bailey said.
About the Contributors
Austin Green, Managing Editor
Austin Green is a junior journalism major who was first among his friends to predict that LeBron James would sign with the Los Angeles Lakers. When not focused on school or work, he enjoys watching sports, going to the beach or coffee shops, and hanging out with the guys on his dorm floor.

[email protected]



I laughed the first time I heard a former editor-in-chief use the line "once you join the Chimes, you never really leave." Now in my third year here, it turns out...
Christian Leonard, Editor-in-Chief
Christian Leonard is a junior journalism major whose affinity for chickens is really getting out of hand. He can often be found singing in the office, wrapped around a book, or arguing for the classification of cereal as a soup.

[email protected]



I came to Biola a nervous freshman, not really sure what I wanted to do during my time at university. Years of prayer and waiting seemed fruitless, until an academic counselor recommended I contact the Chimes, since I had shown a...