New food pantry to promote basic needs of students
An upcoming survey will determine what percentage of students does not receive enough food.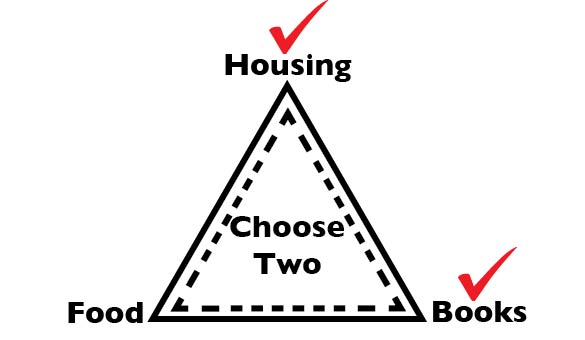 BiolaShares will launch a food pantry program later this month to help meet the needs of students uncertain whether they will find an adequate meal.
FOOD INSECURITY
The BiolaShares initiative addresses the issue of food insecurity, which refers to a situation in which a person feels doubtful they will have access to nutritionally acceptable food, often because of financial reasons. Food insecurity can affect from 14 to 60 percent of students on a college campus, according to assistant director of Student Enrichment and Intercultural Development Lester Larios.
"There's that stereotype that college students live off of ramen and water," Larios said. "It's one of those college things. It just kind of happens. But at the same time, we want to help students who, that is their reality, that that's all that they're eating, and after a while… you're going to get tired of it, but also it's going to prevent you from thriving in your education."
To meet this need, BiolaShares is partnering with Student Government Association to conduct a survey to find out how many students experience food insecurity. SGA also funded a proposal to hire a temporary student employee to manage the food pantry. Once hired, the employee will collect donations from food banks and oversee a volunteer staff to distribute the food to students. After making adjustments based on the success of the soft launch and information gained, BiolaShares plans to fully launch the pantry the following year.
"One of the challenges that comes to me is thinking of a long-term view. Like, how do we begin this well so it actually sustains itself and isn't just a band-aid, but actually something that is a systemic answer to a really deep need. And that's why we want to take the time to do it well," said Meleca Consultado, director of SEID.
FINDING THE PROBLEM
Sophomore intercultural studies major Elizabeth Rothermel believes that there may exist a stigma preventing a discussion of food insecurity.
"I don't think it'd be a common topic. No one really even assumes that that's an issue because you're required to have the meal plan," Rothermel says.
Sophomore business administration major Kyle Gerlach also believes students would not want to tell their peers if they were experiencing food insecurity. He also questions whether there exists a significant need for the food pantry to meet, particularly since the survey has not gathered student input.
"I probably would have to say that there probably isn't that much of a need for it on Biola's campus. I mean, are there always going to be those few outliers or few exceptions? Absolutely. But I don't know if that's something that is necessary to set up for our campus," Gerlach said.
While food pantries have sprung up in public schools and universities, similar initiatives remain uncommon among private Christian institutions, according to Consultado. BiolaShares currently offers other programs to help students alleviate food insecurity, including a meal donation initiative which allows students to receive free snacks in the Mosaic Cultural Center and the Collegium.
Consultado believes her relational experience with students during her time as a resident director has shown a need for the new initiative.
"[Students were] coming into our offices, they look exhausted, and as I'm listening to how their weekend was, I'm like, 'You haven't eaten this weekend?' It was either books, rent, food… and that's not a student thriving," Consultado said.