"Mother Teresa of Cairo" receives award at Missions Conference
Students learn about God's power of the darkness in Egypt and around the world.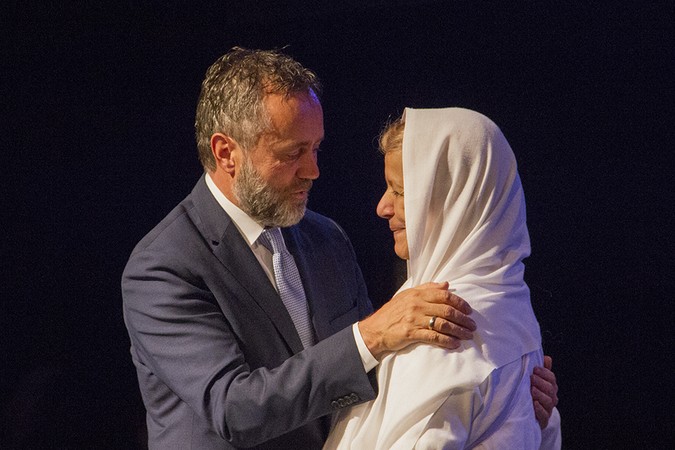 As "Mama Maggie" Groban delivered her acceptance speech for the 2018 Charles W. Colson Conviction and Courage Award, a sound broke through the still air of Chase Gymnasium—a baby's cry. Gobran, often called the "Mother Teresa of Cairo" for her work with the orphans and impoverished families of Egypt, just smiled.
"These are the children with us," she said, drawing a wave of laughter from the packed crowd. "We love you."
MAMA MAGGIE DRAWS ATTENTION TO POVERTY
Gobran remains the fifth person to receive the annual award, which Biola established in 2014 to honor individuals who have exhibited great bravery and faith. She founded and leads Stephen's Children, a charity which has reached hundreds of thousands of people in Egypt through educational programs, health care and family visits since 1989. President Barry Corey presented the award to her during the second session of this year's Missions Conference.
"This honor is for everyone. For every child who is hungry. For every old one who is neglected. For every young man and woman… who is oppressed," Gobran said to the audience. "For every mother and father who miss their children. For every spirit of life that is wasted away. We honor them and tell them today, from here, someone prays for them. Someone cares."
THE POWER OF PRAYER
Biola alumnus and lead pastor of Abundant Life Christian Fellowship Bryan Loritts delivered the first sermon of the conference, themed "Luminous" after the words in John 1:1-18. He spoke on the necessity of persistent prayer and asked the audience to consider whether the world would change if God granted all of their prayers from the last year.
"I just wanted to begin with a note of prayer and to help them understand that missions begins with prayer," Loritts said after the session. "A lot of times these conferences… can leave you just thinking about techniques, and the greatest technique is prayer."
ILLUMINATING THE DARKNESS
Junior intercultural studies major Nicole Demarcus believes the theme of this year's Missions Conference offers an intriguing subject for students to learn about.
"I'm really stoked about the theme… It's good to dive into those conversations about what the darkness is and what the light is, and being able to distinguish between those when there's a lot of grey area," Demarcus said. "If light overcomes the darkness, then how are they going to enter into conversations about how that's happening?"
She did not have to wait long for the conference to address the question. For the second session, president of the humanitarian organization Harvest India Suresh Kumar spoke about the importance of Christians to shine in the darkness of persecution and unbelief. He shared instances of the hardships Indian Christians face in a overwhelmingly Hindu nation and the faith they displayed despite often not having a concrete plan.
Gobran also led a breakout session of her own in the afternoon, telling attendees about the faith of the 21 martyrs in Egypt and encouraging students to hold on to the dreams God gives them.
"He has the power. He is in control of the whole world. Sometimes, we think we are the ones to solve the problem. It's his world and we rely on him totally and he is capable in all the wisdom and all the power, so why do we worry? Just focus on him," Gobran said after the session. "You will enjoy life more and you will become a winner, because he is the one who is carrying each one of us."
About the Contributor
Christian Leonard, Editor-in-Chief
Christian Leonard is a junior journalism major whose affinity for chickens is really getting out of hand. He can often be found singing in the office, wrapped around a book, or arguing for the classification of cereal as a soup.

[email protected]



I came to Biola a nervous freshman, not really sure what I wanted to do during my time at university. Years of prayer and waiting seemed fruitless, until an academic counselor recommended I contact the Chimes, since I had shown a...