Friend group defends character of student arrested for gun possession
Group discusses Jason Roberts' intent and call on community for more understanding.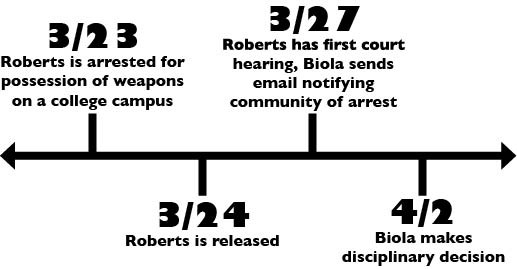 The guns were supposed to remain in his dorm for an hour before the group left for their annual weekend trip, according to his friend Russell Vick, senior biblical studies major.
Now, senior business administration major Jason Roberts faces multiple felony charges for the possession of an AR-15 and a handgun on campus.
ROBERTS RECEIVES SUPPORT
Since his arrest on March 23, Roberts has received a ban from campus and will not walk with his peers during the upcoming graduation ceremony. The Los Angeles Sheriff's Department determined he posed no threat to campus or its community. His charges stand, including manufacture of an assault weapon and the possession of a firearm on a college campus.
"It's such a kind of crazy situation, and a lot of people don't know how to think about it," Vick said. "[But] I think he and I would both agree that there's a way to recognize that what he did was wrong while also at the same time recognizing the nature of his character. And so that's the balance that has to be made here."
Vick, who has known Roberts since their freshman year, says he does not deny Roberts' error and is awaiting his trial date of April 18.
Every spring, Roberts goes on a trip with a group of friends to a ranch, where he brings his guns for target practice, according to his friend and senior communication studies major Jeremiah Kim. Kim says Roberts usually keeps his firearms in a storage unit, but may have brought them to his dorm in preparation for the trip.
Campus Safety and the LASD have not disclosed whether Roberts had the weapons loaded or secured at the time of his arrest.
Roberts will remain suspended until fall 2019, but Student Development has not expelled him, according to Kim.
STUDENTS VOICE CONCERNS ABOUT ROBERTS' PRESENCE
Sophomore cinema and media arts major Victoria Bee believes Biola should monitor Roberts if he returns to campus, if only for the sake of students' sense of security.
"Once he's able to come back, maybe just have additional check-ins or something just for a little bit of accountability there, and maybe, almost, to kind of make sure he doesn't do it again, or even for the comfort and reassurance for other students to know that he's not just going to roam back on with [firearms] or something," Bee said.
UCM AND SGA REMAIN INVOLVED WITH CASE
Due to federal law, Campus Safety and University Communications and Marketing cannot provide or confirm the details of the investigation. However, the university's typical practice remains banning a student who presents a threat to the community until they have gone through the legal process and Student Care, though this process varies with the case, according to director of communications Brenda Velasco.
"We're very limited on what we can share from a university perspective, including the student's name, because of FERPA. But we also are cognisant that we need to also provide the community with the information that allows them to feel safe or understand that the situation is being handled in a caring and safe way," Velasco said.
The Student Government Association discussed the case in their March 29 senate meeting. As a friend of Roberts, SGA president and senior English major Gregory Ambrose feels he himself remains in a difficult situation as a student leader.
"I don't think that the Biola community is to blame for responding fearfully or with anger with what he did. Before I knew it was Jason, I was reacting the same way as they did," Ambrose said. "But at the same time, it's also important to remember I have a duty to all the students on campus. Jason's actually still one of them. So I'm supposed to represent everybody in this and it's hard because there's a lot of tension."
STUDENTS DISCUSS PROPER RESPONSE
Some of Roberts' friends have felt more frustrated with the community. Friend of Roberts and senior cinema and media arts major Caleb Hudson feels students have jumped to conclusions about Roberts' character and intent.
"It's been discouraging to see Biola be so unloving towards him and so judgemental of him without knowing his heart at all, without trying to know him at all more as a person and just trying to fit him into a mold or a statistic. That's been really frustrating to see such an unloving response from a community that claims to profess the love of Christ as boldly as we do," Hudson said.
Some students have acknowledged Roberts' lack of violent intent, but still believe he should undergo disciplinary action. Sophomore business administration major Serena Ortiz does not believe Roberts should face expulsion, but feels the presence of the weapons caused significant concern for the community.
"Even if he wasn't planning on using them, just having that around is already making things uneasy, because it's just the fact that you have a gun on campus when you're not supposed to," Ortiz said.