The Chimes' fall 2018 editors' picks
The senior editors pick their favorite articles of the semester.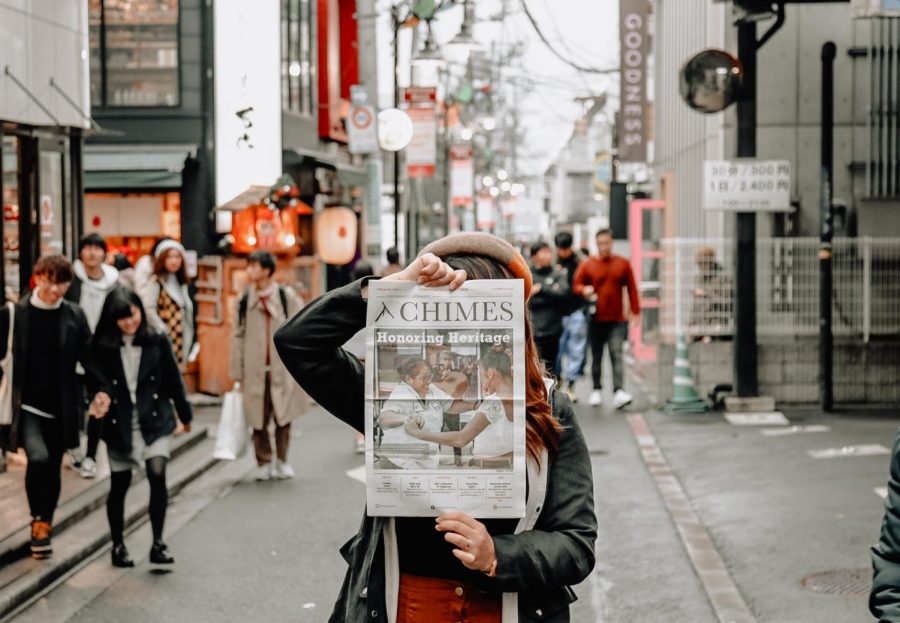 Back in August, as we geared up to make some of the most substantial changes to the Chimes in its 80-year history, we had no idea how blessed we would become. We oversaw an incredible staff that embraced the challenge of doing things in new, exciting ways while living up to the proud legacy of this paper. We were constantly floored by the diverse amount of stories we got to edit, stories that made us laugh, broke our hearts, gripped our minds and, most importantly, opened our eyes to diverse new stories and perspectives all across campus.
The best part is, we still have another semester to go. We cannot wait to continue bringing you quality, Christ-serving student journalism in the spring. But before we shut things down for the holidays, we would like to take some time to highlight some of our favorite pieces from the past semester.
Merry Christmas, everyone. Have a wonderful holiday season, and we'll see you in January.
– Austin Green and Christian Leonard
2018-19 Senior Editors
NEWS:
That time we… went to a migrant caravan encampment in Tijuana by Rebecca Mitchell and Pierce Singgih
College campuses are usually lightning rods of debate when it comes to politically charged issues. However, I have found that many Biola students tend to willfully ignore what is going on around them even as professors train them in a biblical worldview and take steps to model respectful discussion about relevant issues. This piece, written by current A&E editor Pierce Singgih and former managing editor Becky Mitchell, shows what happens when students decide to not only make themselves aware of tough topics outside of Biola but also engage them head on, applying what they have learned. -Austin
Campus Safety, LASD release man suspected of bringing gun onto campus by Austin Green, Kyle Kohner, Christian Leonard and Pierce Singgih
Any instance of unauthorized firearms near a college campus is frightening—it is worse when the college is one's own. This article was able to capture Campus Safety's response to a man suspected of attempting to bring a gun to campus. Though there yet remains some confusion around the incident, the story provides some context to the cautioning Campus Safety alerts sent out on that night in late November. -Christian
Thousand Oaks shooting devastation hits Biola by Isabelle Thompson
Biola community processes California blazes by Brittany Ung
This year has been a difficult one for California, which has seen both a mass shooting and the most destructive fires in state history. For some Biola students, the devastation hit far too close to home. News editor Isabelle Thompson and freelance writer writer Brittany Ung tell the stories of multiple students whose lives were affected by the fires. -Christian
Norwalk sheriff's station faces increasing mental illness reports
For the chief of Campus Safety, student mental health is personal
Student development takes closer look at anxiety and depression by Christian Leonard
There are not many student journalists I know who could take such a tough, sensitive topic on college campuses and turn it into a series that is both data-rich and full of gripping anecdotes. Christian has now done it on multiple occasions, including his series last year on Title IX and sexual assault. This series is as informative as it is compelling, taking you from a police standoff in a community near campus to intimate moments inside the offices of some of the most prominent people at Biola, all having to do with how to address one of the biggest current crises in higher education. -Austin
Other picks:
Soaring Stories: 'I am God's miracle' by Micah Kim
Students report troubles with housing rental service by Macie Cummings
ParaBrands aims to impact the world through fashion by Micah Kim
Soaring Stories: Behind the music of Angel Ramirez by Eliana Park
The woman behind the Special Olympics at Biola by Thecla Li
SGA hosts "One-Sided: A wake up call to our own insecurities" by Macie Cummings
Biola reaffirms LGBT policy after controversy at Azusa Pacific by Macie Cummings, Austin Green and Isabelle Thompson
$165,000 Hart wall to be complete by October, facilities management says by Isabelle Thompson
SPORTS:
Everything Eagles: Fall sports report cards
After a semester marked by both thrilling victories and disappointing losses, Austin rounds out his last Everything Eagles column of 2018 with his take on each fall team's performance. The summary provides an opportunity to celebrate what Biola's teams have done, and what they might look forward to. -Christian
Recruiting flourishes as NCAA era of Biola Athletics approaches
What does it look like to recruit at a high level for a private, faith-based university such as Biola? How does the school's move to Division II of the NCAA help that recruiting? Why did two of Oregon's best high school athletes in baseball and track choose to suit up for the Eagles in spring 2019? Chimes veteran Kyle Kohner answers those questions and more in this insightful, well-researched feature. -Austin
Other picks:
Volleyball claims second straight NCCAA championship by Joel Ashor
Humility, heroics and camaraderie underline Sami Penor's freshman dominance by Kyle Kohner
Cornerstone comeback: Volleyball storms back for five-set win over APU by Joel Ashor
Plendcio blazes trail both as runner and man of God by Joel Ashor
Volleyball's weirdest streak is for the birds by Austin Green
Men's cross country wins Biola's first PacWest championship by Joel Ashor and Andi Basista
ARTS & ENTERTAINMENT:
"Lalita" project inspires Indonesian women by Jocelyn Meza
Freelance writer Jocelyn Meza covers a creative element of the Indonesian community at Biola. Founded by two Biola students, the Lalita project gathers interviews from Indonesian women which will later be published in a book. The project's founders believe it will inspire Indonesian women to take pride in their culture. This story also explains how the founders use their personal experience to fuel their passion. -Christian
"A Brief Inquiry Into Online Relationships" Review: The 1975 charms with their nostalgic, cross-genre album by Kayla Santos
What truly makes A&E unique as a section is the insightful reviews of music and movies that draw the attention of Biola students. Thanks in large part to now-deputy editor Kayla Santos, comprehensive, insightful album reviews have become a staple of the A&E section this semester. Whether it's LANY, Jon Bellion or, in this case, British alt-pop band The 1975, Kayla digs deep into why these songs and artists are so appealing for the Biola audience. -Austin
Other picks:
"The Boys Next Door" joyfully highlights those in the intellectually challenged community by Brooke Torres
For All Seasons comes home by Pierce Singgih
Student Rappers put the Soul in 'Sola Soul' by Pierce Singgih and Kayla Santos
Angel Ramirez and Browdersister rock the Eddy by Pierce Singgih
Flight Deck takes off by Kayla Santos
OPINIONS:
Give stories the benefit of the doubt by Brian Brooks
We live in a world with beautiful stories that illustrate the struggle between good and evil in ways that not just entertain but also inspire us. Here, Brian urges us not to diminish the noble themes of classic fantasy stories through false interpretations that clearly contrast with the intentions of their authors, whether it be claiming that Lord of the Rings' depiction of Orcs is racist or believing that Harry Potter is meant to popularize satanic witchcraft. -Austin
The Christian call is more ordinary than you might think by Lily Journey
Speaking to her fellow college students and young people, Lily argues that the Christian way of life does not only involve missions trips and grand spiritual displays, but rather begins with humble, everyday acts. -Christian
Other picks:
In defense of Calvary Chapel by Micah Lynn Brady
A 24K eyesore: Calvary Chapel's redesign failure by Koh Yamamoto
To pursue or not to pursue happiness by Logan Zippieri
Bernie Sanders' BEZOS Act is an attack on the poor by Logan Zippieri
The challenge of maintaining diversity at Harvard by Koppany Jordan
PHOTO/VIDEO:
Volleyball gallery by Thecla Li & Chimes staff photographers
Midnight Madness 2018 Video by Michael Nerud
Nationball 2018 Gallery by Thecla Li & Chimes staff photographers
About the Writers
Austin Green, Managing Editor
Austin Green is a junior journalism major who was first among his friends to predict that LeBron James would sign with the Los Angeles Lakers. When not focused on school or work, he enjoys watching sports, going to the beach or coffee shops, and hanging out with the guys on his dorm floor.

[email protected]



I laughed the first time I heard a former editor-in-chief use the line "once you join the Chimes, you never really leave." Now in my third year here, it turns out...
Christian Leonard, Editor-in-Chief
Christian Leonard is a junior journalism major whose affinity for chickens is really getting out of hand. He can often be found singing in the office, wrapped around a book, or arguing for the classification of cereal as a soup.

[email protected]



I came to Biola a nervous freshman, not really sure what I wanted to do during my time at university. Years of prayer and waiting seemed fruitless, until an academic counselor recommended I contact the Chimes, since I had shown a...