"A Brief Inquiry Into Online Relationships" Review: The 1975 charms with their nostalgic, cross-genre album
The 1975's latest album is the cherry on top to end 2018's music scene.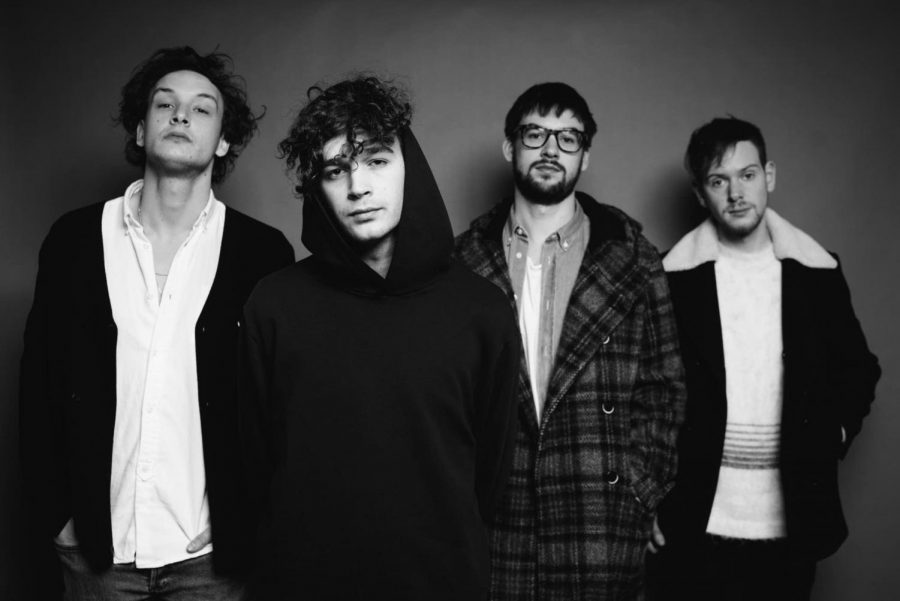 The two-year-long wait for The 1975's third studio album has finally come to an end with the Nov. 30 release of "A Brief Inquiry Into Online Relationships." The 15-track album explores frontman Matty Healy's eccentric thoughts about addiction, love and the internet. Known for their romanticism of the most melancholic issues, The 1975 continues to paint the brightest pictures of the darkest scenarios in this wildly experimental album.
Similar to their other two albums," this album opens with "The 1975." However, the usually euphoric, twinkling self-titled song takes a different turn this time. Instead, the album opener introduces listeners with a soft piano interrupted by a jarring, robotic Healy, who may be referencing the album's theme of the internet.
ENERGETIC INTRODUCTION
Released this past May as their first single off the project, "Give Yourself A Try" follows the minute-and-a-half long "The 1975" with its energetic percussive punches and shrieking Joy Division guitar riff sample, starting the album off with plenty of momentum.
"It's about how, whether it's through pop culture or literature, you're presented with the idea of these destinations of happiness, of being a grown-up and feeling OK about yourself— and it never really happens," Healy said in a November interview with Pitchfork.
Released in August as a single, the unashamedly pop-sounding "TOOTIMETOOTIMETOOTIME" feeds off the momentum of "Give Yourself A Try." This "Drake-y tropical house experiment" features an autotune Healy with wisps of synth augmentations in a relatively upbeat pop tempo similar to Drake's "Passionfruit."  
TAKING IT SLOW
The album gradually shifts into a slower, calmer mood starting with "How to Draw / Petrichor." The first half of the almost-six-minute-long interlude exudes a buoyant, sparkly lullaby vibe with a fuzzy, electronic Healy humming about his inability to draw. Soon after, the electronic glitches of Petrichor invade the once-serene soundscape.
Released in July as the band's second single off the album, "Love It If We Made It" boldly shares Matty's thoughts about today's pop culture with references to Trump, Kanye and Lil Peep. The running theme of "modernity has failed us" collides with a nearly-screaming Healy, support from the London Community Gospel Choir and a recurrent bright synth in this harsher version of The Blue Nile's "The Downtown Lights." To follow, The 1975 strips it down with the guilt-sodden "Be My Mistake," displaying Healy's vulnerable, hoarse vocals to pair the acoustic guitar.
Released in September as the band's fourth single off the album, "Sincerity Is Scary" encompasses The 1975's exploration of neo-jazz, featuring jazz trumpeter Roy Hargrove. Starting with what seems like percussive and brass cacophony soon binds together to form a pastiche of jazz tones and the band's unique electronica usage.   
ELECTRONIC TO ACOUSTIC
The 1975 steps back from neo-jazz and acoustics in their following songs "I Like America & America Likes Me" and "The Man Who Married A Robot / Love Theme." In the former song, autotune Healy returns to reveal his thoughts about gun violence over an electro-hip-hop backdrop, while "The Man Who Married A Robot / Love Theme" offers a Siri monologue about a lonely man whose dearest friend is the internet. The monologue reads over a symphonic instrumental that carries us into the pop-rock ballad "Inside Your Mind," which includes a strong piano and a repeating electric guitar cadence to support Healy's desire to pry through the deepest thoughts of his partner's mind.
Head-banging, foot-tapping "It's Not Living (If It's Not With You)," the band's final single before the release of their album, uplifts listeners with its funky guitar lines and glassy bell sounds. By its parallelism of Belinda Carlisle's cheery "Heaven Is A Place On Earth," you never would have guessed that this track uncovers Healy's drug addiction. In succession, the album's second acoustic number "Surrounded By Heads and Bodies" refers to David Foster Wallace's "Infinite Jest," a book Healy read in rehab. The track dramatically slows down the album once again after the lively "It's Not Living (If It's Not With You)."
CROWNING CONCLUSION
Probably the most surprising track of the entire album, "Mine," presents The 1975's version of traditional jazz. Because of its soft piano and woodwind whistles, it is difficult to pinpoint the direction of the song at the very beginning. However, as the woodwind whistles cease, the soft piano remains, leading listeners into a treat of an aristocratic piano imbued with mellow brass and percussive lilts to complement Healy's woozy vocals.
The final two songs of The 1975's impressive album take listeners back to the '80s and '90s with "I Couldn't Be More In Love" and "I Always Wanna Die (Sometimes)." Power ballad "I Couldn't Be More In Love" could have been released thirty years prior with its combination of Healy's strong vocals, an Eric Clapton-esque guitar solo and the buoyant keys throughout. The climactic "I Always Wanna Die (Sometimes)" is so '90s that Billboard credits the song as the "year's best 20th anniversary tribute to 1998 rock." The track's opening acoustics that echo Goo Goo Dolls' "Iris" gradually crescendos into a weighty electric guitar before finally breaking off into Healy's falsetto chorus. Considering the song as the perfect ending to a movie, let alone an album, would be a major understatement.
"I got David [Campbell], who did the strings for 'Iris' by Goo Goo Dolls, to do the strings for it. I was thinking, 'I have the potential for this to be cinematic," Healy said in an interview with Pitchfork. "Why not do a gritty, English 'I Don't Wanna Miss a Thing?' It just made a lot of sense."
BLAST FROM THE PAST
Embarking on this 58-minute journey with The 1975 means journeying with them through four different decades: the '80s, '90s, '00s and '10s. Somehow, the band managed to stir nostalgia while also maintaining their distinct style. This album easily stands as one of 2018's bests.
About the Writer
Kayla Santos, Arts & Entertainment Editor
Kayla Santos is a senior journalism major who loves gooey chocolate chip cookies, traveling to new places and playing volleyball at the beach.

[email protected]



Hi readers! I come to you from the city of San Jose, California, which is about one hour south of San Francisco (and has the best boba). I've always loved sports. I was always that girl that would rather be out playing basketball than going shopping or doing makeovers. I came into Biola as a kinesiology major with...