Soaring Stories: Behind the music of Angel Ramirez
Angel Ramirez pulls back the curtain to a score of music, mentorship and missions.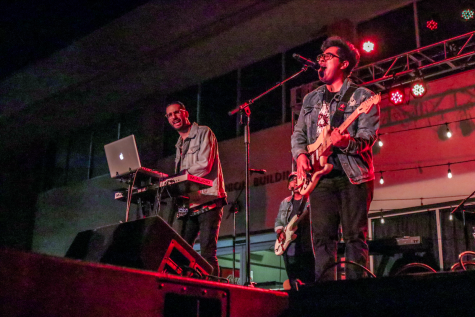 This story was originally published in print on Nov. 1, 2018.
Since the release of his three singles "Back to Earth," "Lonely Boy" and "The Hard Way," singer-songwriter Angel Ramirez has generated a cumulative total of over 10,000 streams on Spotify.
MUSIC AS A MILESTONE
Behind the heart and heartbreak of the soft melodies is a senior commercial music major from south central Los Angeles. His first exposure to music started close to home, as his dad was a bass guitar player. From seeing his dad perform with Spanish bands to going to rehearsals, Ramirez was surrounded by music from a young age.
Music was a forgotten fragment of who he was and the family he came from until he and his family became Christians. Music and church crossed paths in multiple ways. Church was where he learned his first chords. Church was what gave his parents jobs when he was applying to college. Church helped him find his purpose with music.
In a way, music was the milestone. His first inclination was towards rock and Metallica, and he dreamed of becoming a rock star. Coming from an impoverished neighborhood, Ramirez took advantage of the lessons available to him through church. He would also collect cans, using whatever change he would receive to help pay for his music lessons.
The church lessons helped him learn a few chords. That was just the beginning as he soon found his musical inspiration: acoustic songwriter John Mayer. He recalls replaying videos of how Mayer moved his fingers along the strings of the guitar and attempting to replicate his fluidity. His other musical influencers were Relient K and Switchfoot, both bands that tend towards genres like Christian rock, alternative pop and rock.
"I would listen to anything John Mayer said and take his advice seriously and that for me was like, 'If people are inspired by me, they will bear me talking about Christ,' and as weird as that sounds [it's] what I want to do," Ramirez said.
MUSIC AS A MAJOR
With his mother lacking American citizenship and his father having a severe back injury, Ramirez says he assumed the role of the man of the family. At 17, the Ramirez household received eviction notices. Ramirez dropped out of high school and started plumbing and repairing air conditioners. At 18, he was filing taxes and working his way up from a janitor in the factory workplace. At 19, he felt that God was calling him to go back to school. He started working 10 hours by day and studied to get his General Educational Development certificate by night, then applied to Biola.
"School started on Monday. Friday, I hadn't been accepted yet, or enrolled. Got a call. 'You're enrolled.' Scholarships, loans, all that stuff went through. I quit my job that day and started school on Monday. And so, ever since that, I've hit the ground running at Biola, trying to be involved in everything," Ramirez said.
The more Ramirez became involved, the more his music became about community. As he delved deeper into short-term missions, he realized the urgency of sharing the Gospel and his love for music were performing a balancing act in his life.
MUSIC AS A MISSION
"I know there's a backstory to connecting with my songs that I don't know. They have taken a life of its own and they have become other people's songs," Ramirez said. "It's not about me anymore… To see people have my lyrics on their [clothes] is a weird feeling because for me, it was something I sang in my room alone, and now people are singing along and wearing it."
Ramirez is now 23, hoping to graduate in the spring of 2019. He is looking to release more music and merchandise, but ultimately wants to become an instrument of God's will. Tuning into the call for his life has helped him gain a sharper ear for how music affects the hearts of those near to him and those across the world with access to his honest lyrics.
"Music is just kind of a byproduct of who I am… Of hard work, of just dreaming and kind of overcoming what society tells me to be. Coming out of South Central, that's a huge deal. Now, I have such a passion to go back and influence my city and especially Hispanics. I don't look up to many Hispanic artists and musicians, so I want to become that to people," Ramirez said.