Flight Deck takes off
Biola students launch their musical career with fresh alternative vibes.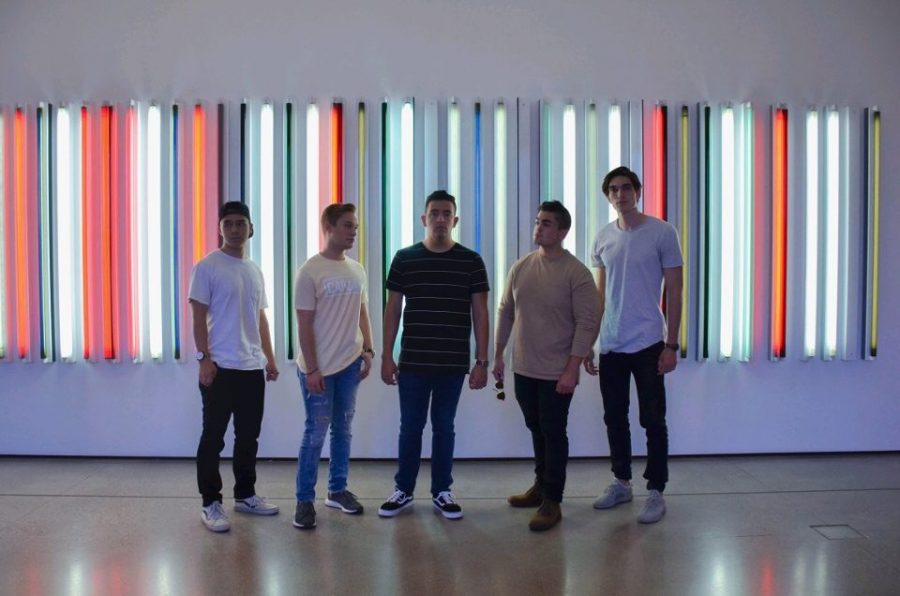 This story was originally published in print on Oct. 4, 2018.
College bands are a dime a dozen, but one band looks to stand above the rest.
Former Biola student Ricky Brandon and sophomore business administration majors Bryce Mckee and Will Kizanis have teamed up with Tyger Cortazar from Concordia University, Jordan Harris from Cal Poly Pomona and acclaimed songwriter Adam Watts to produce creative, Christ-inspired music. With a nostalgic style and thoughtful lyricism, alternative rock band Flight Deck, formed in March 2018, hope to take off into the music scene.
THE FORMATION OF FLIGHT DECK
During his time at Biola, singer and guitarist Brandon knew he wanted to channel his passion for music into a full-fledged band, but was not sure who to collaborate with. Luckily, senior business administration major Anthony Raffa, now the band's manager, connected Brandon with bassist Mckee, who would then later introduce the band to lead guitarist Kizanis. This band of four contacted Watts, a Disney songwriter and producer who composed songs for Jeremy Camp, Kelly Clarkson, High School Musical 2 and Camp Rock among other high profile projects, to produce their songs.
Eventually, Watts introduced the band to drummer Cortazar, officially forming Flight Deck. Comparable to popular bands such as Paramore, Linkin Park and Relient K, the band draws much inspiration from Switchfoot's alternative style and thoughtful lyricism. The young band has already released an EP and has played live shows in San Francisco and Los Angeles.
MUSIC THAT MOVES PEOPLE
Although Flight Deck's members do not classify their band under the Christian genre, their music still has Christian themes and references to God. Their song "All Along" assures listeners that even when they think they are alone, God is always with them.
"Even though we're not a Christian band, we want to make music that can move people and share a good message," Brandon said.
The band also constantly stresses the importance of making music that is genuine and relatable.
"You can restart. You can't fake heart," is sung in the chorus of the band's song "Nothing Lasts."
Brandon penned the words "You can restart" for anyone who feels they are in a dark situation and the only option left is to call it quits. He and the band want listeners to know they can always start over when they are stuck in a rut. The next line, "You can't fake heart" describes the lies people often tell others in order to cover up their true feelings. Often, people fake their way through life, pretending to be happy even when they are not. In this song, Flight Deck beckons for listeners to be honest with themselves when they are feeling discouraged, encouraging them that pain will ultimately pass.
Their most recent single, "Invention," released last Friday, is about our need to live the perfect lifestyle. This song reflects the depression some face when their desire to live the Instagram-perfect lifestyle falls short.
"There's a reason why we are who we are," Brandon said.
WHAT'S NEXT FOR FLIGHT DECK
With an EP and single under their belt, Flight Deck hopes to consistently release singles monthly or bimonthly. By focusing on singles instead of a full-length album, the band hopes to bring their music to people more frequently. In addition to new songs, the band is also fundraising to produce their very first music video for their song "Feel Again."
Though the band has not scheduled shows anytime soon, they wish to bring their music back to the place where it all started: Biola. Flight Deck aspires to one day play at The Eddy, an on-campus concert held twice a semester. Until Flight Deck produces any new songs, you can be sure to listen to their early 2000s-inspired self-titled EP on Spotify, Apple Music, Amazon Music, Google Play and iTunes.
About the Writer
Kayla Santos, Arts & Entertainment Editor
Kayla Santos is a senior journalism major who loves gooey chocolate chip cookies, traveling to new places and playing volleyball at the beach.

[email protected]



Hi readers! I come to you from the city of San Jose, California, which is about one hour south of San Francisco (and has the best boba). I've always loved sports. I was always that girl that would rather be out playing basketball than going shopping or doing makeovers. I came into Biola as a kinesiology major with...