Elevators receive overdue safety permits
Facilities to send advance notice to Industrial Relations to avoid having a repeat issue.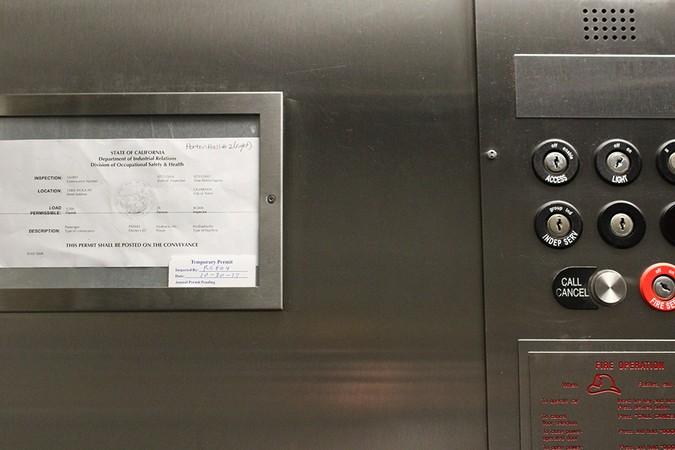 After the elevators on campus spent several months waiting for inspection, the California Department of Industrial Relations issued temporary permits to the services in November and January.
CATCHING UP WITH INSPECTIONS
Because Industrial Relations fell behind on inspections, many of the elevators' permits went approximately four months past their expiration date. All but two of the elevators, including an inoperable Hope Hall elevator, received temporary permits after an inspection on Nov. 7. After facilities management made the necessary repairs, Industrial Relations issued temporary permits to the remaining units on Jan. 18.
"They're looking to make sure everything in the elevators is working properly, and the manual that the contractor has to fill up every time they come in and service it is kept up, and that all of his notes are appropriate," said Beverly Cain, assistant director of facilities management.
These permits will remain temporary until Biola's elevator contractor, AMTECH Elevator Services, makes the required adjustments, which primarily includes the testing of components. Cain expects to receive the full permits for the elevators approximately two weeks after conducting fire testing, which is scheduled for the 29th and 30th of January.
SPEEDING UP THE PROCESS
Per the recommendation of the inspector, facilities management will send a letter to Industrial Relations requesting an inspection two months ahead of the elevator permits' inspection dates. Cain believes this measure will allow Biola to move forward in the queue of elevators needing inspection, instead of having to wait for the inspectors to address the units in the order they expire.
"We've never done that before, but we're going to try that this next year and see if we can get them out here and get this process going before they actually expire," Cain said.
For some students, many of whom use the elevators daily, experience testifies to the general safety of the units. Junior elementary education major Jillian Risser believes the ones in her dorm are particularly reliable.
"In Blackstone, they are really great. I've never felt unsafe in them. Sometimes in other elevators around campus, I've felt a little bit, "Ahh!", but for the most part, [they're] good," Risser said. "I feel like I trust Biola to keep us safe and inspect them well."
An expired permit does not necessarily suggest an elevator poses a risk to its occupants, according to Department of Industrial Relations officer Lucas Brown.
"Contrary to popular belief, elevators are not unsafe for the public to ride, by virtue of an expired permit to operate," Brown said in an email. "The most important element in providing elevator safety is a contract with a competent, elevator maintenance provider."
While Cain feels confident in the safety of Biola's elevators, she encourages students to report any problems they encounter in a timely manner.
"Always… let us know if there's a problem with an elevator," Cain said. "We really want to know if there's problems because you guys are our eyes and ears out there, and we want to keep them functioning."
About the Contributor
Christian Leonard, Editor-in-Chief
Christian Leonard is a junior journalism major whose affinity for chickens is really getting out of hand. He can often be found singing in the office, wrapped around a book, or arguing for the classification of cereal as a soup.

[email protected]



I came to Biola a nervous freshman, not really sure what I wanted to do during my time at university. Years of prayer and waiting seemed fruitless, until an academic counselor recommended I contact the Chimes, since I had shown a...