Speaker suggests solutions to poverty
A member of the American Enterprise Institute talked to students about assisting the poor.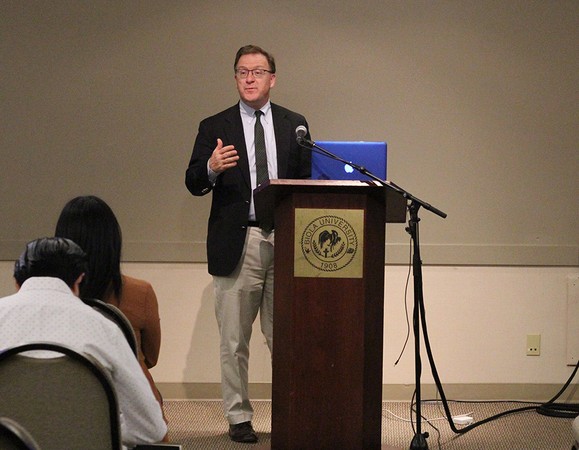 Morgridge Fellow in Poverty Studies at the American Enterprise Institute Robert Doar spoke to students about the importance of promoting labor and education to alleviate poverty on Monday.
MEETING POVERTY WITH EDUCATION
The consumption poverty rate fell to 3 percent in 2016, down from 6.1 percent in 2000 and 13 percent in 1980, according to a report by the University of Notre Dame. The student-run Biola chapter of the AEI Executive Council invited Doar, who presented on the reason for the falling rate and how it can continue to decrease. During his talk and Q&A, Doar discussed the importance of offering alternative educational paths.
"We have sent a message that the only thing that matters is a bachelor degree, and the fact is that many kids aren't interested in, necessarily, a four-year bachelor degree, and could get into work much more rapidly and much more successfully if they went down an apprenticeship program," Doar said to the audience.
Education remains one of the areas of advancement Doar believes helps reduce the poverty rate. Other important factors include pushing Americans to join the labor force, according to Doar. He maintains the government should supplement its subsidies and aid it offers by requiring people to work for an income.
After his presentation, students eagerly questioned Doar about government policies on various subjects, including public education reform, homelessness and institutional racism. Doar, recognizing the complex nature of the topics they were breaching, felt energized by the students' involvement.
"I hope that [students] see that we have made progress as a country in significant ways and we have a lot to be proud of, but we have some areas we need to improve," Doar said.
While Doar acknowledged the ideas he had presented remained primarily in the realm of government policy, he reminded the audience, that the spheres of government and community organizations often interact.
"I am very aware that there's a whole other world, the world of civil society, the world of faith-based institutions, the world of communities and neighbors and friends, that plays a bigger role in [government]," Doar said to the audience.
STUDENTS GAIN PERSPECTIVE
Member of the AEI Executive Council and senior political science major Kaiya Wychgel believes the event allowed her to better understand the background of poverty and the government policies responding to it.
"I feel like I learned a lot more about the history. I didn't really know a lot about that before, so I think just having that good background led to a lot of dots being connected," Wychgel said.
Wychgel's enthusiasm for the subject reflects the wish of vice president of the AEI Executive Council and junior political science major Solomon Chen, who wanted students to come away from the event having learned more about poverty.
"If you leave the event with a more nuanced perspective on such a big problem that everyone agrees on, [which] is people in need and how to help those people, if you leave thinking, maybe, a little differently about how to actually do that through the government, how to do that from the standpoint of helping someone else in a personal relationship, I think that's the goal," Chen said.
About the Contributor
Christian Leonard, Editor-in-Chief
Christian Leonard is a junior journalism major whose affinity for chickens is really getting out of hand. He can often be found singing in the office, wrapped around a book, or arguing for the classification of cereal as a soup.

[email protected]



I came to Biola a nervous freshman, not really sure what I wanted to do during my time at university. Years of prayer and waiting seemed fruitless, until an academic counselor recommended I contact the Chimes, since I had shown a...