Administration seeks to protect undocumented students through legislation
With DACA set to expire, administration supports immigration reform alternatives.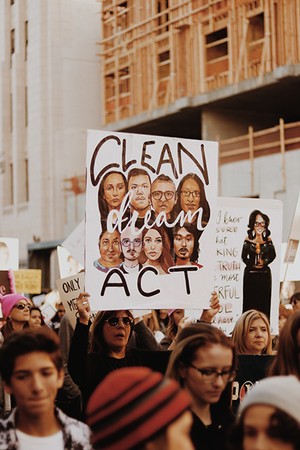 dministration announced its intentions to uphold the protections extended to immigrant students, faculty and staff in California Assembly Bill 21 on Jan. 30.
PROTECTION UNDER THE LAW
The bill, approved by California Governor Jerry Brown on Oct. 5, requires institutions of higher education like Biola to adhere to a set of procedures in response to a federal immigration order or the arrival of an immigration officer. For instance, if an immigration official comes onto campus, Campus Safety will serve as the main point of contact, ensuring the official has the proper documents before allowing them to speak to a student and contacting other departments, including University Communications and Marketing.
"We're here for you, we're praying for you, we'll do everything we can to protect you here. We need to comply with the law, certainly, but we're going to, under AB 21, exert our authority to protect your personal information," said Lee Wilhite, vice president of UCM. "We'll come alongside [students] as best we can, whatever the authorities are requesting, and journey with them through that process."
Though Biola has not received any requests from immigration officials, administration is working with elected officials to express support for legislation that will protect students, including Deferred Action for Childhood Arrival recipients, according to Wilhite.
Director of communications Brenda Velasco attended a conference held in Washington, D.C. by the National Association of Independent Colleges and Universities in early February. During the conference, she and a group of other attendees discussed DACA with officials, including Rep. Linda Sánchez, who represents La Mirada and other cities in California's 38th congressional district.
"All our representatives shared that they were in line with our concerns and that they were doing everything they could to advocate for a positive decision on DACA," Velasco said. "Linda Sanchez, our congresswoman, is a big advocate on this topic."
A NATIONAL ISSUE
After President Donald Trump announced the ending of DACA, which grants protection to those who immigrated illegally to the United States while under the age of 16, President Barry Corey responded to this decision in a public statement. Although Trump issued an end date of March 5, unless Congress presents an acceptable alternative, the validity of this date remains uncertain, according to CNN.
Professor of sociology Brad Christerson believes the guidelines offered by AB 21, while helpful, ultimately remain insufficient.
"We need a law to protect Dreamers," Christerson said. "[AB 21] may offer some protection while they're on campus, but… the bigger issue with Dreamers is, are they going to lose their work permits, are they going to lose their ability to keep going to school?"
Biola remains a member of the Council for Christian Colleges and Universities, which advocates for immigration reform to allow undocumented students to continue their education. Administration has followed that position, according to Wilhite.
"The [undocumented] students haven't self-disclosed, per se… but we are certain we probably have some, so we want to make sure every student has an opportunity to get their education here at Biola and be equipped in mind and character to impact the world for Christ, as we say in our mission statement," Wilhite said.
Corey will issue a statement to the Biola community once politicians make a decision regarding DACA, according to Velasco.