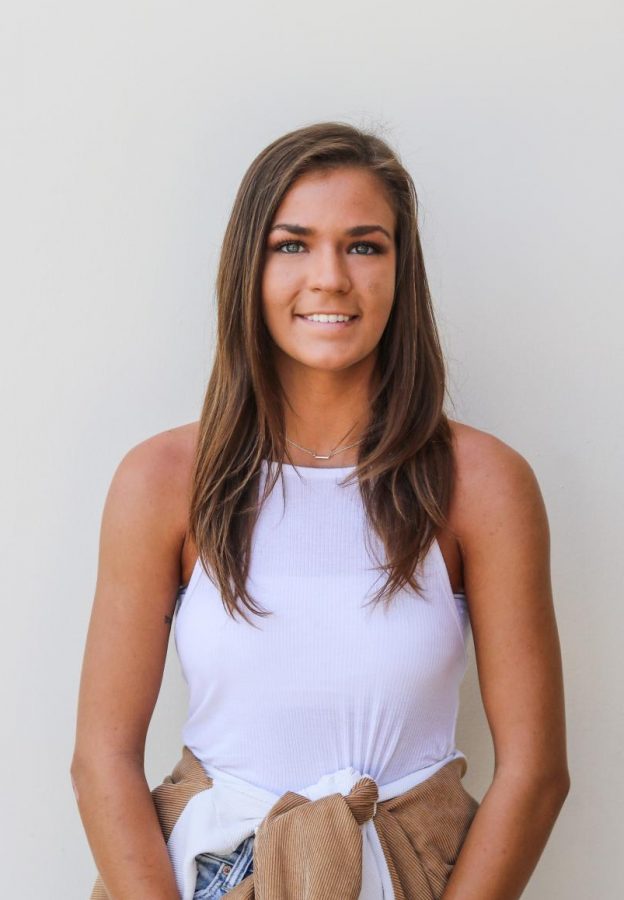 Andi Basista is a junior journalism major who loves basketball, underground music and is highly appreciative of a good beach day.
Originally from a small farm town in Ohio, I have put aside my corn shucking gloves to embrace a new life in the Angel City to study sports journalism. It is true what they say about culture shock and LA traffic. I am used to being late to work because of getting stuck behind a John Deere tractor, but now it is because of gridlock on the I5. However, I have quickly adjusted to the city life and haven't looked back since.
I moved from the midwest out to Los Angeles over two years ago. Since then my life has changed in big ways. I have learned the importance of pursuing my dreams in order to make them a reality.
Sports have been a part of my life for as long as I can remember. From the time I was able to stand up on my own, there was always a ball in my hand. Basketball quickly became my MO. I was involved in multiple athletic organizations, traveling on AAU teams and playing my way through my middle and high school league. My passion for the sport is what inspired me to pursue a career in sports journalism. Being at a place like Biola that has an abundance of opportunities has allowed me to expand from my small-town roots, and that is something I am truly thankful for.
GO CLIPPERS! (and of course, go Eagles)
Andi Basista, Sports Editor
Dec 03, 2020

Torrey Stricklin's recruitment reconstruction

(Story)

Nov 23, 2020

Newest Eagles Landing

(Story)

Nov 12, 2020

Danita Estorga nominated for Player of the Decade

(Story)

Nov 04, 2020

Life as an athlete in the Biola Bubble

(Story)

Oct 29, 2020

Outdoor conditioning canceled due to wildfires

(Story)

Oct 23, 2020

Biola Athletics begins weekly COVID-19 testing

(Story)

Oct 08, 2020

Athletes being tested for COVID-19

(Story)

Oct 05, 2020

Biola Athletics continues scholarships

(Story)

Sep 24, 2020

Athletics' adjustments to COVID-19 safety measures

(Story)

Sep 15, 2020

Biola baseball upgrades Eagles Diamond

(Story)

Sep 02, 2020

Why the NBA's decision to sit out matters

(Story)

Apr 29, 2020

From the editors: Life without sports—what do we do?

(Story)

Apr 20, 2020

Social distancing shifts campus life

(Story)

Apr 06, 2020

NCAA grants extra year of eligibility

(Story)

Mar 23, 2020

Senior athletes saddened by sports suspension

(Story)

Mar 14, 2020

Biola aquatics dive deeper

(Story)

Mar 12, 2020

Biola suspends all spring sports competition

(Story)

Mar 12, 2020

Men's basketball beat the odds in first-ever PacWest tournament

(Story)

Mar 10, 2020

Softball splits Silverswords

(Story)

Feb 29, 2020

Softball squeezes by in back-to-back victories

(Story)

Feb 28, 2020

Tennis dominates Holy Names

(Story)

Feb 24, 2020

Men's basketball on three-game winning streak

(Story)

Feb 24, 2020

Women's basketball clenches victory over FPU

(Story)

Feb 21, 2020

Tennis squeaks by Redlands

(Story)

Feb 20, 2020

Biola Athletics, ranked

(Story)

Feb 16, 2020

Track and field seals two school records

(Story)

Feb 16, 2020

Women's tennis sinks to Fresno Pacific

(Story)

Feb 14, 2020

Tennis stunned by Concordia

(Story)

Feb 11, 2020

APU takes Eagles tennis down

(Story)

Feb 08, 2020

Bryant's Death Hits Biola

(Story)

Feb 08, 2020

Women's basketball astounded by Academy of Art

(Story)

Feb 07, 2020

Baseball extends four-game winning streak

(Story)

Feb 07, 2020

Men's basketball continues losing streak

(Story)

Feb 01, 2020

Men's and women's tennis dominate Whittier

(Story)

Jan 31, 2020

Softball sweeps start of Concordia Kickoff Classic

(Story)

Jan 27, 2020

TMZ showed insensitivity toward Kobe's family

(Story)

Jan 26, 2020

Los Angeles reels from death of NBA legend Kobe Bryant

(Story)

Jan 25, 2020

Gym renovation forces students and student-athletes to share fitness facilities

(Story)

Jan 24, 2020

49ers Super Bowl extra special for head coach's nanny

(Story)

Jan 24, 2020

Men's basketball bounces back against NDNU

(Story)

Jan 18, 2020

Men's basketball falls short to Azusa

(Story)

Jan 18, 2020

Women's basketball struggles against APU

(Story)

Jan 17, 2020

Men's basketball defeated by Concordia

(Story)

Dec 14, 2019

Men's basketball seven-game win streak snapped by PLNU

(Story)

Dec 07, 2019

Women's basketball blows out Dominican, 84-53

(Story)

Dec 07, 2019

Men's basketball coaching legend steps into 40th year at Biola

(Story)

Nov 30, 2019

Women's basketball defeats Dominguez Hills in fourth-straight win

(Story)

Nov 26, 2019

Men's basketball extends four-game winning streak against Saint Katherine

(Story)

Nov 23, 2019

Men's cross country earns a top-25 finish at National Championship race

(Story)

Nov 20, 2019

Men's soccer head coach Todd Elkins steps down

(Story)

Nov 16, 2019

Women's swim and dive revitalized by Kauth

(Story)

Nov 16, 2019

Men's soccer overcomes FPU

(Story)

Nov 16, 2019

Women's soccer conquers Fresno Pacific

(Story)

Nov 14, 2019

Men's cross country heads to NCAA National Championship

(Story)

Nov 10, 2019

Men's basketball falls to Cal State LA

(Story)

Nov 08, 2019

Men's basketball chokes in overtime

(Story)

Nov 07, 2019

Men's soccer gets shut out against CUI

(Story)

Nov 02, 2019

Volleyball suffers tough loss to Concordia University

(Story)

Nov 01, 2019

Women's swim and dive crushes APU

(Story)

Nov 01, 2019

Women's basketball hopes unity brings success

(Story)

Oct 30, 2019

Women's golf places fourth in the Dennis Rose Intercollegiate

(Story)

Oct 26, 2019

Men's swimming places first in the Bay Area Invite

(Story)

Oct 26, 2019

Volleyball dominates Notre Dame de Namur

(Story)

Oct 25, 2019

Biola swim & dive earn two second-place finishes

(Story)

Oct 19, 2019

Men's basketball heightens hopes for upcoming season

(Story)

Oct 15, 2019

Women's golf soars at the Sonoma State Invite

(Story)

Oct 13, 2019

Volleyball leaves Hawaii with a loss

(Story)

Oct 11, 2019

Men's cross country takes first at SFSU Invite

(Story)

Oct 11, 2019

Volleyball takes valiant victory in Hawaii

(Story)

Oct 08, 2019

Women's golf sends three Eagles to Erau Invitational

(Story)

Oct 03, 2019

Star pitcher drafted to Washington Nationals

(Story)

Oct 03, 2019

Volleyball reigns over Point Loma

(Story)

Oct 02, 2019

Men's soccer prevails over Concordia

(Story)

Sep 29, 2019

Women's soccer defeats reigning conference champions

(Story)

Sep 28, 2019

Cross country faces tough competition in Sacramento

(Story)

Sep 24, 2019

Women's golf starts their season at the RJGA Shootout

(Story)

Sep 22, 2019

Men's soccer falls short in double overtime

(Story)

Sep 22, 2019

Volleyball shuts out ART U

(Story)

Sep 21, 2019

Cross country struggles at Coyote Challenge

(Story)

Sep 21, 2019

Eagles step into official NCAA Division II membership

(Story)

Sep 20, 2019

Cross country takes over in Oregon

(Story)

Sep 15, 2019

Volleyball splits doubleheader

(Story)

Sep 13, 2019

Volleyball loses doubleheader in San Bernardino

(Story)

Sep 07, 2019

Cross country starts the season off with a win

(Story)

Sep 07, 2019

Volleyball goes down 0-2 in Alaska

(Story)

Sep 03, 2019

Biola Athletics announces water polo will be added to varsity athletics

(Story)

May 04, 2019

Track and field ends regular season at CSU Fullerton

(Story)

May 02, 2019

Softball splits doubleheader against Azusa Pacific

(Story)

May 01, 2019

Athlete of the Week: Baseball's Larson Kindreich

(Story)

Apr 28, 2019

Track and field competes at the PacWest Championships

(Story)

Apr 28, 2019

Baseball wins big in game two against Concordia University

(Story)

Apr 25, 2019

Volleyball looks to carry their last season successes into 2019

(Story)

Apr 24, 2019

Women's golf soars through the PacWest Championship

(Story)

Apr 24, 2019

Men's golf end their program at the PacWest Championships

(Story)

Apr 23, 2019

Athlete of the Week: Track and field's Paige LaBare

(Story)

Apr 21, 2019

Baseball pulls off another win against Hawaii Pacific

(Story)

Apr 20, 2019

Track and field excel at the Bryan Clay Invite

(Story)

Apr 18, 2019

Softball sweeps Notre Dame de Namur

(Story)

Apr 17, 2019

Athlete of the Week: Softball's Kaile Chavez

(Story)

Apr 11, 2019

Men's basketball's Alex Talma goes pro overseas

(Story)

Apr 11, 2019

Women's tennis falls to Westmont College

(Story)

Apr 10, 2019

Athlete of the Week: Baseball's Brayden Englert

(Story)

Apr 10, 2019

Women's golf places sixth in Santa Rosa

(Story)

Apr 06, 2019

Baseball splits doubleheader

(Story)

Apr 03, 2019

Athlete of the Week: Men's golf's Scott Hatfield

(Story)

Mar 30, 2019

Track and Field setting sights on tougher competition

(Story)

Mar 30, 2019

Track and field excels in San Francisco Invite

(Story)

Mar 27, 2019

Athlete of the Week: Softball's Areana Ramos

(Story)

Mar 26, 2019

Softball sweeps Silverswords in back-to-back doubleheaders

(Story)

Mar 25, 2019

Softball dominates Silverswords in doubleheader

(Story)

Mar 20, 2019

Softball splits doubleheader against Hawaii Hilo

(Story)

Mar 17, 2019

Track and Field take sixth and seventh at PLNU

(Story)

Mar 14, 2019

Biola Tennis Center begins expansion

(Story)

Mar 13, 2019

Athlete of the Week: Women's Tennis' Esther Lee

(Story)

Mar 13, 2019

Softball splits second doubleheader against HPU

(Story)

Mar 02, 2019

Men's golf nears the end

(Story)

Feb 23, 2019

Women's tennis crushes Poets

(Story)

Feb 20, 2019

Men's basketball defeats Hawaii Hilo

(Story)

Feb 18, 2019

Women's tennis shut down by Cal State LA

(Story)

Feb 12, 2019

Men's basketball suffers heartbreaking loss to Concordia

(Story)

Feb 11, 2019

APU defeats men's tennis

(Story)

Feb 09, 2019

Men's tennis shuts out San Diego Christian

(Story)

Feb 05, 2019

Men's basketball rallies in Hilo

(Story)

Feb 02, 2019

Men's basketball bounces back against Hawaii Pacific

(Story)

Feb 02, 2019

SPA hits the road with flag football champs

(Story)

Feb 01, 2019

Men's basketball loses big to Chaminade

(Story)

Jan 20, 2019

Azusa Pacific finishes sweep of men's basketball

(Story)

Dec 01, 2018

Men's basketball earns their second PacWest victory

(Story)

Nov 29, 2018

Men's basketball wins their season's first PacWest game

(Story)

Nov 15, 2018

Men's basketball celebrates their second consecutive blowout win

(Story)

Nov 13, 2018

Men's Basketball soars above West Coast Baptist

(Story)

Nov 09, 2018

Men's basketball tips off season with a win

(Story)

Nov 02, 2018

Men's Cross Country wins Biola's first PacWest championship

(Story)