L.A. County sees a dip in hospitalizations as Biola's case rate spikes
A new coronavirus variant emerges in California, though Southern California cases decrease overall.
The delta variant took center stage over the last few months, accounting for nearly 99% of all new COVID-19 cases in the United States.. Now, a new potential problem arises, the mu variant. 
The mu variant began circulating Los Angeles County in mid-June, according to the Los Angeles County Department of Public Health. Since the detection, 167 people tested positive for the variant in L.A. County. 
MU MOVING IN?
Considering that the mu variant has been active for three months, the numbers imply that the new variant is not cataclysmic. Chief Medical Advisor Anthony Fauci is actively monitoring the variant.
"We're paying attention to it, but we don't consider it an immediate threat right now," Fauci said in a news briefing.
The World Health Organization does not have enough data to suggest that the variant is on par with the original viral strain, as current COVID-19 vaccines should still work as a defense. 
Due to the low number of cases, the Centers for Disease Control and Prevention has not labeled mu as a "variant of interest" or "variant of concern" at this time. 
CONTRAST IN REGIONAL STATE CASES

Southern California saw a slight decrease in coronavirus hospitalizations. Spectrum News 1 reported Wednesday that 66% of Orange County's hospital ventilators and 19.9% of ICU beds are available.
Providence Mission Hospital's associate director of the emergency department, Jim Keany, voiced concern over entering into a "horrible summer," but the rise in vaccinations and natural immunity combatted the surge.
"We had a huge influx of patients [at the start of the summer surge]," Keany said. "At Mission Hospital we had 60 patients. We're already down to the 30's. We have definitely come off the highs."
According to the Los Angeles Times, SoCal's summer peak never exceeded 30% of what the winter surge reported.
However, the L.A. Times also reported that the Central Valley and Northern California areas experienced a fourth surge, due to the delta variant. The San Joaquin Valley saw a threefold jump in deaths, climbing from 93 in July to 311 in August. The first week of September reported 78 deaths.
According to a prediction model from the Department of Public Health, health officials project cases to increase.
"[There are] very sick patients taking up every ICU resource and every bed that's available, with lots of stress and strain on the entire healthcare system," said Fresno County's interim health officer Rais Vohra.
BIOLA RATES RISE
While rates in Southern California declined, cases on Biola's campus jumped in a matter of days. As of Sept. 5, the campus reported 15 students and two faculty and staff members in self-isolation after testing positive.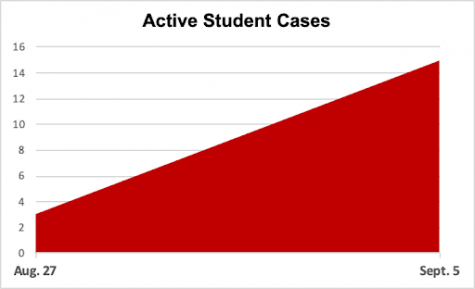 Face coverings are still required indoors for all students and faculty. As a potential outbreak lingers, Student Development expects accountability from students to perform daily self-health checks before entering campus.