Tennis taken down by HPU
The men's and women's tennis teams both took tough losses to Hawaii Pacific University.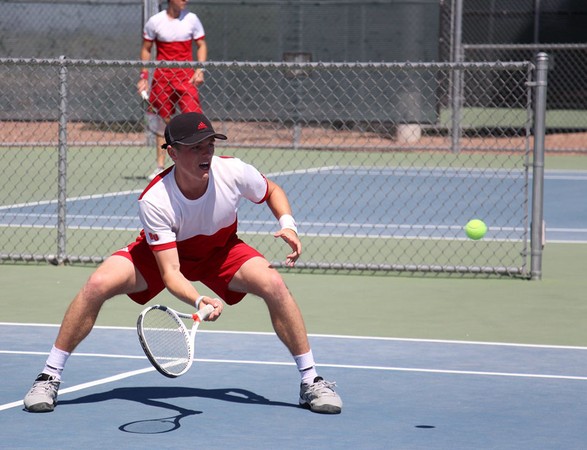 Biola tennis hosted Hawaii Pacific University at the Biola Tennis Center on Thursday afternoon. With both the men and women hitting a rough patch in their seasons, the Eagles were eager to reverse their luck. However, the women did not show resolve, losing in a 0-4 sweep. The men put up a better fight, but inevitably fell as well, losing 2-5.
HPU SHARP HITTERS
The women took double losses in the doubles matches and left one unfinished. Freshman Gaby Carvajal and sophomore Ines Diaz were put to the test by a strong HPU No. 3 opponent who defeated the Eagles pair 0-6. Freshman Colbyshae Emery and sophomore Mary Brascia were able to stay in their No. 1 competition, but still fell 3-6. Freshmen Brooke Fager and Lilly McNeill left their doubles unfinished.
Emery, Carvajal and Brascia were all defeated in their singles matches while Diaz, McNeill and Fager left the courts unfinished.
EAGLES TESTED
The men had a more productive afternoon, securing a single win in the doubles matches thanks to sophomores Alexei Prokopchuk and Antonio Rosales Varona who defeated HPU 6-4. Sophomore Sebastian Herrera and senior Erik Martinez fell in a down-to-the-wire match, 6-7. Freshman Isaac Cordova and sophomore Alex Sedeno also fell to Hawaii Pacific in their No. 3 doubles, 2-6.
Prokopchuk continued his success during the singles matches with a third set win of 7-6. Sedeno was also able to score for the Eagles, winning his No. 5 singles in the third set 6-4. Herrera, Varona, Cordova and Martinez all fell in their singles matches.
The men now fall to a 9-8 overall record and the women to 12-5 as they both look onward to the PacWest Championships beginning on Wednesday, April 21.