Holmquist's quest to 1,000 wins
Men's basketball head coach achieves a historic milestone, becoming the fifth-most winning coach to ever reach 1,000 career games.
Dave Holmquist. A man of many hats; the former Fresno Pacific University head coach, former Biola University athletic director, current Eagles head coach, an inductee of the 2002 NAIA Hall of Fame, two-time NAIA Division I Coach of the Year, and now, the fifth-most winning coach with 1,000 wins, ever.
But how did he come to this moment? On Saturday, Feb. 27, Holmquist found himself in the same exact Concordia University Irvine arena where he won his 500th win in 1998. Flash forward one day before the 23rd anniversary of that game and Holmquist earned his 1,000th win against the same team. A special moment, no doubt. With the win, he now improves to a .710 winning percentage and a 1,000-409 record.
His climb to 1,000 wins dates back multiple decades. Holmquist began his coaching career with the Fresno Pacific Vikings in 1976, without a university gym to practice in. Looking back at such a daunting start to his collegiate coaching career, he never thought he would be where he is today, a Top 5 coach across all divisions.
While Holmquist has been coaching for a total of 46 years, the vast majority of his time has been spent at Biola. He left the Vikings to return to his alma mater and hometown in 1978 and is now in the midst of his 41st year as the Eagles' head coach. During 27 of those years, he also doubled as Biola's athletic director. Not many can conquer such a feat. 
"For me [1,000 wins] means I had to spend several decades doing something I love to do with people I love to be around," Holmquist said.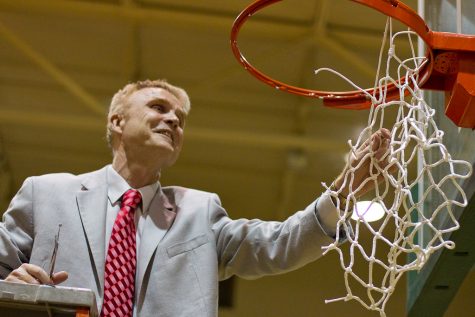 UNPHASED
Now, getting back to Holmquist making history. After the Eagles defended home court against CUI and granted Holmquist his 999th on Feb. 26, it was then time to venture to Irvine, Calif. to fight for number 1,000. While the anticipation surrounding the monumental moment was surely in the back of everyone's minds, it was just another game for Holmquist. 
"I was relieved," Holmquist said. "But what I was more focused on is [for] this team to get into the postseason. I'll think more about it when the season ends. Right now we are always focused on the next game."
Holmquist was found with hands behind his head, legs crossed, unphased in the remaining minutes of what would inevitably become his 1,000th win—a complete 180 of emotion compared to his "cottonmouth" nerves from his 500th victory nail-biter.
"I was aware that it was the 1000th win but I didn't think much about that until the last couple minutes of the game when it looked like we were going to win," Holmquist said "It's something that will unfold over time more when the season ends and I have more time to think about it and talk with former players. It's not so much how you feel that day it's how you feel over the course of the next number of weeks and even months and reflecting on it."
It may take time for coach to realize he is in sports history records, but it did not take long at all for the media to begin celebrating.
View this post on Instagram
SPORTSCENTER RECOGNITION
Not many can say that they watched with wide eyes as their dad made history on SportsCenter for joining an elite group of coaches, but that is just what Tyler and Bryce Holmquist did. Such an accomplishment means more when you can share it with those who were there to support the journey.
"I'm thankful to have passed that number and be in that small group, but I am very aware that it was dependent on the people I was with and it wouldn't have happened if I wasn't with those people," Holmquist said. "Any coach will say you don't win if you don't have good players, and I've had good players and good people. It's a shared accomplishment and that makes it very rewarding and very enjoyable for me."

Holmquist is sitting pretty with more wins under his belt than other household notable names, like Jim Boeheim (Syracuse University), Jim Calhoun (Northeastern University/Connecticut University) and Bob Knight (Indiana University/Texas Tech University).
RANK:
*still coaching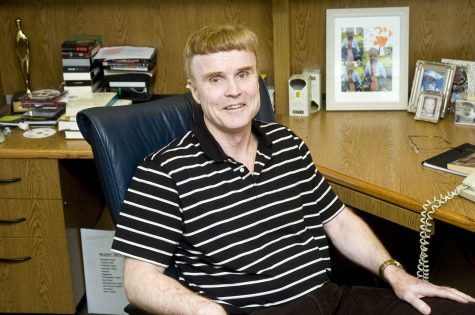 HOLMQUIST'S HOMAGE
Holmquist is a man of consistent respect and appreciation. Holmquist is a staple to the Biola Athletics program, and without his 40+ years, Eagles basketball would look very different. He cares deeply about his players, on and off the court.
"Dr. Holmquist is a great teacher, administrator, and mentor—wise, humble and inspiring," said Biola Athletic Director Dr. Bethany Miller. "His leadership and character as a coach and as our previous athletic director have formed and shaped the strong culture of our department, and he continues to represent the values of Biola University—truth, transformation, and testimony—in his work each day. We are blessed to have Coach Holmquist on our staff."
Due to COVID-19 restrictions, Biola Athletics cannot celebrate the accomplishment of Holmquist just yet. However, that has not stopped current and former players from rushing to reaching out to their mentor to congratulate him.
"I have a lot of great memories with former players and I have been in touch with many of them the last several days," Holmquist said. "It has been fun to laugh and talk about some of the memories we have together. There will be more time for that after our season ends, but there have been a lot of notes passed back and forth. I think any accomplishment when you do it with other people means a lot more to you."
Many forget that even though the role of a coach is to teach, coaches often are learning from their players, too. When it comes to building a relationship, it is a mutual respect and chemistry-based connection that leads to things bigger than basketball.
"I'm most proud of the friendships and the history I have with the people I coached," Holmquist said. "A few of them are a few of my best friends but I am grateful to all of them. Hopefully, they have learned some things being here and being on the team. I know I have learned a lot from many of my former players and continue to this day."

JOB'S NOT DONE
While Holmquist is sitting comfortably in the No. 5 ranking for most wins—ever, let me remind you—the climb continues. The coach in celebration wants more, and has plenty of the energy to do the job right. 
AB: "Any plans to retire?"
DH: "Not yet. I still enjoy it, I enjoyed this team very much. I have people I respect and appreciate, I have great assistant coaches. It was a rewarding abbreviated year for me and I'm looking forward to next year."