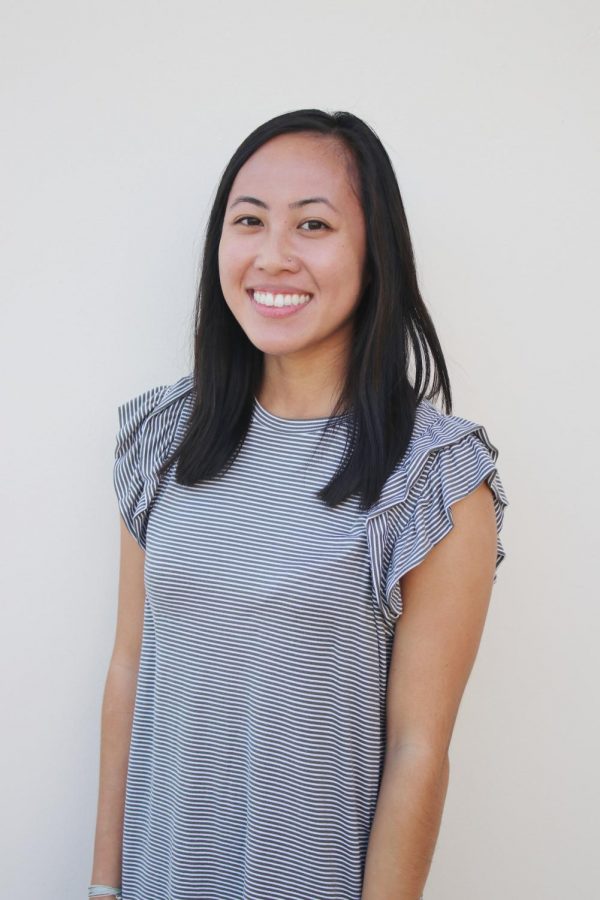 &Kayla Santos is a junior journalism major who loves gooey chocolate chip cookies, traveling to new places, and playing with her dog named Karl.
[email protected]
Hello friends! I come to you from the city of San Jose, California, which is located about six hours north of La Mirada and one hour south of San Francisco. I've always loved sports. I was always that girl that would rather be out playing basketball than going shopping or doing makeovers. I came into Biola as a kinesiology major with hopes of a career in sports medicine and sports training, but everything changed during spring semester of my sophomore year. Though I still love sports, I realized that there is something that I enjoy even more than that: storytelling. After two years as a kinesiology major, I decided to change my major to journalism.
Although I joined the Chimes
party a little bit later than most, I'm thrilled to be on staff as I begin my junior year at Biola. I love all kinds of music: reggae, R&B, 80's, alternative—you name it! You can count on me to constantly be on the lookout for artists and bands that are on tour. That being said, I am so excited to be writing for the Arts and Entertainment section of the Chimes
this year
.
When I'm not on the search for the next concert, I love going to coffee and tea shops, finding cute places to snap photos, and eating Korean barbeque.
Kayla Santos, Deputy Arts & Entertainment Editor
May 02, 2020

Film students close out COVID-19-challenged semester

(Story)

Apr 30, 2020

The most underrated films to stream during quarantine

(Story)

Apr 25, 2020

Conservatory students experience setbacks due to COVID-19

(Story)

Apr 23, 2020

Biola Film Festival rebrands as Guerrilla Student Film Festival

(Story)

Apr 18, 2020

10 books to add to your quarantine reading list

(Story)

Apr 02, 2020

Check out these 10 must-see short films

(Story)

Mar 24, 2020

Indulge in these activities during quarantine

(Story)

Feb 20, 2020

Pop into this quirky pop-up museum

(Story)

Feb 08, 2020

Students seek to revive Biola Film Festival

(Story)

Feb 07, 2020

Students stun with award-winning short film

(Story)

Jan 23, 2020

Catch a triple threat performance in "The Music Man"

(Story)

Dec 14, 2019

Rock around this Chimes Christmas playlist

(Story)

Nov 16, 2019

"Last Christmas" shows Asians are heartthrobs too

(Story)

Oct 17, 2019

Alumni showcase musical talents at Torrey Conference

(Story)

Oct 05, 2019

Theatre 21 demolition forces program to adapt

(Story)

Sep 19, 2019

Rich Kids Comedy offers comic relief

(Story)

Apr 26, 2019

Theatre 21 spells out "Eleemosynary"

(Story)

Apr 13, 2019

Film students tackle full-length films

(Story)

Apr 02, 2019

Bad Suns fails to diversify with "Mystic Truth"

(Story)

Mar 29, 2019

Theatre 21 presents "As It Is In Heaven"

(Story)

Mar 19, 2019

Get fired up with this Housefires playlist

(Story)

Mar 15, 2019

Flight Deck soars

(Story)

Mar 01, 2019

Library exhibit engages with personal stories

(Story)

Feb 20, 2019

The screening of "More Art Upstairs" starts art conversations

(Story)

Feb 15, 2019

Chico serves up punk rock

(Story)

Feb 14, 2019

"thank u, next" Review: Ariana Grande bares soul in latest album

(Story)

Feb 09, 2019

The best of Ariana Grande playlist

(Story)

Feb 08, 2019

Student artists get the crowd on their feet at the Eddy

(Story)

Jan 31, 2019

A warm playlist for a cold weekend

(Story)

Jan 31, 2019

Alumnus Temitope invites Christians to pursue unity with "Okan"

(Story)

Jan 24, 2019

Switchfoot lets loose in latest album

(Story)

Jan 15, 2019

Switch it up with this Switchfoot playlist

(Story)

Dec 15, 2018

The Chimes' Christmas movie watchlist

(Story)

Dec 13, 2018

Have yourself a merry little playlist

(Story)

Dec 04, 2018

"A Brief Inquiry Into Online Relationships" Review: The 1975 charms with their nostalgic, cross-genre album

(Story)

Dec 03, 2018

Meet the student director of "Almost, Maine"

(Story)

Nov 17, 2018

"Glory Sound Prep" Review: Jon Bellion knows no limit of genre

(Story)

Nov 16, 2018

Student rappers put the soul in Sola Soul

(Story)

Nov 15, 2018

Behind the scenes of Theatre 21's "The Boys Next Door"

(Story)

Nov 07, 2018

"Bohemian Rhapsody" Review: The legacy of Freddie Mercury lives on

(Story)

Nov 03, 2018

November concerts to look forward to

(Story)

Nov 01, 2018

Torrey Theatre takes on "The Importance of Being Earnest"

(Story)

Oct 25, 2018

"Suncity" Review: Khalid pursues versatility in his latest EP

(Story)

Oct 23, 2018

Fall in love with this season's playlist essentials

(Story)

Oct 18, 2018

The Conservatory launches Random Acts of Culture with painted piano project

(Story)

Oct 11, 2018

"Malibu Nights" Review: LANY navigates through heartbreak in latest album

(Story)

Oct 08, 2018

Flight Deck takes off

(Story)

Oct 06, 2018

"Bambi" Review: add Hippo Campus's latest album to your fall playlist

(Story)

Oct 04, 2018

Christian artist Lauren Daigle soars above popular, secular artists

(Story)

Sep 29, 2018

Season three of "This is Us" is underway and you need to be caught up

(Story)

Sep 27, 2018

Expect to see the return of pop-up musical performances throughout campus

(Story)

Sep 20, 2018

"Hiding Place" Review: Tori Kelly solaces listeners with gospel

(Story)

Sep 11, 2018

Mac Miller's death brings sorrow to the music world

(Story)

Sep 04, 2018

Summer music roundup

(Story)