Students seek to revive Biola Film Festival
The event was canceled due to concerns about content from last year's festival.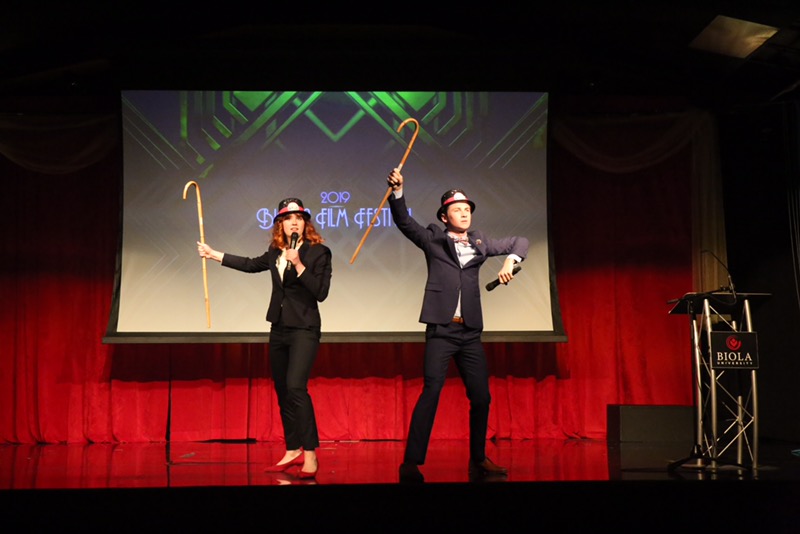 The School of Cinema and Media Arts has decided not to fund the Biola Film Festival, an annual gala that awards student films for excellence in screening, acting, directing and more. In response, hundreds have joined a petition over the past few days to bring back the annual festival.
THE REPLACEMENT
After the screenings of films with suggestive language and content at last year's festival, the cinema and media arts department has decided to replace the festival with a new event called "First Look." At First Look, the department will choose five films to be screened in front of industry professionals at Fox Studio Lot on March 28. 
"They're trying to give students more opportunities to network with industry professionals rather than have a smaller on-campus event," said junior cinema and media arts major Ellie LaFrombois. 
CALL FOR COMMUNITY 
 LaFrombois worries that the event will be detrimental to the community within the cinema and media arts department. 
"That's something that could damage the community in CMA, so I think that's our main concern honestly," LaFrombois said. "The film festival is part of what makes Biola culture unique."
According to junior cinema and media arts major Jesse Creasman, the student-led Biola Film Festival has been a great success over the recent years, with 71 submissions in 2017, 141 in 2018 and 200 last year. 
"We make these really passionate projects that aren't going to get shown anywhere," Creasman said. "We'll submit them to festivals, but unless you go to that festival, which costs money, you're not going to be able to watch your friends' projects."  
Creasman also explained that the festival was originally part of the department's marketing strategy. Creasman explained the festival attracted high school students to participate, leading some to apply to the CMA program. 
"A lot of freshmen this year are involved in [the] CMA department because they had films in or attended or heard about the film festival from the last few years," Creasman said. 
PETITIONING AND FUNDING
To keep the Biola Film Festival alive, a team of eight students—freshmen cinema and media arts majors Harrison Zeiders and Christina Turner, sophomore public relations major Gretchen Ferguson, sophomore cinema and media arts major Timothy Wittkopf and junior cinema and media arts majors Chris Schunk, Matt Andringa, Creasman and LaFrombois—is hoping to run the festival themselves. They have started a petition to raise support for the festival. The team currently has 362 signatures and are hoping to gather 500.
According to Creasman, the team needs $2,000 for the festival in total, which they are hoping will be met by donations. They have also asked the CMA department to fund the off-campus portions of the event and plan to form an appeal for Student Government Association funding. 
"If we're able to rebrand, get money from SGA, see whatever other resources we can pull together, we don't have to worry about that. And clearly that seems like our best bet, and that's what we're planning for," Creasman said. 
However, even if the funding goes through, rebranding the festival is still a worry for the team because of the lack of networking assets that the department had previously provided―such as getting judges, says Creasman. The petition asks the CMA department to assist in the selection and judging of submissions 
Another struggle is that because of these changes to the festival, the preparation and organization is later than usual. 
"[We usually start preparing] probably about halfway through the [fall] semester," La Frombois said. Usually at this point, they would have interns who would help out that they would pick from the program, so it was much more organization, much more time."
About the Writers
Kayla Santos, Arts & Entertainment Editor
Kayla Santos is a senior journalism major who loves gooey chocolate chip cookies, traveling to new places and playing volleyball at the beach.

[email protected]



Hi readers! I come to you from the city of San Jose, California, which is about one hour south of San Francisco (and has the best boba). I've always loved sports. I was always that girl that would rather be out playing basketball than going shopping or doing makeovers. I came into Biola as a kinesiology major with...
Micah Kim, News Editor
Micah Kim is a sophomore journalism major who would probably be asking for Spotify playlists from his friends. Other than that, he would be blasting his ears with Radiohead.

[email protected]



Born in Pennsylvania, having South Korean blood in my pulsing veins and hacking my way through family missions in China, life had been full of complex colors that I could not name. Finding ways to express my way out of the constant stress I was in was always full of music until I found writing...