Biola Film Festival rebrands as Guerrilla Student Film Festival
The annual event moves to an online format due to COVID-19.
This year marks the first year that the Biola Film Festival acts independently from the university, rebranding as the Guerrilla Student Film Festival, named after the Guerrilla Film Society club, which formed on campus in 2001 but is now defunct. 
Having planned to launch First Glance—an event that would have screened select student films at Fox Studio Lot this semester—the School of Cinema and Media Arts decided they could not fund both events. 
After it was decided the department could not fund the festival, cinema and media arts internship manager Nate Bell suggested the festival rebrand as the Guerrilla Student Film Festival for more flexibility and freedom.
"This way, students would be able to celebrate each others' work and not have to worry about Biola trying to control the image or content of the festival," Bell stated in an email. 
The rebranded film festival reflects the intent to produce independent, thought-provoking films. 
The festival is set to livestream this Saturday at 6 p.m., to honor and showcase student films. A group of 25-30 judges composed of film industry professionals and cinema and media arts faculty and alumni selected the nominations for more than 10 categories, including Best Picture, Best Production Design and Best Score.
CINEPHILES UNITE
 Since early this semester, junior cinema and media arts majors Jesse Creasman, Ellie LaFrombois and Chris Schunk and freshmen cinema and media arts majors Kat Baguio, Christina Turner and Harrison Zeiders, have been collaborating to make the festival possible. They've also received support from the School of Cinema and Media Arts, including the school's internship manager Nate Bell, associate professor of cinema and media arts Dean Yamada, budget coordinator Heather Grossman and impressionist coordinator Sena Shin.
The team was initially met with the challenges of finding a venue, fundraising for a budget and coordinating a live event, but the restrictions due to coronavirus actually eased the team's preparation stress. After the university shifted to online learning, the team decided to stream the award show online and keep submissions open for an extra week. With the switch to an online format, they no longer had to find a venue and worry about the stressors that come with traditional event planning, and they had the benefit of working on their own time. Plus, they managed to run the festival with little to no budget since they relied on free trials and help from friends. 
"In some ways, this made it easier, especially for our transition year when prep should've been started in the beginning of the fall semester," Creasman said. 
But formatting the award ceremony to a livestream format poses a new challenge—the crew must learn how to engage with an online audience.
"The biggest challenge is now figuring out how to engage an audience online when you're doing an award show, as opposed to having it live the way it should be," Yamada said. 
SUPPORTIVE COMMUNITY
For attendees and crew members, what they will miss most this year is experiencing the live event in person with their community. But while they will not have the benefit of dressing up and watching the award ceremony at a venue, they can still relish in the success of their fellow Biolans. With more than 50 films produced in the cinema and media arts program each year, Yamada appreciates the students' value for showcasing each other's work. 
"It's important for our community to be able to showcase our work and for other students and prospective students to be able to see what's coming out of the cinema and media arts program," Yamada said.
He also views this year's festival as a trial run of what it could be, with high hopes that next year will build upon the current experimentation. 
Originally set for April 18, the event has been pushed to this Saturday. To prepare for the show, the team has been sharing the nominated films on their website. In addition, they have been hosting interviews with all best picture nominees this week via Instagram Live.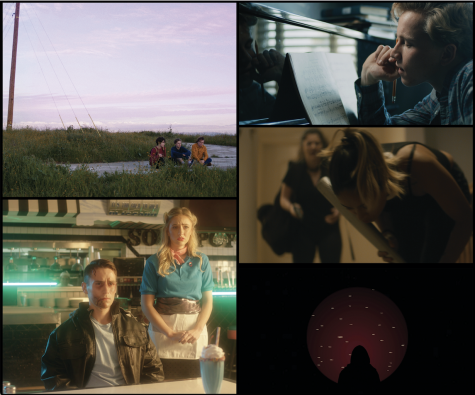 BEST PICTURE NOMINEES
:
Before you livestream the event, be sure to check out the films nominated for Best Picture. Descriptions are from each film's page on the festival's website.
Exploring the duality between friendship and loneliness, David tries to reconnect with his childhood best friends as they search for something to do in their small suburban town.
A male #metoo story set in the classical music world.
Andy fights to save his waitress girlfriend from a pink-suited mob lord known as "The Candyman."
A sojourner who's traveled the stars in search of a hidden treasure rumored to harness the power of immortality is finally led to it by a celestial being who warns him of the inescapable longing that will come with living forever. Upon ignorantly taking the treasure for himself, his mortality begins to slowly slip away.
Matilda and Robert Torres navigate homeless life on the streets of Southern California.
A young Arab-American hides his passion for stand up comedy from his immigrant father in order to avoid bringing shame to the family.
A drug-addicted alcoholic shaves his head, yells at his housemate, gets fired and ODs. It's a comedy.
Two girls take justice into their own hands after friends and counselors brush aside their accusations of sexual assault.
A young Mexican farmworker in 1970s Salinas enlists for the Vietnam War to prove his manliness to his father.