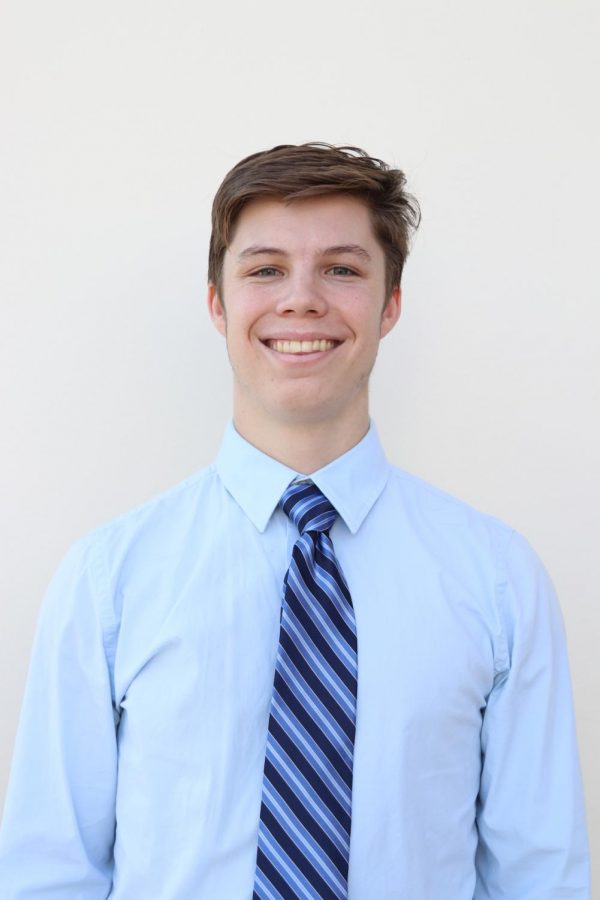 Joel Ashor is a junior broadcast journalism major with a love for sports, friends, and history. Joel is a Notre Dame football, Angels baseball, and Boston Celtics fan.
[email protected]
Growing up in the small city of Santa Maria, California as the youngest of four boys, I was always surrounded by things much earlier than normal, due to the fact that I experienced things through my much older brothers. One of the things I experienced was sports, and when I started watching and seeing what it looked like to be on a sports team, I fell in love.
In my family, sports is not really an option, it just is something that we all do. Luckily my parents never had to force me or my brothers to play sports because we all had a passion for it. From a young age I immersed myself in the culture of sports, watching any sport that was on, growing a particular liking to college football. My uncle attended the University of Notre Dame, and my whole family are die-hard Irish fans. Naturally I became one as well, and I remember Saturday mornings with the family quite clearly.
As I grew older I began to see and understand more about what it took to broadcast a live sports game, and I became quite intrigued by it. I decided I wanted to be involved with sports for the rest of my life and cover it in some form. One of the sports commentators I look up to greatly and have always liked is NBC sports reporter Bob Costas, who is a jack of all trades broadcaster and covers all sports from the Olympics to football and many more.
I aspire to be a broadcast journalist someday, and the Chimes is an excellent way to hone my skills and continue to practice writing and talking about sports. I look forward to my growth while working with the Chimes in reporting accurately and quickly, and cannot wait to cover Biola sports.
Joel Ashor, Sports Editor
Apr 27, 2019

Baseball splits pair of games at Concordia

(Story)

Apr 17, 2019

Softball sweeps four-game series

(Story)

Apr 16, 2019

Softball dominates doubleheader

(Story)

Apr 13, 2019

Men's tennis falls in nailbiter on senior day

(Story)

Apr 12, 2019

Baseball splits home doubleheader

(Story)

Apr 11, 2019

Men's tennis takes down old rival

(Story)

Mar 30, 2019

Baseball drops series at Azusa Pacific

(Story)

Mar 30, 2019

Men's tennis notches road win

(Story)

Mar 26, 2019

Women's tennis picks up second straight win

(Story)

Mar 25, 2019

Women's tennis rallies for 4-3 win

(Story)

Mar 18, 2019

Men's tennis takes heartbreaking loss after ruling change

(Story)

Mar 18, 2019

Baseball drops two games at Point Loma

(Story)

Mar 17, 2019

Women's tennis drops match at Point Loma

(Story)

Mar 15, 2019

Men's tennis knocks off Rochester

(Story)

Mar 12, 2019

Angelo State takes down women's tennis

(Story)

Mar 11, 2019

Men's tennis takes last-second loss

(Story)

Mar 11, 2019

Women's tennis claims victory over Western New Mexico

(Story)

Feb 28, 2019

Athlete of the Week: Men's Basketball's Trevor Treinen

(Story)

Feb 26, 2019

Baseball splits doubleheader at HPU

(Story)

Feb 23, 2019

Women's basketball falls short against Hawaii Pacific

(Story)

Feb 23, 2019

Men's tennis handles Whittier College

(Story)

Feb 22, 2019

Softball loses doubleheader at Concordia

(Story)

Feb 20, 2019

Athlete of the Week: Baseball's Connor Kostecka

(Story)

Feb 20, 2019

Baseball roughed up again by Hope International

(Story)

Feb 18, 2019

Baseball wins rain-shortened game

(Story)

Feb 16, 2019

Softball splits six in Tucson

(Story)

Feb 16, 2019

Baseball erupts for nine runs in comeback win

(Story)

Feb 15, 2019

Baseball ushers in new era under Justin Duarte

(Story)

Feb 13, 2019

Chimes Athlete of the Week: Men's Tennis' Logan Blair

(Story)

Feb 12, 2019

Baseball brings the bats at Vanguard

(Story)

Feb 07, 2019

Men's tennis falls short in season opener

(Story)

Feb 06, 2019

Baseball roughed up by Royals in season debut

(Story)

Jan 30, 2019

Chimes Athlete of the Week: Women's Basketball's Tatum Brimley

(Story)

Jan 23, 2019

Chimes Athlete of the Week: Men's basketball's Alex Talma

(Story)

Jan 19, 2019

Women's basketball blown out again in Cornerstone Cup matchup

(Story)

Jan 18, 2019

Men's and women's basketball winter break recap

(Story)

Jan 16, 2019

Athlete of the Break: Men's Basketball's Trevor Treinen

(Story)

Dec 16, 2018

Men's basketball loses big in Cornerstone catastrophe

(Story)

Dec 12, 2018

Athlete of the Week: Women's Basketball's Jazz Benn

(Story)

Dec 05, 2018

Women's basketball suffers first conference loss

(Story)

Dec 05, 2018

Athlete of the Week: Swim's Nicole Chang

(Story)

Dec 04, 2018

Athletic trainers' big role behind the scenes

(Story)

Dec 03, 2018

Chang breaks records at swim's winter invite

(Story)

Dec 01, 2018

Volleyball claims second straight NCCAA championship

(Story)

Nov 30, 2018

Volleyball rolls to NCCAA championship game

(Story)

Nov 29, 2018

Volleyball begins NCCAA title defense strong

(Story)

Nov 28, 2018

Athlete of the Week: Women's Basketball's Tatum Brimley

(Story)

Nov 14, 2018

Chimes Athlete of the Week: Men's basketball's Alex Talma

(Story)

Nov 12, 2018

Midnight Madness 2018: The Red Sea parts again

(Story)

Nov 10, 2018

Men's and women's cross country both claim NCCAA championships

(Story)

Nov 10, 2018

Volleyball closes out regular season with senior day win

(Story)

Nov 09, 2018

Volleyball takes home another sweep

(Story)

Nov 07, 2018

Athlete of the week: Men's Soccer's Leo Thompson

(Story)

Nov 07, 2018

Volleyball books trip to NCCAA championships

(Story)

Nov 03, 2018

Women's soccer loses in overtime heartbreaker

(Story)

Nov 02, 2018

Volleyball rolls over Dominican

(Story)

Nov 02, 2018

Plendcio blazes trail both as runner and man of God

(Story)

Nov 02, 2018

Men's Cross Country wins Biola's first PacWest championship

(Story)

Nov 02, 2018

Women's soccer dominates Holy Names in victory

(Story)

Oct 29, 2018

Women's soccer takes third conference loss

(Story)

Oct 23, 2018

Volleyball loses four-set gut wrencher at APU

(Story)

Oct 23, 2018

Eagles take the Islands

(Story)

Oct 20, 2018

Women's soccer takes close loss

(Story)

Oct 20, 2018

Volleyball grabs 10th straight win

(Story)

Oct 19, 2018

Home sweep home for Volleyball

(Story)

Oct 13, 2018

Volleyball caps Hawaii trip with eighth straight win

(Story)

Oct 10, 2018

Volleyball starts Hawaii road trip with win

(Story)

Oct 10, 2018

Women's golf wins second straight invitational

(Story)

Oct 08, 2018

Women's soccer's great "problem"

(Story)

Oct 07, 2018

Women's soccer rides strong first half to beat Concordia

(Story)

Oct 05, 2018

Volleyball takes tight five-set win

(Story)

Oct 04, 2018

Cornerstone comeback: Volleyball storms back for five-set win over APU

(Story)

Oct 01, 2018

Women's golf wins NCCAA West Regional

(Story)

Sep 29, 2018

Men's soccer loses tough battle

(Story)

Sep 27, 2018

Men's Soccer takes win in first PacWest matchup

(Story)

Sep 27, 2018

Women's soccer battles for win in OT slugfest

(Story)

Sep 27, 2018

Christina DenBoer sparks Eagles in return from injury

(Story)

Sep 26, 2018

Two DenBoers, twelve Eagles, one sweep

(Story)

Sep 26, 2018

Athlete of the Week: Cross Country's Makenna Mason

(Story)

Sep 22, 2018

Volleyball returns to their sweeping ways

(Story)

Sep 22, 2018

Jeffries leads women's soccer to a tie

(Story)

Sep 20, 2018

Volleyball loses in five sets

(Story)

Sep 19, 2018

Men's golf opens final season

(Story)

Sep 17, 2018

Volleyball heats up for third straight sweep

(Story)

Sep 15, 2018

Early goal leads to women's soccer victory

(Story)

Sep 15, 2018

Two days, two PacWest sweeps for volleyball

(Story)

Sep 12, 2018

Athlete of the Week: Volleyball's Karly Dantuma

(Story)

Sep 11, 2018

Volleyball loses tough test on the road

(Story)

Sep 08, 2018

Volleyball sweeps Fresno Pacific

(Story)

Sep 06, 2018

Women's soccer earns draw

(Story)

Sep 05, 2018

Chimes Athlete of the Week: Women's soccer's Annmarie Alvarez

(Story)

Sep 01, 2018

Women's soccer loses close defensive struggle

(Story)

Aug 30, 2018

Volleyball splits doubleheader at NCAA showcase

(Story)

Aug 30, 2018

Women's Soccer earns 3-2 OT win at home

(Story)

Dec 04, 2017

Volleyball claims NCCAA championship

(Story)

Nov 28, 2017

Men's basketball picks up pair of wins

(Story)

Nov 17, 2017

Volleyball wins four-set battle over HPU

(Story)

Nov 08, 2017

Volleyball claims thrilling win over CUI

(Story)

Nov 07, 2017

Volleyball continues winning streak

(Story)

Nov 01, 2017

Volleyball sweeps Life Pacific University

(Story)

Oct 30, 2017

Volleyball loses tight match to CBU

(Story)

Oct 23, 2017

Volleyball claims sixth straight victory

(Story)

Oct 23, 2017

Volleyball claims second straight sweep

(Story)

Oct 18, 2017

Volleyball continues winning streak

(Story)

Oct 15, 2017

Volleyball takes revenge in win at Point Loma

(Story)

Oct 08, 2017

Volleyball dominates APU with sweep

(Story)

Oct 02, 2017

Volleyball claims victory in Hawaii

(Story)

Sep 26, 2017

Women's golf ties for sixth in opening tournament

(Story)

Sep 20, 2017

Men's golf finishes 12th at first tournament

(Story)

Sep 11, 2017

Eagles bite Gators for fourth win of season

(Story)

Sep 11, 2017

Eagles split pair of games to close tournament

(Story)

Sep 02, 2017

Volleyball starts Division II with pair of wins

(Story)

May 16, 2017

Eagles track closes out season

(Story)

May 09, 2017

Biola cross country prepares for upcoming season

(Story)

May 02, 2017

Eagles post successful day one at GSAC Championships

(Story)

May 02, 2017

Eagles finish strong in final GSAC Championship

(Story)

Apr 25, 2017

Track and field performs well with busy week of meets

(Story)

Apr 11, 2017

Biola posts impressive results at Invitational

(Story)

Mar 29, 2017

Women's golf finishes seventh at Ogio-Bulldog Classic

(Story)

Mar 28, 2017

Women's golf shoots 331 at Ogio-Bulldog Classic

(Story)

Mar 14, 2017

Men and women's tennis both earn victories

(Story)

Mar 14, 2017

Men's tennis scores big win over Hastings College

(Story)

Mar 08, 2017

Eagles men and women's tennis take three losses in hard-fought battles

(Story)

Mar 07, 2017

Arizona Christian defeats Biola in hard-fought battle

(Story)