Chimes Athlete of the Week: Men's basketball's Alex Talma
Despite a tough loss against rival APU, Talma was a bright spot with strong shooting and rebounding.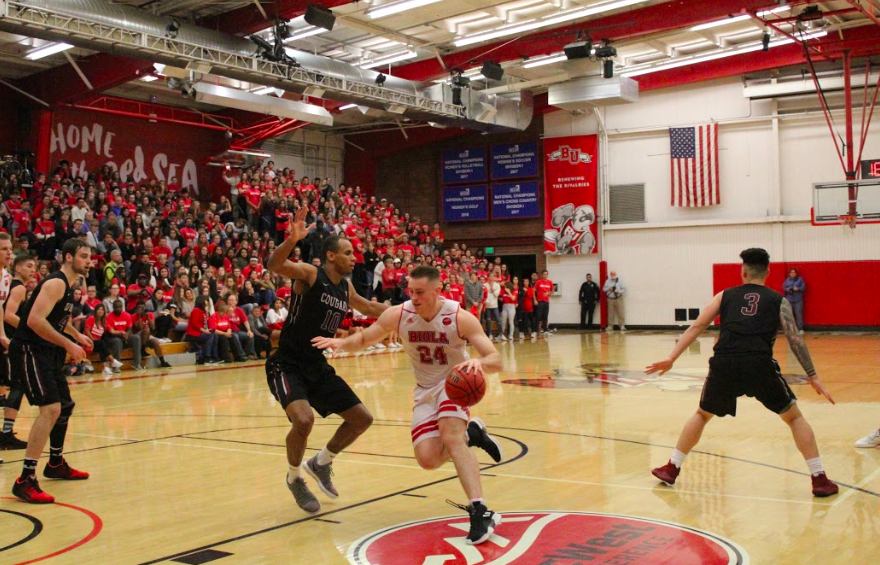 When Biola's men's basketball team took on Azusa Pacific University for the first time this season, they were blown out in brutal fashion at Chase Gymnasium. Senior guard Alex Talma struggled mightily in that game, but he bounced back strong in the second meeting with the Cougars.
Although they lost yet again at APU's Felix Event Center this past Saturday, Talma kept the Eagles within striking distance throughout the second half of the 12-point loss.
Biola took another tough loss to the Cougars, but the final score of 84-72 was much closer than the two teams' first meeting thanks to Talma. The New Zealand native dropped a team-high 19 points, and snagged another team high eight rebounds.
For keeping the Eagles within striking distance throughout the game, and leading his team offensively, Alex Talma is once again our Chimes Athlete of the Week.
About the Writer
Joel Ashor, Sports Editor
Joel Ashor is a junior broadcast journalism major with a love for sports, friends, and history. Joel is a Notre Dame football, Angels baseball, and Boston Celtics fan.

[email protected]



Growing up in the small city of Santa Maria, California as the youngest of four boys, I was always surrounded by things much earlier than normal, due to the fact that I experienced things through my much older brothers. One of the things I experienced was sports, and when I started watching...