Athlete of the Week: Volleyball's Karly Dantuma
The senior opposite hitter's strong offensive play helped Biola to a conference opening sweep.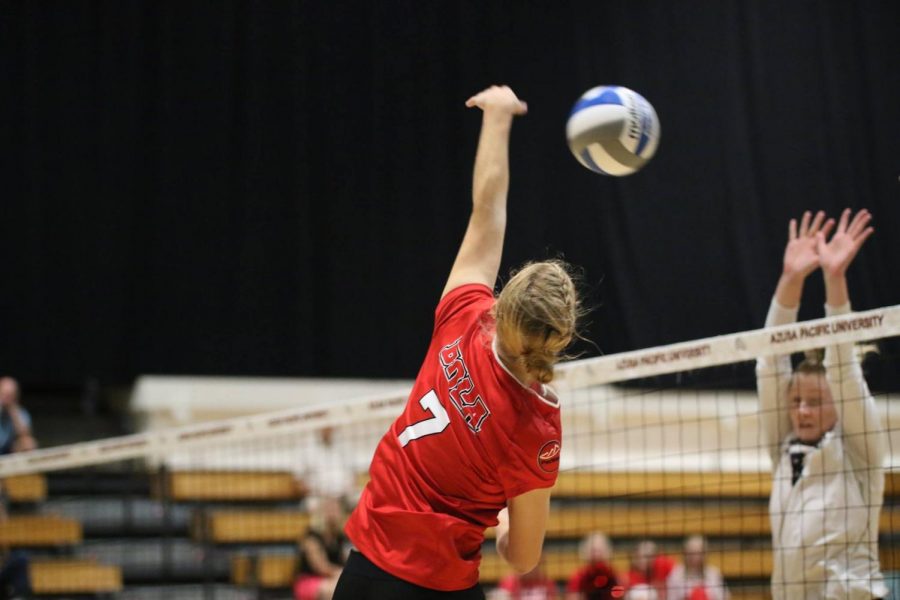 The start of conference play is typically when coaches look to their senior leadership to make a difference and motivate the team. Senior opposite hitter Karly Dantuma filled that role, helping the Eagles to a sweep in their first PacWest game of the season against Fresno Pacific University on Sept. 8.
The lefty was a big presence on offense last season for Biola, and so far, this season has been no different. Time and time again, Dantuma has made clutch kills and shown the leadership needed to push a team to a tough win.
In their home opener at Chase gymnasium, Dantuma tallied seven kills to help her team sweep the Sunbirds. Her presence at the net helped force many FPU hitting errors and she also dominated from the backside, hitting the ball well all night.
Despite suffering their first PacWest loss of the season at Point Loma Nazarene University on Sept. 11, Dantuma was a bright spot, racking up eight kills to help the Eagles stay close in every set.
For her strong offensive play and leadership, Dantuma is our Chimes Athlete of the Week.
Last two games: 15 kills, 1 block
About the Writer
Joel Ashor, Sports Editor
Joel Ashor is a junior broadcast journalism major with a love for sports, friends, and history. Joel is a Notre Dame football, Angels baseball, and Boston Celtics fan.

[email protected]



Growing up in the small city of Santa Maria, California as the youngest of four boys, I was always surrounded by things much earlier than normal, due to the fact that I experienced things through my much older brothers. One of the things I experienced was sports, and when I started watching...