Men's tennis handles Whittier College
Eagles sweep doubles and singles play in victory over the Poets.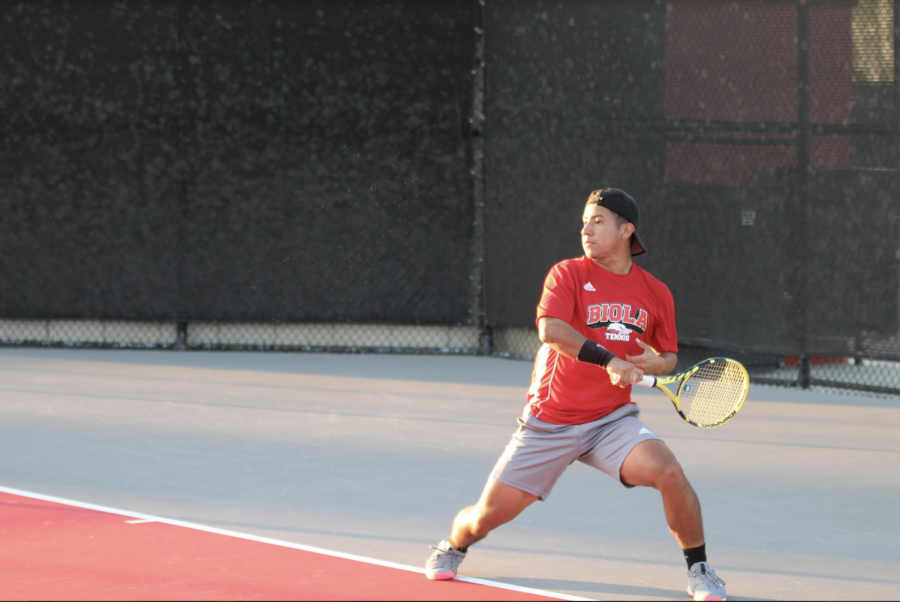 Men's tennis returned to the Biola Tennis Center on Saturday to take on Whittier College. The Eagles dominated in every facet of the game to take down the Poets 5-0.
Biola got off to a quick start in doubles as the No. 3 pairing of freshman Ian Nieh and Edwyn Ramos took home a quick 6-1 win. At No. 2 doubles, junior Derek James and senior David Garcia followed with a 6-3 victory. At the No.1 spot, sophomores Quentin Lau and Logan Blair were tied 4-4 before the doubles matches were finished.
" [With] doubles I always feel so confident. Me and Logan played really well, and we just get things done," Lau said.
In singles play, James picked up a very efficient 6-2, 6-1 victory. Lau followed him up with another 6-2, 6-1 win. Garcia was the final victory of the day as he took his match by a score of 6-3, 6-4.
"Being my last season, that's one of the moments you wish for, and at the end of the day I want to make sure I contribute to the team and get these guys out of here as soon as possible," Garcia said.
Head coach David Goodman was impressed with the way his team came to play.
"We came out ready to play and it made such a difference. Being super energetic and playing well, I could tell we wanted to win today, which is nice, they were self-motivated today," Goodman said.
The Eagles (2-2) will look to continue their winning ways at home against Concordia University Irvine on Thursday at 2 p.m.
About the Writer
Joel Ashor, Sports Editor
Joel Ashor is a junior broadcast journalism major with a love for sports, friends, and history. Joel is a Notre Dame football, Angels baseball, and Boston Celtics fan.

[email protected]



Growing up in the small city of Santa Maria, California as the youngest of four boys, I was always surrounded by things much earlier than normal, due to the fact that I experienced things through my much older brothers. One of the things I experienced was sports, and when I started watching...