Women's golf wins NCCAA West Regional
Eagles post a great score to claim victory in Indio.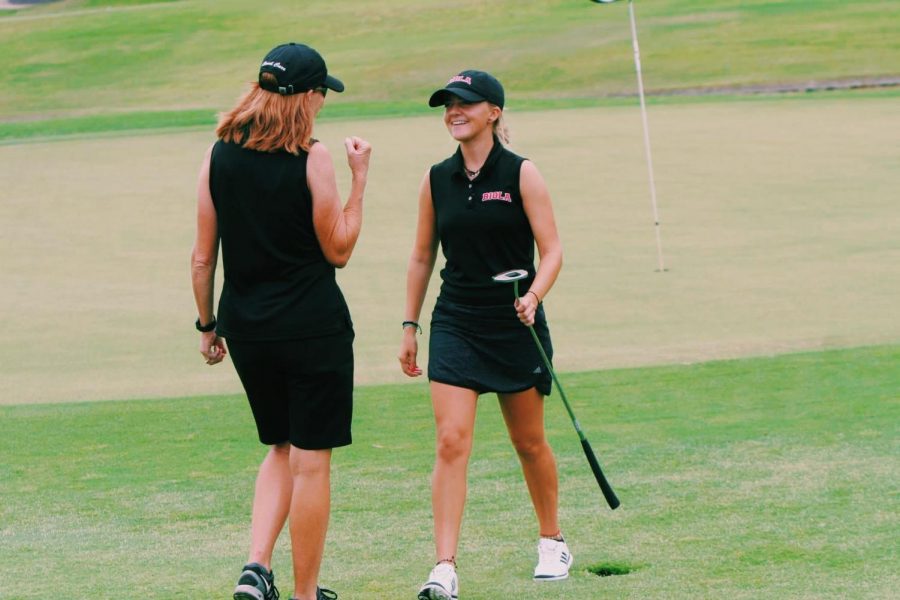 Women's golf traveled to the desert on Monday, taking on Ottawa University Arizona in a National Christian College Athletics Association regional in Indio, Calif. Biola defeated the Spirit to book their trip to Florida for the NCCAA championships Oct. 22-24.
Freshman Sami Penor led the Eagles in the first round with a fantastic score of 71, followed by sophomore Sophia Karnazes who posted a score of 74. Junior Alexis Gopfert shot a 75, while juniors Tori Roeske and Jules Loibl shot a 78 and 80 respectively.
In the second round, Karnazes and Loibl both posted a 72 to lead the Eagles in that round. Penor put up a 74, while Roeske and Gopfert shot a 75 and 78.
Penor finished first for Biola with an overall score of 145, closely followed by Karnazes with a 146. Loibl finished third for the Eagles with a score of 152, and Roeske and Gopfert tied for fourth on the team with a total score of 153.
Biola took the team competition by a whopping 44 shots, outshooting the Spirit 591 to 635.
The Eagles hit the links next Monday and Tuesday at the Embry-Riddle Co-Ed Invitational in Prescott, Ariz.
About the Contributor
Joel Ashor, Sports Editor
Joel Ashor is a junior broadcast journalism major with a love for sports, friends, and history. Joel is a Notre Dame football, Angels baseball, and Boston Celtics fan.

[email protected]



Growing up in the small city of Santa Maria, California as the youngest of four boys, I was always surrounded by things much earlier than normal, due to the fact that I experienced things through my much older brothers. One of the things I experienced was sports, and when I started watching...