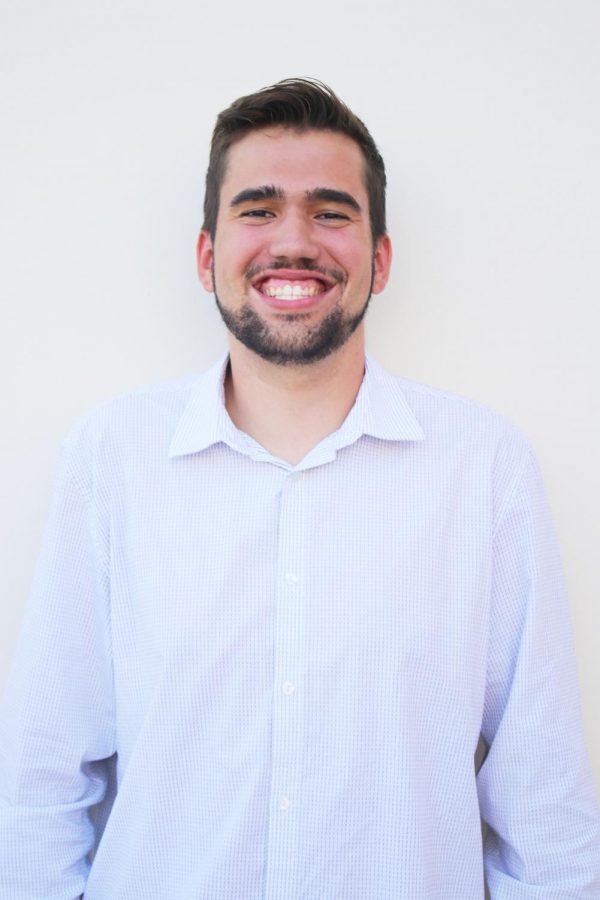 Austin Green is a junior journalism major who was first among his friends to predict that LeBron James would sign with the Los Angeles Lakers. When not focused on school or work, he enjoys watching sports, going to the beach or coffee shops, and hanging out with the guys on his dorm floor.
[email protected]
I laughed the first time I heard a former editor-in-chief use the line "once you join the Chimes, you never really leave." Now in my third year here, it turns out the joke's on me. After two years in the sports section, including last year as sports editor, I'm thrilled to be serving this year as managing editor to help build upon the legacy of such a great publication.
My aspirations remain in sports journalism, but experience has deepened my love for dedicated local news reporting and its importance in communities. Much of my appreciation for that type of journalism came through working as a digital production intern for NBC Los Angeles last summer. There I helped cover stories such as the Trader Joe's hostage crisis, the Cranston and Holy wildfires, and the Lakers' overhaul of their iconic uniforms.
I am so excited to help build this next chapter of the Chimes as we become a web-first publication with a deeper, dedicated focus on the communities in and around campus. I also contribute a print sports column, "Everything Eagles," which provides a deeper look into Biola Athletics.
Austin Green, Managing Editor
Feb 22, 2020

President Corey calls for prayer after student hospitalized in car accident

(Story)

Jan 24, 2020

49ers Super Bowl extra special for head coach's nanny

(Story)

Jan 20, 2020

California just made it harder for young professionals like me to find work

(Story)

Nov 14, 2019

Meet the Biola trustee at the center of Orange County's massive public education battle

(Story)

Oct 17, 2019

SOS and SPA merge to become Campus Engagement Office

(Story)

Apr 01, 2019

Everything Eagles: Math professor, alumnus pitch in with Quality of Pitch metric

(Story)

Mar 16, 2019

Everything Eagles: Athletics merges with student development

(Story)

Mar 15, 2019

Getting involved is worth the sacrifice

(Story)

Mar 12, 2019

Dear Professor Simon: "If I had known"

(Story)

Mar 01, 2019

Public Relations professor Bill Simon passes away

(Story)

Feb 28, 2019

Everything Eagles: Kauth takes swim to the next level

(Story)

Feb 24, 2019

Bullpen struggles late in baseball's two losses

(Story)

Feb 16, 2019

Everything Eagles: Softball coach Nikki Udria brings DI resume

(Story)

Feb 16, 2019

Softball splits six in Tucson

(Story)

Feb 16, 2019

Track takes two in season's first meet

(Story)

Feb 13, 2019

Softball cannot stay ahead in doubleheader sweep

(Story)

Jan 31, 2019

Everything Eagles: Worst to First? Not so fast

(Story)

Jan 24, 2019

SGA Rundown: SCORR, scholarships and sharing come to the Senate

(Story)

Jan 21, 2019

The light of the modern-day Daniels

(Story)

Jan 17, 2019

SGA Rundown: New semester brings new-look newsletters

(Story)

Jan 15, 2019

Citrus College lockdown lifted

(Story)

Dec 23, 2018

The Chimes' fall 2018 editors' picks

(Story)

Dec 15, 2018

SGA Rundown: Senators weigh spring options

(Story)

Dec 07, 2018

SGA Rundown: Senate brings back puppies for finals week

(Story)

Dec 03, 2018

Chang breaks records at swim's winter invite

(Story)

Nov 30, 2018

SGA Rundown: Senators reconsider funding New York Times subscriptions

(Story)

Nov 29, 2018

Everything Eagles: Fall Sports Report Cards

(Story)

Nov 20, 2018

Campus Safety, LASD release man suspected of attempting to bring gun onto campus

(Story)

Nov 19, 2018

Everything Eagles: Year 1 A.D.: Women's basketball looks to keep momentum going after White's graduation

(Story)

Nov 15, 2018

SGA Rundown: Senate cuts Biolathon funding

(Story)

Nov 12, 2018

Trespassing suspect arrested, tased in Sutherland parking lot

(Story)

Nov 10, 2018

Women's basketball runs out of gas late, suffers second straight loss

(Story)

Nov 09, 2018

Men's basketball tips off season with a win

(Story)

Nov 09, 2018

SGA Rundown: SCORR, GRITmas and more highlight open proposals week

(Story)

Nov 07, 2018

Mosquito problems bite Biola

(Story)

Nov 05, 2018

Everything Eagles: Can men's basketball bounce back?

(Story)

Oct 28, 2018

Women's soccer ties with APU

(Story)

Oct 28, 2018

APU's late goal sinks men's soccer

(Story)

Oct 26, 2018

Stars power volleyball's sweep in crucial conference match

(Story)

Oct 26, 2018

3-year-old wandering street near campus returned to mother

(Story)

Oct 25, 2018

SGA Rundown: Mailbox, FirstGen initiatives spark debate

(Story)

Oct 23, 2018

Volleyball loses four-set gut wrencher at APU

(Story)

Oct 22, 2018

Everything Eagles: Welcome to Rocktober

(Story)

Oct 20, 2018

Volleyball's weirdest streak is for the birds

(Story)

Oct 19, 2018

SGA Rundown: final preparations made for SGA Chapel

(Story)

Oct 12, 2018

Biola reaffirms LGBT policy after controversy at Azusa Pacific

(Story)

Oct 10, 2018

Repentance, the "disappearing word"

(Story)

Oct 08, 2018

Everything Eagles: In Todd we trust

(Story)

Oct 07, 2018

Freshmen stand out as swim plunges into post-Tixier era

(Story)

Oct 06, 2018

Three important questions about the new Space Jam film

(Story)

Oct 04, 2018

SGA Rundown: Athletics, commuters and the SUB highlight last meeting before Torrey weekend

(Story)

Sep 29, 2018

Freshmen lead the way by the bay for women's soccer

(Story)

Sep 27, 2018

SGA Rundown: Senate passes three proposals, hosts DBC

(Story)

Sep 25, 2018

Freshman powers women's golf to eighth in WMNU invite

(Story)

Sep 22, 2018

Men's Soccer blown out again, goes 0-2 in PacWest preseason

(Story)

Sep 21, 2018

SGA Rundown: proposals lay groundwork to bring back campus traditions

(Story)

Sep 15, 2018

Game of shadows: Men's soccer battles for afternoon tie

(Story)

Sep 13, 2018

SGA Rundown: Changes coming to SGA Hour

(Story)

Sep 11, 2018

Authorities respond to active shooter reports at hospital near campus

(Story)

Sep 08, 2018

Men's soccer turns out the lights on San Bernardino

(Story)

Sep 06, 2018

SGA Rundown: Senators kick off the new year

(Story)

Sep 06, 2018

Everything Eagles: rankings show much-deserved respect to cross country

(Story)

Sep 01, 2018

Volleyball swept by top-15 team

(Story)

Sep 01, 2018

Injuries to Muir, Cybulski Give Men's Soccer Early Setbacks

(Story)

Aug 30, 2018

Men's Soccer loses opener in San Diego

(Story)

Aug 24, 2018

Volleyball wins season opener

(Story)

Aug 13, 2018

Cory Page takes over men's golf program in final season

(Story)

Aug 12, 2018

Biola names Nikki Udria new softball coach

(Story)

Apr 25, 2018

Bethany Miller reflects on Biola's first year in the NCAA

(Story)

Apr 22, 2018

Baseball roars back for series split

(Story)

Apr 21, 2018

Baseball just misses shot at doubleheader sweep

(Story)

Apr 20, 2018

Dixie State pulls away late to beat baseball

(Story)

Apr 19, 2018

Men's soccer reloads and prepares to rebound

(Story)

Apr 18, 2018

Rugby's Joey Ryan prepares to pass torch

(Story)

Apr 16, 2018

Baseball sweeps doubleheader and series

(Story)

Apr 14, 2018

Gallegos gives baseball victory over Hawks

(Story)

Apr 10, 2018

Baseball drops series to CBU

(Story)

Apr 02, 2018

Track and field takes on diverse group of events

(Story)

Apr 02, 2018

Late homer not enough for baseball in loss

(Story)

Mar 31, 2018

Back-to-back: men's tennis gets second straight win

(Story)

Mar 31, 2018

Worthington's big bat helps Eagles to doubleheader split

(Story)

Mar 30, 2018

Track and field finishes middle of the pack in the bay

(Story)

Mar 29, 2018

Baseball sinks Sea Lions in duel for the ages

(Story)

Mar 28, 2018

Athlete of the week: Baseball's Ryan Gallegos

(Story)

Mar 28, 2018

Softball's sweep sustains streak

(Story)

Mar 28, 2018

Baseball's rally falls short

(Story)

Mar 28, 2018

Women's tennis breaks losing streak

(Story)

Mar 28, 2018

Baseball splits doubleheader and series against Art U

(Story)

Mar 23, 2018

Baseball takes game one against Art U

(Story)

Mar 20, 2018

Cornerstone rankings grow tighter as APU sweeps softball

(Story)

Mar 20, 2018

Late heroics lift men's tennis

(Story)

Mar 14, 2018

Rainy rally gives baseball another win

(Story)

Mar 13, 2018

Behind the plate with Baseball's Anj Bourgeois

(Story)

Mar 10, 2018

Men's golf takes second in the desert

(Story)

Mar 08, 2018

Ramos' big bat gives softball two more conference wins

(Story)

Mar 07, 2018

Softball bounces back against William Woods in homecoming

(Story)

Mar 07, 2018

Softball storms through Hawaii

(Story)

Mar 06, 2018

Baseball scores 15, dominates Vanguard in GSAC rematch

(Story)

Mar 05, 2018

Baseball takes three more in Hilo

(Story)

Feb 22, 2018

Softball steamrolls Marymount

(Story)

Feb 21, 2018

Swim rewrites record books in conference championships

(Story)

Feb 19, 2018

Beyer's gem propels baseball past Bethesda

(Story)

Feb 14, 2018

Baseball rolls over Providence Christian College

(Story)

Feb 13, 2018

Women's basketball continues late-season slide

(Story)

Feb 13, 2018

Men's basketball bounces back

(Story)

Feb 10, 2018

Men's basketball thumped in televised rout

(Story)

Feb 09, 2018

Stainbrook shines in Biola baseball debut

(Story)

Feb 08, 2018

Baseball falters late in Cornerstone Cup opener

(Story)

Feb 07, 2018

Men's golf has a rough start to 2018

(Story)

Feb 06, 2018

Shorthanded softball collapses against Canadian school

(Story)

Feb 04, 2018

Women's basketball falls late to APU, snapping win streak

(Story)

Feb 04, 2018

Renewed rivalries re-ignite school spirit

(Story)

Feb 04, 2018

Men's basketball wins with late three-pointer

(Story)

Feb 03, 2018

Softball slugs their way to a season-opening sweep

(Story)

Jan 31, 2018

The reloaded Eagles vow to prove their doubters wrong

(Story)

Jan 30, 2018

Softball enters new era with revamped roster

(Story)

Jan 29, 2018

Swim finishes regular season on top

(Story)

Jan 24, 2018

Steve Herve sports a different uniform

(Story)

Dec 06, 2017

The NCCAA explained

(Story)

Dec 06, 2017

Athletes of the Week: Women's soccer's Madyson Brown and volleyball's Sierra Bauder

(Story)

Dec 04, 2017

Men's basketball leaves Hawaii empty-handed

(Story)

Dec 02, 2017

WBB runs into trouble in paradise

(Story)

Nov 29, 2017

NCAA fall sports recap

(Story)

Nov 29, 2017

Chimes Athlete of the Week: Men's basketball's Trevor Treinen

(Story)

Nov 28, 2017

Greatest Christmas films—according to us

(Story)

Nov 19, 2017

Isaiah Jones leads Eagles to road victory

(Story)

Nov 15, 2017

Home sweet home for men's basketball

(Story)

Nov 14, 2017

Bagatourian shines in MBB loss

(Story)

Nov 14, 2017

Volleyball falls to PacWest champs

(Story)

Nov 13, 2017

Birds of a feather flock together

(Story)

Nov 13, 2017

Men's basketball blown out in season opener

(Story)

Nov 09, 2017

Chimes Athlete of the Week: Volleyball's Brinley Beresford

(Story)

Nov 08, 2017

Bishop leads way for men's golf

(Story)

Nov 07, 2017

Women's swim stifled at APU

(Story)

Nov 07, 2017

Volleyball cruises to another sweep

(Story)

Nov 02, 2017

Chimes Athlete of the Week: Swim's Lisa Tixier

(Story)

Oct 31, 2017

Swim improves in first road trip

(Story)

Oct 30, 2017

Men's soccer narrowly loses to CBU

(Story)

Oct 25, 2017

Chimes Athlete of the Week: Cross Country's Hannah Hunsaker

(Story)

Oct 23, 2017

Men's soccer manufactures tie

(Story)

Oct 23, 2017

Cross country reaches PacWest podium

(Story)

Oct 18, 2017

Ryan Kauth takes command

(Story)

Oct 18, 2017

Frank the Tank strengthens the Eagles

(Story)

Oct 17, 2017

Men's soccer rebounds with win

(Story)

Oct 12, 2017

Munivez lifts men's soccer over Sharks

(Story)

Oct 11, 2017

Women's golf records firsts in Arizona

(Story)

Oct 11, 2017

Swim makes splash in season opener

(Story)

Oct 11, 2017

Chimes' Athlete of the Week: Volleyball's Brooke Watts

(Story)

Oct 08, 2017

Men's soccer blown out in Fresno

(Story)

Oct 05, 2017

Men's soccer shuts out APU

(Story)

Oct 04, 2017

Beyond the Bubble: Scandal rocks NCAA basketball

(Story)

Oct 02, 2017

Men's soccer scores huge home win

(Story)

Sep 26, 2017

Young core gives volleyball a bright future

(Story)

Sep 26, 2017

Volleyball collapses in upset

(Story)

Sep 25, 2017

Eagles lose volleyball thriller

(Story)

Sep 20, 2017

Chimes' Athlete of the Week: Volleyball's Tess Van Grouw

(Story)

Sep 20, 2017

Biola, APU renew historic rivalry

(Story)

Sep 19, 2017

Volleyball wins thriller at Concordia

(Story)

Sep 18, 2017

Cross country finishes middle of the pack at UCR

(Story)

Sep 13, 2017

Get ready for a new era of Biola Athletics

(Story)

Sep 13, 2017

Athletics gears up in style

(Story)

Sep 12, 2017

Biola hires new swim coach

(Story)

Sep 11, 2017

Cross country off to a fantastic start

(Story)

May 18, 2017

L.A. Pro Sports Update 5/17

(Story)

May 17, 2017

Men's golf gets an extra two years

(Story)

May 16, 2017

Women's soccer ramps up for Division II

(Story)

May 16, 2017

Stewart finally cools down

(Story)

May 10, 2017

L.A. Pro Sports Update

(Story)

May 09, 2017

Swim gets a boost for NCAA

(Story)

May 03, 2017

Community change forces major adjustment

(Story)

May 03, 2017

L.A. Pro Sports Update 5/3

(Story)

May 02, 2017

Successful lacrosse season signals better days ahead

(Story)

Apr 27, 2017

L.A. Pro Sports Update

(Story)

Apr 25, 2017

Softball eliminated from playoffs on season's final day

(Story)

Apr 25, 2017

Women's golf takes second in NAIA regionals

(Story)

Apr 25, 2017

Softball drops crucial games at Menlo

(Story)

Apr 12, 2017

L.A. Pro Sports Update 4/12

(Story)

Apr 12, 2017

Biola Rugby continues growth by hosting massive tournament

(Story)

Apr 05, 2017

L.A. Pro Sports Update

(Story)

Apr 04, 2017

Hammar takes long road back to pitcher's mound

(Story)

Mar 29, 2017

L.A. Pro Sports Update 3/30

(Story)

Mar 28, 2017

Softball swept again in doubleheader

(Story)

Mar 22, 2017

L.A. Pro Sports Update

(Story)

Mar 21, 2017

Baseball keeps moving up

(Story)

Mar 16, 2017

L.A. Pro Sports Update

(Story)

Mar 15, 2017

Incredible comeback falls short

(Story)

Mar 15, 2017

Underclassmen propel top-five finishes

(Story)

Mar 14, 2017

Eagles nail first day

(Story)

Mar 08, 2017

Basketball suffers setback in GSAC tournament

(Story)

Mar 08, 2017

L.A. Pro Sports Update 3/9

(Story)

Mar 08, 2017

Tixier, Eagles go out in style

(Story)

Mar 05, 2017

First full day brings first champion of the year

(Story)

Mar 05, 2017

Tixier adds another title, record

(Story)

Mar 01, 2017

Catholic epistles get moment in spotlight

(Story)

Mar 01, 2017

L.A. Pro Sports Update

(Story)

Mar 01, 2017

Eagles dive into national championship meet

(Story)

Feb 22, 2017

L.A. Pro Sports Update

(Story)

Feb 22, 2017

Seniors go out on top

(Story)

Feb 18, 2017

Invitational kicks off in thrilling fashion

(Story)

Feb 16, 2017

Dominance at the plate propels softball's success

(Story)

Feb 15, 2017

L.A. Pro Sports Update

(Story)

Feb 14, 2017

Eagles aim for strong finish to regular season

(Story)

Feb 13, 2017

Softball keeps rolling, notches road sweep

(Story)

Feb 12, 2017

Softball grinds out sweep

(Story)

Feb 08, 2017

Softball pulls upset in Azusa

(Story)

Dec 06, 2016

Eagles soar, records fall at La Verne Invitational

(Story)

Dec 06, 2016

Tixier soars but Eagles slip

(Story)

Dec 05, 2016

Eagles start strong at La Verne Invitational

(Story)

Nov 29, 2016

Record-breaking finish to fall season

(Story)

Nov 15, 2016

Women dominate at Soka

(Story)

Nov 08, 2016

Swim struggles in Azusa

(Story)

Nov 08, 2016

Swim hits rough patch in Azusa

(Story)

Nov 01, 2016

New era for Biola swim begins

(Story)

Oct 26, 2016

Eagles take the Bay

(Story)

Oct 19, 2016

Swimming swims swimmingly

(Story)

Oct 18, 2016

Eagles stand out in Malibu

(Story)

Oct 05, 2016

Presenting: Biola swimming's new dynamic duo

(Story)

Sep 21, 2016

Cross country displays strength

(Story)

Sep 20, 2016

Dawson stands out in second meet

(Story)