Women's soccer ties with APU
For the second straight year, the annual women's soccer Cornerstone Cup matchup ended in a 1-1 draw.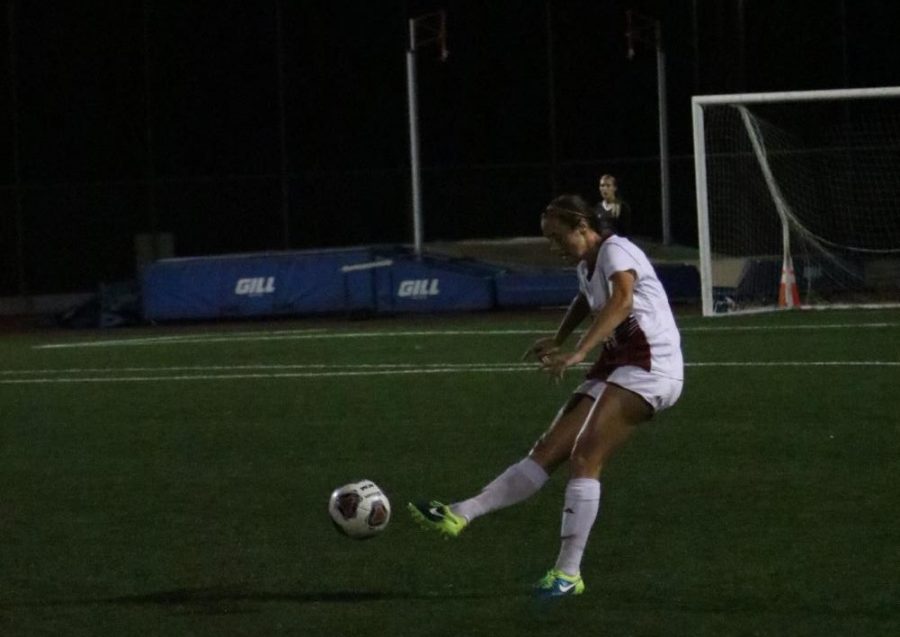 The nightcap in a family weekend soccer doubleheader brought a bit of deja vu as women's soccer fought archrival Azusa Pacific University to a 1-1 tie for the second year in a row. The tie allowed Point Loma Nazarene University to clinch the PacWest conference title and gave Biola and APU five Cornerstone Cup points each.
EAGLES DRAW FIRST BLOOD
To no one's surprise, freshman goalkeeper Vivianna Poli turned in another spectacular effort with eight saves to go with the one goal allowed, while junior forward Sarah Jeffries' first half score made her the first Eagle to reach five goals on the season.
The fireworks started early as Azusa's first shot, which went wide of the goal, came just 25 seconds into the match. Less than two minutes later, the Eagles nearly scored on their first attempt when junior forward AnnMarie Alvarez's attempt hit the top crossbar.
The two teams traded their first shots on goal about 10 minutes later, but junior midfielder Paula-Marie Labate could not get past APU goalie Tatum French and Poli made another great save on the other end for her first of the night.
After two more near misses from Alvarez and junior midfielder Hali Oakes, the Eagles finally broke through in the 30th minute. Jeffries took a through pass from junior defender Colie Martin and launched it above the outstretched arms of APU's goalie, giving the Eagles a 1-0 lead.
COUGARS STRIKE BACK
The Cougars came out firing at the beginning of the second half, and their attack paid off in the 55th minute when Randi Macadangdang took a cross pass and inserted it past Poli to tie the game.
Both defenses settled down from then on, and French made sure a late push from the Eagles proved unsuccessful, saving shots from Jeffries and junior defender Devin Gooch to send the game into overtime.
APU dominated the first overtime, but Poli came through again with four spectacular saves to prevent a golden goal and force another extra period. Biola's best chance of either overtime came on a good look from Jeffries with less than a minute remaining in 2OT, but APU recovered to block her shot and clear the ball as time expired.
The Eagles (6-5-4, 4-2-2 PacWest) get a small breather Sunday before heading south Monday to play the newly crowned conference champs, PLNU, at 3:30 p.m.
About the Writer
Austin Green, Managing Editor
Austin Green is a junior journalism major who was first among his friends to predict that LeBron James would sign with the Los Angeles Lakers. When not focused on school or work, he enjoys watching sports, going to the beach or coffee shops, and hanging out with the guys on his dorm floor.

[email protected]



I laughed the first time I heard a former editor-in-chief use the line "once you join the Chimes, you never really leave." Now in my third year here, it turns out...