Men's basketball tips off season with a win
Newcomer Alex Wright and veteran Trevor Treinen combine for 39 points to lead the Eagles to a victory.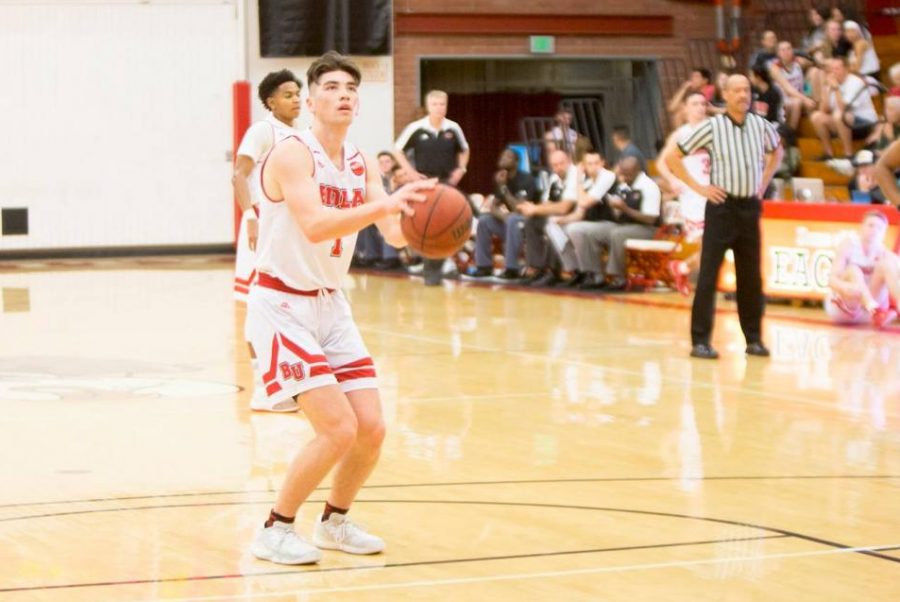 The scoreboard at Chase Gymnasium went black with about two minutes remaining in the game, but in the end it read 64-58, Eagles, as men's basketball won its season opener Friday over the Cal State San Marcos Cougars.
Redshirt freshman guard Alex Wright, playing in his first game at Biola, led all scorers with 20 points, 18 of which came in the second half. Senior guard Trevor Treinen chipped in 19 points of his own, going 13-14 from the free-throw line to help ice the game late. Senior forward Alex Talma picked up right where he left off last season, notching 11 points and 13 rebounds for a double-double.
"First half, I kind of needed to get my feet under me, [it was] my first time playing in a year and a half," Wright said. "[I] kind of settled down in the second half and was able to play my game and just control the team better, control the tempo."
Wright was not the only one who came out shaky to start the game, as both teams struggled to establish an offensive rhythm. Biola shot just 30.8 percent from the field and 1-11 from the 3-point line in the half. After falling behind 20-9 early, though, the Eagles clawed their way back into the game thanks to some costly turnovers on CSUSM's part and only trailed by one point, 22-21, heading into halftime.
"We weren't very good defensively last year, so we really wanted to improve that part of the game this year," said head coach Dave Holmquist.
The Cougars jumped ahead 31-26 early in the second half, but a basket from senior forward Alex Talma and a fastbreak dunk from Treinen narrowed the deficit to one.
The Eagles eventually took a 38-35 lead off back-to-back buckets from Wright but could not pull away. San Marcos regained the lead at 46-45 with just over six minutes to play. Wright had an answer with a corner 3-pointer to put the Eagles ahead 48-46. The Cougars immediately answered with a triple of their own but Wright responded with a floater on the other end to keep the Eagles ahead by one.
Biola then started to pull away thanks to free throws by Treinen and a dunk by senior forward Steve Herve, playing in his first game since early 2017.
With 1:53 remaining, the game entered a brief delay when the power to the scoreboard and shot clocks went out. Biola athletics staff was eventually able to restore power to the scoreboard and after some more difficulty was able to get the shot clocks working as well.
The interruption did not disrupt the Eagles' momentum as they eventually sealed the win. Holmquist was particularly impressed with how his team kept a solid offensive squad in check throughout the game.
"When you hold a team to 58 points against good offensive players like they have, that's a good night," Holmquist said.
The Eagles finish their weekend slate against Cal State Los Angeles on Saturday at 7 p.m.
About the Writers
Austin Green, Managing Editor
Austin Green is a junior journalism major who was first among his friends to predict that LeBron James would sign with the Los Angeles Lakers. When not focused on school or work, he enjoys watching sports, going to the beach or coffee shops, and hanging out with the guys on his dorm floor.

[email protected]



I laughed the first time I heard a former editor-in-chief use the line "once you join the Chimes, you never really leave." Now in my third year here, it turns out...
Andi Basista, Sports Editor
Andi Basista is a junior journalism major who loves basketball, underground music and is highly appreciative of a good beach day.



Originally from a small farm town in Ohio, I have put aside my corn shucking gloves to embrace a new life in the Angel City to study sports journalism. It is true what they say about culture shock and LA traffic. I am used to being late to work because of getting stuck behind a John Deere tractor, but now it is because of gridlock on the I5. However, I have quickly...