Rainy rally gives baseball another win
Fawley, Gallegos come in clutch during five-run seventh inning.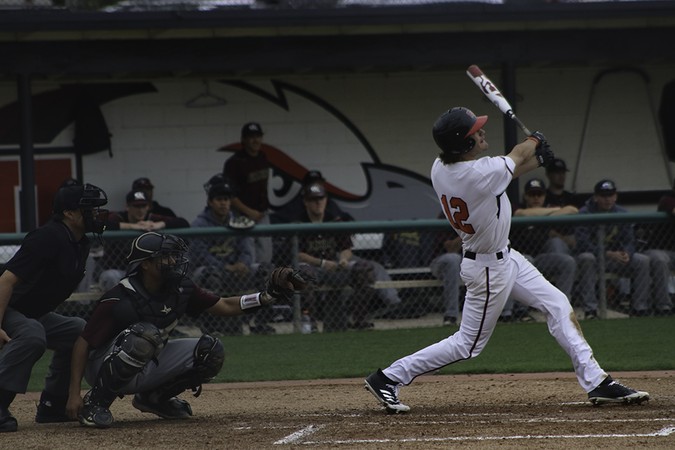 At one point on March 13, baseball found themselves down four runs with rain drenching Eagles Diamond, causing pitchers to slip on the mound. The Eagles' offense, however, found a way to rally late by scoring six runs over their final two innings en route to a 9-7 victory over the University of Saint Katherine Firebirds in their first game in seven days.
"This team is really beginning to develop a good identity and a culture of finding ways to win," said manager Jay Sullenger.
LEAVITT STRUGGLES IN FIRST START OF 2018
After recording a 1.38 ERA out of the bullpen, junior pitcher Joey Leavitt got his first start of the season and promptly gave a run in the first inning. The Eagles came right back in the bottom of the first, however, scoring three via a wild pitch and a two-run double from freshman designated hitter Ryan Gallegos. However, USK tied the score in the top of the third, forcing Leavitt out of the game. Junior relief pitcher Devin Sutorius finished the inning and threw two more scoreless, but the Eagles' bats could not capitalize. The Firebirds hit a go-ahead home run against Sutorius in the sixth, then erupted for three more runs against redshirt freshman reliever Honus Kindreich in the seventh as the rain over the field grew from a drizzle to a downpour.
The Eagles took advantage of the soggy elements in the bottom of the seventh when their bats finally awoke. With two outs, junior outfielder Jerron Largusa singled home junior second baseman Joey Magro. Gallegos followed with a two-run homer to bring the score to within one and give him four RBIs on the day. The 18-year-old now has a .423 average and 19 RBIs this year, second on the Eagles in both categories.
"You don't see guys going on tears like [Gallegos] does that often, maybe not as common for a freshman either," Sullenger said. "He consistently gives you a great approach and a lot of expectation of himself each day."
RELIEVERS HOLD LEAD DESPITE RAIN
Sophomore third baseman Jacob Portaro followed with a double, forcing the Firebirds to change pitchers, and senior catcher River Fawley greeted the new reliever with a game-tying RBI triple. Fawley later scored the go-ahead run on a wild pitch.
"In my previous at bats, [my swing] was a little long," Fawley said. "So I wanted to just shorten [it] up and drive something."
Senior first baseman Colton Worthington added some insurance with a solo home run in the eighth. Meanwhile, sophomore reliever Josh Ludeman and senior closer Daniel Jang each threw a scoreless inning, braving the rain to seal the come-from-behind victory.
"They got in there and executed in adverse conditions," Sullenger said. "It's something that we've been doing enough now that they're starting to get used to [playing] in this. We did a lot of that in Hawaii and it looks like we'll be doing a lot of that this weekend too."
The Eagles (16-6, 6-2 PacWest) indeed expect to face more inclement weather during their series at Fresno Pacific University on March 15-17. Game times have already been rearranged in an effort to beat the rain but remain subject to change.
About the Contributor
Austin Green, Managing Editor
Austin Green is a junior journalism major who was first among his friends to predict that LeBron James would sign with the Los Angeles Lakers. When not focused on school or work, he enjoys watching sports, going to the beach or coffee shops, and hanging out with the guys on his dorm floor.

[email protected]



I laughed the first time I heard a former editor-in-chief use the line "once you join the Chimes, you never really leave." Now in my third year here, it turns out...