Bethany Miller reflects on Biola's first year in the NCAA
The athletic director pulls back the curtain on Biola's inaugural Division II season.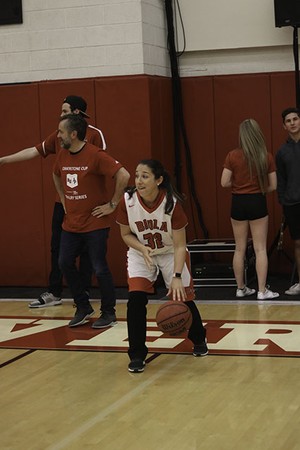 Sitting in her spacious office above Chase Gymnasium, athletic director Bethany Miller had a wistful look in her eye. She had just been asked to recall some of her favorite memories from her program's first year in Division II of the NCAA, and she was having a hard time choosing.
"I could tell you about 30-50 [of them]," she said, laughing.
She settled on the most recent—the performance of the men's tennis team at the PacWest Conference Championships in Surprise, Ariz. on April 19-21. Miller traveled with the team and celebrated their upset of fifth-ranked Sonoma State University in the consolation bracket. Her face lit up even more when talking about what senior Phillip Westwood had won off the court.
"To… watch Phil Westwood win the unanimous vote of all of the coaches in the entire conference [for] the sportsmanship award for the conference, the only student athlete to get it, and have that be our student athlete—just incredible," Miller said.
EAGLES SOAR IN SEVERAL AREAS
What unfolded that weekend—a scrappy Eagles squad overachieving while one of their own was recognized for his conduct—provides a perfect encapsulation of Biola Athletics' first academic year as part of the Division II and the PacWest. The Eagles fielded several competitive teams, including some like baseball and volleyball that vastly outperformed the preseason expectations of the rest of the conference. Despite not being eligible to compete in the NCAA playoffs during their two years of provisional membership, they renewed their membership in the National Christian College Athletic Association for postseason play and promptly won NCCAA national titles in volleyball, women's soccer and men's cross country. Other sports, like men's soccer and women's swim, held their own in their respective conferences with heroic farewell performances all season long from seniors like Sammy McKay and Lisa Tixier.
On the sidelines, the Eagles had no major controversies and believe to have met their current compliance standards for their ongoing transition into the NCAA. Miller does not hesitate to rate this past year as a success.
"To have our programs excel and be currently tied for third in the PacwestCommissioner's Cup and having a wonderful spring season, we're thrilled with how our teams are doing in both competitive success [and] academics as well as so many other aspects of the program," Miller said.
Indeed, Biola student athletes seemingly continue to defy the sports-obsessed "dumb jock" stereotype. Miller estimates that they will have logged over 4,000 hours of community service and maintained a GPA at or above that of the school's general student population.
"I think a highlight for me is watching getting to know these incredible people, just like everyone on our campus, [who are] involved in holistic development and this is just our piece of it in athletics," Miller said. "So I get to see them thrive in the gifts that God has given them all across their lives and not solely in their sport, which is really fun."
MORE CLASSICS EXPECTED AGAINST AZUSA
One of the best moments of the year for athletics came on Feb. 3 when Chase Gym filled to the brim for two basketball games against archrival Azusa Pacific University. Both contests proved instant classics, with APU edgingout the Eagles in the women's matchup while Biola upset the Cougars in the men's game with a late three-pointer to win.
"I think my favorite part was being able to see the community come out and support, and not only our students but also staff and faculty and alums, and see the whole community come together in just one of these highlight events and really seeing the work pay off that has been put in across the institution," Miller said. "[The games] couldn't have been better… We expect to have these close rivalry games. It doesn't necessarily matter the record of the teams coming in because we know everybody's going to step their level up in that type of an environment."
Miller also enjoyed beating Gary Pine, her APU counterpart, in a halftime competition. Afterwards, Pine and another APU official donned Biola jerseys and posed with Miller and Biola president Barry Corey. Miller plans to have the picture framed in her office not only to remember the victory, but also to commemorate the relationship between the two athletic departments and their success in implementing the Cornerstone Cup rivalry series.
"Working with Gary Pine has been wonderful," Miller said. "[Our programs are] so like-minded…  to have the Cornerstone Cup be truly about Christ as the cornerstone and what unites our universities as we compete with each other has been such a healthy balance and what is truly really great about having athletic competition. And that is to be able to understand and have an eternal perspective about why we're doing what we're doing, and then have fun within that."
About the Contributor
Austin Green, Managing Editor
Austin Green is a junior journalism major who was first among his friends to predict that LeBron James would sign with the Los Angeles Lakers. When not focused on school or work, he enjoys watching sports, going to the beach or coffee shops, and hanging out with the guys on his dorm floor.

[email protected]



I laughed the first time I heard a former editor-in-chief use the line "once you join the Chimes, you never really leave." Now in my third year here, it turns out...