Late heroics lift men's tennis
Lee, Blair and James come up big in their singles matches to beat Sonoma State.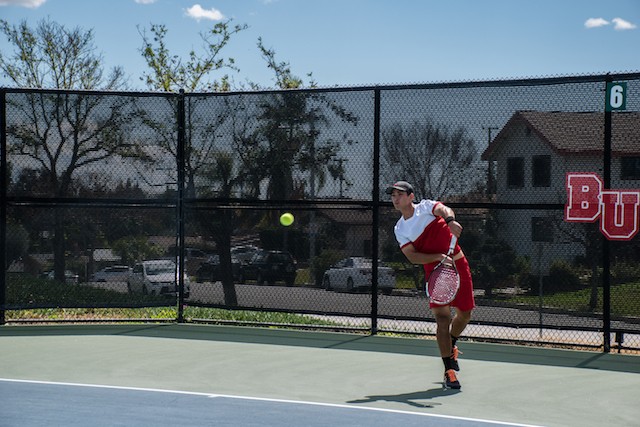 With only one point between his team and a win that could snap their three-match losing streak, senior Lucas Lee dug in. He and his opponent battled back and forth in an impressive rally before Lee tried to get Allan Lock of Sonoma State University off balance. Lee's strategy worked. He cheated towards the net and volleyed an off-balance shot out of Lock's reach to secure a three-set victory for him and a 5-4 team win for the Eagles on March 19. As his teammates mobbed him, the veteran breathed a sigh of relief.
"Nerves, at any level, set in," Lee said. "It doesn't matter that I have been doing this for four years, [I am] still trying to stay calm out there."
DOUBLES LOSSES HIGHLIGHT ROUGH START
The early going proved rough for Biola, as the pairing of Lee and sophomore Derek James led off with an 8-3 doubles loss. Senior Joe Turnquist and freshman Logan Blair came a little closer, but still fell to their Sonoma State counterparts 8-6. With the Eagles in a 2-0 hole early, the duo of freshman Quentin Lau and senior Phillip Westwood put Biola on the board and avoided a doubles sweep of their team, winning their match 8-4.
Turnquist led off the singles play by getting trounced in his match, losing in straight sets by scores of 6-0 and 6-1. Lau followed by again coming up huge for the Eagles, defeating his Sonoma State counterpart by set scores of 6-4 and 6-2. Westwood lost the first set of his match, but nearly fought back for a tiebreak before losing the second set 7-6. That gave SSU an overall 4-2 lead and moved them within one of clinching a team victory.
EAGLES RALLY IN SINGLES
However, the Eagles fought back. James won the first set of his match 7-6, lost the second one 1-6, then took home a 6-4 victory in the deciding third set. Blair fell in his first set, but got a huge 7-5 victory in the second set to force a tiebreak, which he won 6-4. Lee won his first set 6-4, lost by the same score in his second set to force yet another tiebreak, which he also won 6-4 to give the Eagles the come-from-behind victory.
"We're finally finding our groove as a team, I feel," Lee said. "Although it's taken us a while, we're finding it."
The Eagles improve to 3-8 on the year and will get a day off before facing off against Arizona Christian University on March 21.
About the Contributors
Austin Green, Managing Editor
Austin Green is a junior journalism major who was first among his friends to predict that LeBron James would sign with the Los Angeles Lakers. When not focused on school or work, he enjoys watching sports, going to the beach or coffee shops, and hanging out with the guys on his dorm floor.

[email protected]



I laughed the first time I heard a former editor-in-chief use the line "once you join the Chimes, you never really leave." Now in my third year here, it turns out...