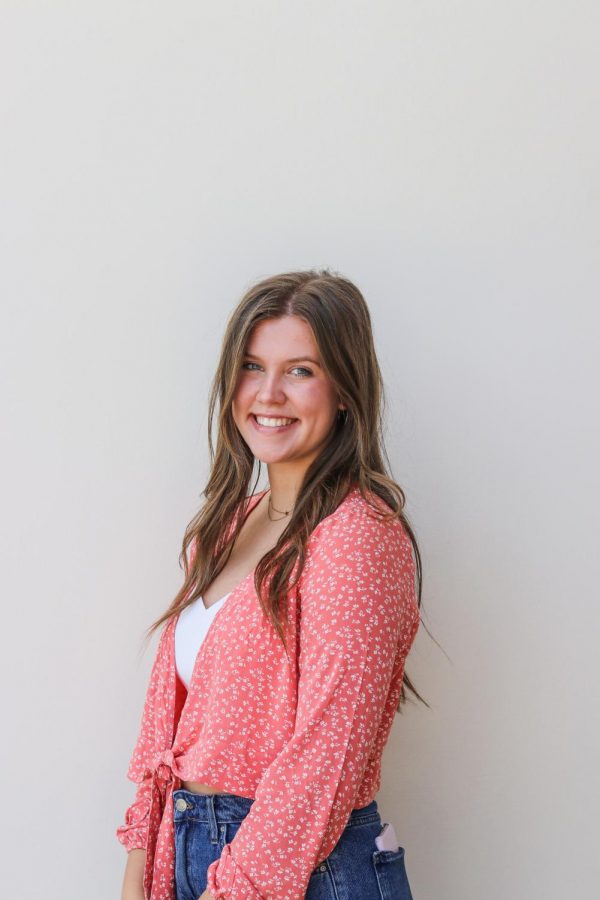 Ashley is a sophomore broadcast journalism major and Spanish minor who dreams of working for ESPN. She loves the Seattle Seahawks, watching "Friends" and telling stories.
Hi there! My name is Ashley Grams and I grew up in a small town north of Seattle –– it is so far north that many people resort to saying we live in Canada. Every weekend I watched sports with my dad, especially the Seattle Seahawks. Thursday, Sunday or Monday night, it didn't matter when they were on, my dad and I were glued to the TV. My love of sports started at a young age and translated into my teen years as I found myself following in the footsteps of Erin Andrews and other broadcasters. Sports journalism became my dream and I moved to Biola University, near Los Angeles, to pursue it.
As a sophomore broadcast journalism major and Spanish minor, I am excited to continue writing for the Chimes as a sports staff writer. I enjoy the challenge of communicating effectively with a joyful heart, not to mention watching tons of games on campus! Outside of the Chimes you might find me playing intramural sports, watching "Friends" or eating gluten-free food. 
Ashley Grams, Deputy News Editor
Dec 03, 2020

SGA Rundown: Peer Wellness Ambassadors and SCORR Conference vote

(Story)

Dec 01, 2020

Biola's reopening plans remain unknown according to recent email

(Story)

Dec 01, 2020

Biolans plan for housing amid pandemic

(Story)

Nov 16, 2020

BREAKING: California faces second lockdown in 41 counties due to COVID-19

(Story)

Nov 10, 2020

Winsome Conviction Project hosts postelection events

(Story)

Nov 09, 2020

Biola professor assists low income communities by researching food disparities

(Story)

Nov 07, 2020

Joe Biden becomes 46th president-elect of the United States, news agencies project

(Story)

Nov 06, 2020

SGA Rundown: Woven and GRIT

(Story)

Nov 04, 2020

Journalism students engage in election coverage

(Story)

Nov 03, 2020

Biolans follow 2020 presidential election from home

(Story)

Oct 27, 2020

Fires rage throughout Silverado Canyon

(Story)

Oct 26, 2020

Wildfires erupt near Yorba Linda

(Story)

Oct 14, 2020

Biolan sisters create Singspiration-inspired worship night

(Story)

Oct 08, 2020

Female leaders across campus reflect on Ruth Bader Ginsburg's legacy

(Story)

Sep 30, 2020

Torrey Honors Institute now Torrey Honors College

(Story)

Sep 29, 2020

Journalism professor uses art to reconnect with Chicano roots

(Story)

Sep 21, 2020

Biola launches first initiative of the diversity strategic plan

(Story)

Sep 18, 2020

Accelerated app launch renews remote community

(Story)

Sep 17, 2020

BREAKING: Biola will remain closed for fall semester

(Story)

Sep 15, 2020

Student Missionary Union reimagines global missions

(Story)

Sep 15, 2020

Biola baseball upgrades Eagles Diamond

(Story)

Sep 11, 2020

Biola's teams establish remote community through huddles and virtual lunches

(Story)

Sep 10, 2020

SGA Rundown: Reaching out virtually

(Story)

Sep 07, 2020

California fires hit close to home

(Story)

Sep 03, 2020

SGA Rundown: Theme of transparency leads new administration

(Story)

Sep 02, 2020

Biola around the world

(Story)

May 01, 2020

Biola will open in Fall 2020, President Corey announces at town hall meeting

(Story)

Apr 24, 2020

Biola Counseling Center and Pastoral Care services function remotely

(Story)

Apr 16, 2020

President Barry Corey announces first ever diversity strategic plan

(Story)

Apr 09, 2020

Biola grants credit/no credit option for Spring 2020 grades

(Story)

Apr 08, 2020

Torrey Cambridge Study Tour canceled

(Story)

Apr 01, 2020

Online registration for Fall 2020 pushed back

(Story)

Mar 31, 2020

Biola students petition for pass/fail grading

(Story)

Mar 27, 2020

Startup winner ParaBrands receives prize money—one year later

(Story)

Mar 12, 2020

Biola takes precautions against the coronavirus

(Story)

Mar 12, 2020

Azusa Pacific University halts in-person classes

(Story)

Feb 27, 2020

SGA Rundown: SGA considers expanding open hours, reviews student surveys

(Story)

Feb 27, 2020

BREAKING: Senate votes unanimously to keep diversity coordinator position

(Story)

Feb 21, 2020

Racist vandalism marks Black History Month

(Story)

Feb 20, 2020

SGA Rundown: Senate discusses diversity and inclusion responsibilities

(Story)

Feb 19, 2020

Campus Engagement limits Mock Rock spending and practice hours

(Story)

Feb 13, 2020

SGA Rundown: Hope International University proposes dual school dance

(Story)

Feb 06, 2020

SGA Rundown: Senate votes on election campaign violation case

(Story)

Feb 01, 2020

Women's basketball falls short in Cornerstone Cup

(Story)

Jan 27, 2020

Biola Athletics kicks off inaugural "Week of Giving"

(Story)

Jan 27, 2020

Faith and Science club kicks off first meeting of semester

(Story)

Jan 25, 2020

Gym renovation forces students and student-athletes to share fitness facilities

(Story)

Jan 25, 2020

Student Missionary Team serves a shaken Puerto Rico

(Story)

Jan 24, 2020

New international travel division creates standards for SMU trip safety

(Story)

Jan 22, 2020

MLK Chapel: racial barriers hinder us from a beloved community

(Story)

Jan 15, 2020

Weight room renovations bring Eagles up to NCAA Division II facility standards

(Story)

Dec 14, 2019

Women's basketball takes first loss in PacWest play to PLNU

(Story)

Dec 09, 2019

Swim and dive shatters records at the Collegiate Winter Invite

(Story)

Dec 07, 2019

Men's soccer shocked from sudden head coach resignation

(Story)

Nov 26, 2019

Men's basketball extends four-game winning streak against Saint Katherine

(Story)

Nov 23, 2019

Women's basketball soars past Hope International

(Story)

Nov 21, 2019

Men's basketball earns second win at home against Pomona-Pitzer

(Story)

Nov 16, 2019

Women's swim and dive revitalized by Kauth

(Story)

Nov 13, 2019

Women's soccer ties conference champion PLNU on senior night

(Story)

Nov 11, 2019

Midnight Madness 2019: men's basketball redeems themselves

(Story)

Nov 08, 2019

Women's basketball drops home opener against CSULA

(Story)

Nov 05, 2019

Men's soccer falls to No. 1 ranked Azusa

(Story)

Nov 02, 2019

Senior nursing majors trade jerseys for scrubs

(Story)

Oct 31, 2019

Men's soccer adds another win at home against Chaminade

(Story)

Oct 28, 2019

Women's soccer adds to eight-game win streak against Hawaii Pacific

(Story)

Oct 26, 2019

Volleyball extends win streak against Dominican

(Story)

Oct 19, 2019

Women's soccer takes second victory in a row at home

(Story)

Oct 19, 2019

Baseball hires third head coach in three years

(Story)

Oct 18, 2019

Volleyball earns clean win against Academy of Art

(Story)

Oct 17, 2019

Women's soccer beats Academy of Art University at home

(Story)

Oct 12, 2019

Men's soccer prevails over Dominican

(Story)

Oct 12, 2019

Women's soccer tops Dominican University

(Story)

Oct 10, 2019

Women's soccer earns big win against Holy Names

(Story)

Oct 05, 2019

Volleyball loses fight against APU

(Story)

Oct 05, 2019

Volleyball adapts to revamped roster

(Story)

Oct 02, 2019

Women's soccer tops rival Concordia Irvine

(Story)

Sep 28, 2019

Volleyball's young team gives up home opener

(Story)

Sep 25, 2019

Volleyball shut out Fresno Pacific University

(Story)

Sep 23, 2019

Weekend camping trip grows into outdoor ministry

(Story)

Sep 19, 2019

Tennis Center gets a facelift

(Story)

Sep 18, 2019

Men's soccer swallows a tie in double overtime

(Story)

Sep 15, 2019

Women's soccer bounces back in Portland

(Story)

Sep 12, 2019

Women's soccer sinks lower in standings

(Story)

Sep 08, 2019

Volleyball tops UCSD and Concord during Alaska invitational

(Story)

Sep 05, 2019

Women's soccer drops season opener against Cal State LA

(Story)

May 02, 2019

Baseball beats Hilo in thrilling fashion

(Story)

May 01, 2019

Baseball flexes dominant hitters over Hilo

(Story)

Apr 26, 2019

Softball takes two tough losses on senior night

(Story)

Apr 20, 2019

Men's tennis serves Holy Names a loss

(Story)

Apr 19, 2019

Softball splits doubleheader on the road

(Story)

Apr 17, 2019

Women's tennis loses in first playoff match

(Story)

Apr 12, 2019

Swim and dive reaches beyond the pool

(Story)

Apr 08, 2019

Women's tennis loses in away match

(Story)

Mar 29, 2019

Women's tennis wins big at Saint Katherine

(Story)

Mar 25, 2019

Men's tennis falls to Hawaii Hilo

(Story)

Mar 20, 2019

Short term missions, long term ambassadors

(Story)

Mar 19, 2019

Women's tennis takes tough loss at home

(Story)

Feb 28, 2019

Men's tennis takes frustrating loss at home

(Story)

Feb 23, 2019

Men's basketball wins big at home over HPU

(Story)

Feb 19, 2019

Women's basketball struggles at home

(Story)

Feb 17, 2019

Swim and dive breaks records in championship meet

(Story)

Feb 07, 2019

Women's tennis wins big in first match of the season

(Story)

Feb 02, 2019

Women's basketball falls short in second Hawaiian matchup

(Story)

Jan 26, 2019

Men's basketball wins tight matchup against Fresno Pacific

(Story)

Dec 06, 2018

Men's basketball takes tough loss in San Diego

(Story)

Nov 09, 2018

Women's basketball starts slow in season opener

(Story)

Nov 03, 2018

Win falls just out of reach for Swim at APU

(Story)

Oct 24, 2018

Women's golf wins NCCAA team title, Sami Penor takes individual crown

(Story)

Oct 14, 2018

DeMetropolis leads women's soccer to overtime victory

(Story)