Softball takes two tough losses on senior night
Seniors celebrate friendships as the Eagles' season comes to an end.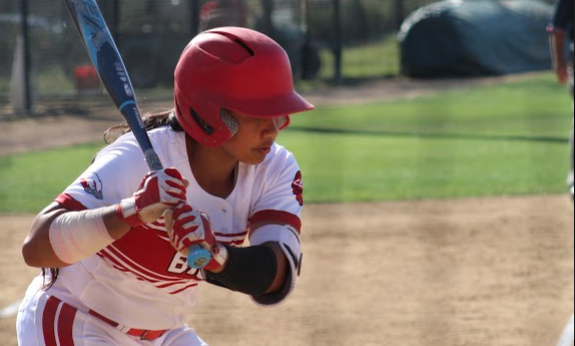 Biola softball celebrated senior night at home against Concordia University Thursday night in a doubleheader. Despite competitive pitching, the Eagles took heartbreaking losses in both games, 3-2 and 11-2.
In the first game, Concordia was the first team on the board with a run in the second inning. Sophomore pitcher Paige Austin did her best to fend off Concordia, but they ran another in the third inning to go up 2-0. Biola answered back with a sacrifice fly from senior infielder Missy Poti to make the game a tight 2-1.
Both pitchers did not allow many players on the bases and kept the game moving until the seventh inning when freshman outfielder Jennifer Morshini hit a single. Junior catcher Kayla Neff was hit by a pitch and sophomore third baseman Ruth Munoz reached on an error. Concordia's pitcher then walked senior outfielder Areana Ramos, and Morshini scored to tie the game. The Eagles played two more innings before Concordia scored on an error to win 3-2.
Poti expressed a grateful heart in her closing moments as a Biola athlete.
"I am thankful and blessed to have met so many girls and have them in my life. The girls are going to be there forever, softball just brought us together," Poti said.
The second game of the night moved quicker as Concordia racked up three runs in the first inning. Biola finally answered in the bottom of the second, when sophomore middle infielder Tori Apodaca scored on a wild pitch. Junior outfielder Haley Martinez added a second run courtesy of senior shortstop Andi Hormel to make the score 4-2 Concordia. The Eagles seemingly lost control at the end of the game as Concordia tallied five runs in the third inning and two to close out the match in the sixth inning, making the final score 11-2.
"In our beliefs and in our walk we have to keep [Jesus] in the midst of all it. Praise him in the midst of the storm, in the success and the failure. We just need to regroup right now," said head coach Nikki Udria.
The Eagles (PacWest 18-10) will be at Azusa Pacific University to take on the Cougars in their last regular season game on May 2 at 4 p.m. and 6 p.m.