Biolan sisters create Singspiration-inspired worship night
Green Hills Church offers seven:nine to remedy lack of in-person services and chapels.
With chapels fully online this semester, students are looking for other ways to worship. Junior administration major Alissa Wooley and her sister Aidyn Wooley, a Biola alumna, have partnered with Green Hills Church in La Habra to create a Singspiration-inspired worship night called seven:nine.
"My sister's on the team and she's an alumni, one of our worship leaders is an alumni, so it's pretty cool that we've gotten to focus on a lot of Biola's resources and reach out to that community," Alissa Wooley said. "But it's also great because about half of the team did not go to Biola, so we've gotten some of their input and influence as well."
SAFETY GUIDELINES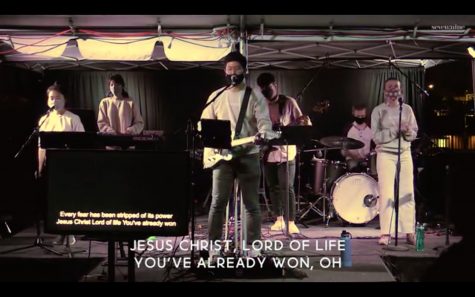 Even though the coronavirus pandemic has challenged traditional church services, seven:nine had the idea for an outdoor worship service. Green Hills believes that the church is rooted in community and not within a building. This belief drove its vision for a safe and inclusive outdoor gathering.
"I think definitely there are some people that are more hesitant, but we keep our masks on all the time which everyone has been really receptive to and understanding about," Aidyn Wooley said. "Everyone is kind of used to it at this point. Since we're outside it's really easy to spread out and if you're more concerned there's plenty of space for you to stay safe and still worship."
SEVEN:NINE
Seven:nine's name reflects the church's ability to join together as a community, despite  regulations. 
"The term '7:9' comes from Revelation 7:9, which talks about all the people just worshipping the throne of God in different languages and from different tribes and just that beauty of what it means to worship God. But also conveniently it goes from 7 p.m. to 9 p.m.," Alissa Wooley said.
Aidyn Wooley explained that the name was born out of a joke that ultimately stuck and the team felt it best suited their service. 
SISTERS IN MINISTRY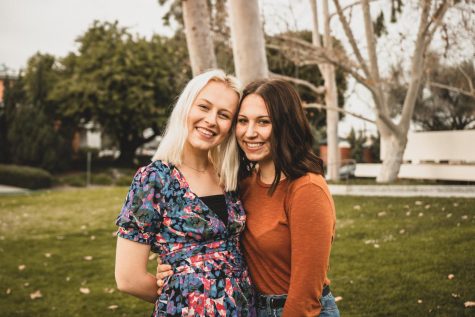 Aidyn and Alissa's dad is a pastor and they grew up serving churches as a family. But this time, the sisters get to serve their community on their own. 
"I got to work with her over the summer and we've grown up in a ministry family so doing ministry together has always been our thing," Alissa Wooley said. "But it's really fun to do it without our parents and kind of take control of it ourselves."
The two sisters' talents have complemented each other while working together. Alissa has used her planning and organizational skills to work with Aidyn's creative talents. 
GENERATIONAL WORSHIP
Although the worship night is geared toward youth and young adults, seven:nine has seen growth in other age groups. Families and older generations have started to attend recently. The ministry has engaged a high of 80 attendees last Sunday. 
"I mean my parents went to Biola in the '90s and they had singspo and it was a favorite," Aidyn Wooley said. "So I think people just love to worship, like always, all the time, all generations."
GETTING INVOLVED
To hear more about seven:nine, its Instagram page can be found here. Further information about the service can be found on Green Hill's website.