Journalism students engage in election coverage
Department Zoom call gives a behind the scenes perspective of news outlets during the 2020 presidential election.
Biola's journalism department met via Zoom last night during the election. The panel, dubbed 'Election night with the profs", allowed students to analyze news coverage and hear from alumni guest speakers.
Journalism professors Tamara Welter, Michael Kitada, Stewart Oleson and Michael Longinow socially distanced in the production center on Biola's campus during the meeting.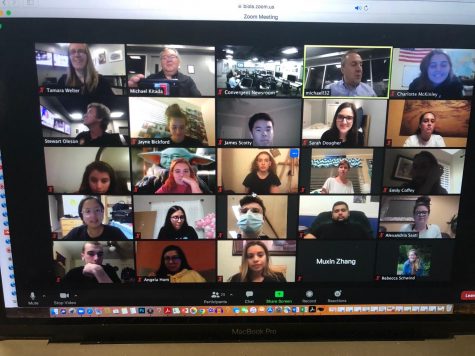 ALUMNI PERSPECTIVE
Two Biola journalism alumni, John Fredericks from The Epoch Times and Michelle Rindels from The Nevada Independent joined the meeting while on the job. Fredericks joined from his car in Southern California as he waited to gather footage from possible protest demonstrations. Rindels was preparing for a live show and managing several interns in the field.
The former students shared their perspective on election day coverage and what their role as professionals in the field looked like. Also mentioned were the characteristics of the election, such as exit polls and propositions.
CONNECTION THROUGH COMMUNITY
Although the journalism department hoped to give an insider look at working professionals, the professors also created space for students to share their feelings.
"Election Day and Night are nerve-wracking and honestly kind of scary, especially this year, and so being able to come together as a community of students and faculty—all with differing political views—and have a conversation about the logistics behind political coverage was not only educational but encouraging," senior journalism major Sarah Dougher said via text message.