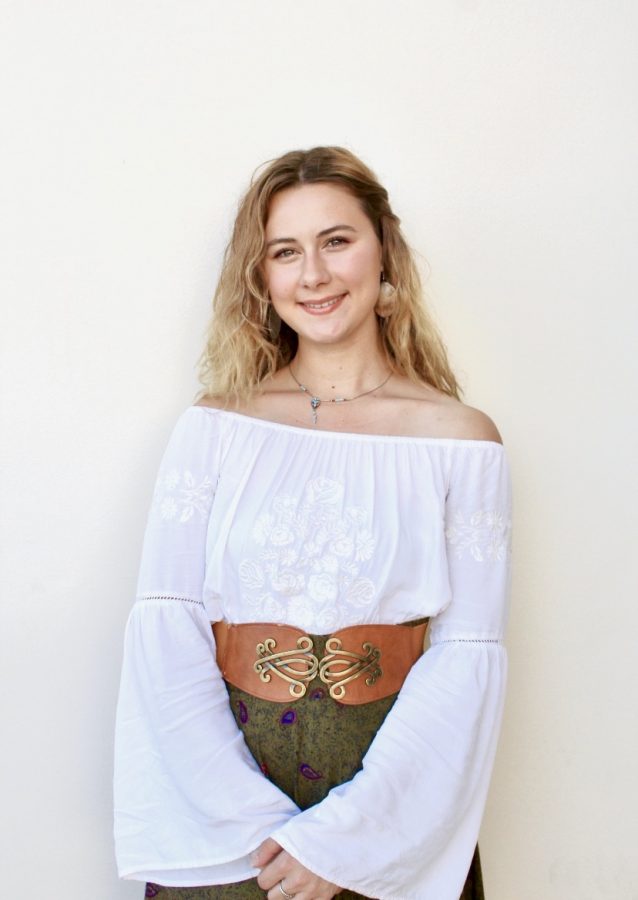 Lacey Patrick is a junior journalism major who collects feathers, wears too much jewelry, and works too many jobs.
A year ago I had never written a news article. Now, I'm editor-in-chief of an entire student news publication. I had originally transferred to Biola as a Psychology major, but just three days before classes started, I had a revelation after watching the movie "Spotlight" at a Chimes training. I always felt dissatisfied with a career that did not help people. But journalism does. It gives a voice to the voiceless and holds leadership accountable.
When I was a girl, I used to write poems and short stories. I grew up in the forest, so of course my mind wandered to fairytales quite often. I've always expressed myself in the most unstructured sense, never following the rules of writing because my pen had no bounds. Yet, structure became essential to my stories when I began writing news. It felt almost unnatural. It was a skill I had to refine, but it came quickly once my editors ripped my first few articles to shreds. I wouldn't have had it any other way, though. God has a funny way of taking us out of our comfort zone.
Lacey Patrick, Editor-in-Chief
Nov 07, 2020

Joe Biden becomes 46th president-elect of the United States, news agencies project

(Story)

Nov 03, 2020

Biolans follow 2020 presidential election from home

(Story)

Oct 26, 2020

Wildfires erupt near Yorba Linda

(Story)

Oct 14, 2020

Christians should not let the two-party system divide the church

(Story)

Sep 30, 2020

Torrey Honors Institute now Torrey Honors College

(Story)

Sep 21, 2020

Biola launches first initiative of the diversity strategic plan

(Story)

Sep 02, 2020

Biola around the world

(Story)

May 01, 2020

Biola will open in Fall 2020, President Corey announces at town hall meeting

(Story)

Apr 22, 2020

The pandemic could cost Biola $3.4 million

(Story)

Apr 16, 2020

President Barry Corey announces first ever diversity strategic plan

(Story)

Apr 14, 2020

'Communicating in crisis:' Public relations society hosts webinar on COVID-19

(Story)

Apr 06, 2020

California board reduces direct patient contact requirement for nursing students

(Story)

Mar 31, 2020

Biola students petition for pass/fail grading

(Story)

Mar 26, 2020

Nursing students to graduate a semester late due to novel coronavirus

(Story)

Mar 17, 2020

Biola to vacate housing, close campus to visitors

(Story)

Mar 12, 2020

In-person classes and Missions Conference canceled

(Story)

Mar 12, 2020

Biola takes precautions against the coronavirus

(Story)

Mar 11, 2020

Coronavirus concerns prompt chapel changes

(Story)

Mar 11, 2020

President Corey releases university response to COVID-19

(Story)

Feb 27, 2020

BREAKING: Senate votes unanimously to keep diversity coordinator position

(Story)

Feb 25, 2020

Crime Log — Feb. 18 – Feb. 21

(Story)

Feb 24, 2020

'I Heart Biola' week celebrates the university with gratitude

(Story)

Feb 21, 2020

Racist vandalism marks Black History Month

(Story)

Feb 18, 2020

Crime Log — Feb. 11 – Feb. 17

(Story)

Feb 10, 2020

Elections chapel: a glimpse of the candidates

(Story)

Feb 08, 2020

Keren Godwin and Gretchen Ferguson vs. Timothy Houlihan and Ryan Arnaiz

(Story)

Feb 05, 2020

Crime Log — Jan. 29 – Feb. 2

(Story)

Jan 31, 2020

Criminal transients to blame for theft on campus, Campus Safety chief says

(Story)

Jan 28, 2020

Crime Log — Jan. 17 – Jan. 27

(Story)

Jan 24, 2020

New international travel division creates standards for SMU trip safety

(Story)

Jan 23, 2020

Student Government Association enters spring semester with tightened budget

(Story)

Jan 13, 2020

Spring Convocation encourages new students to have zeal

(Story)

Dec 12, 2019

SGA Rundown: honoring a promise

(Story)

Dec 10, 2019

GRITmas serves homeless community with care packages

(Story)

Dec 06, 2019

GRIT prepares for fourth annual GRITmas

(Story)

Dec 05, 2019

SGA Rundown: SGA struggles to fund GSPD and SEID

(Story)

Nov 15, 2019

From leading troops to leading Christians

(Story)

Nov 11, 2019

Midnight Madness 2019: men's basketball redeems themselves

(Story)

Nov 08, 2019

Veterans share testimonies at Veteran's Chapel

(Story)

Nov 07, 2019

SGA Rundown: diversity matters

(Story)

Nov 02, 2019

Student workers given new jobs after grounds crew gets outsourced

(Story)

Oct 31, 2019

SGA Rundown: dress codes and churches

(Story)

Oct 31, 2019

Bardwell Hall remodel will provide a new environment for art students

(Story)

Oct 25, 2019

Punk 'n' Pie 2019: a passion for Jackson

(Story)

Oct 10, 2019

Torrey Conference day two delves deeper into "Incarnate" theme

(Story)

Oct 07, 2019

GSPD's "Meet the Neighbors" event brings students together through cuisine

(Story)

Oct 03, 2019

SGA Rundown: Extra funds and new proposals

(Story)

Oct 03, 2019

AfterDark: From Death to Life, SGA student testimonies

(Story)

Sep 26, 2019

SGA Rundown: Biola ShakeOut and voting on proposals

(Story)

Sep 20, 2019

2019 Nationball: OCC takes home free burritos

(Story)

Sep 18, 2019

U.S. News recognizes Biola on seven national ranking lists

(Story)

Sep 11, 2019

Campus Safety introduces new security feature that detects earthquakes before they hit

(Story)