BREAKING: Car catches fire in Lot K
Campus Safety and the Los Angeles Sheriff's Department investigate a series of explosions that resulted in an on-campus fire.
This article is being updated as soon as new information comes in.
On March 14, a car located in Lot K by Horton Hall caught fire. The incident was reported at 6:04 p.m., and Campus Safety has involved the Los Angeles County Sheriff's department. Authorities are still assessing the situation to determine the cause of the fire.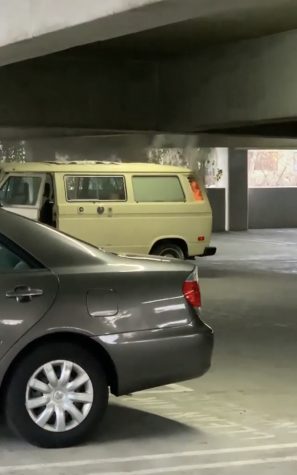 Campus Safety alerted students in an email to avoid upper campus due to heavy police presence at the parking structure. The fire department is assessing the situation although the cause is still unknown. More details are to come.
At 7:14 p.m. Campus Saftey alerted students that the situation was resolved. The third floor of Lot K and above will be closed until further notice.
Freshman journalism major Josh Craig was walking through the parking structure when he said he saw the car owner attempting to put out flames in the back of his van. The owner, along with a few onlookers, fled the structure as the flames began to engulf the van. As soon as Craig reached the bottom floor of the structure, he heard an explosion coming from the scene.
No students were harmed, according to Chief John Ojeiskhoba of Campus Safety. Ojeiskhoba was on a run near campus when the explosions happened and jogged to the scene.
"[Campus Safety's] primary role is to make sure students are safe," Ojeiskhoba said. "So they cordoned off the area, got students away, assessed what they could view or smell; they relay to the campus safety 911 operator, and that was passed on to the external 911 system as well."