GSPD's "Meet the Neighbors" event brings students together through cuisine
The weekend event represented global students, their culture and ushered community.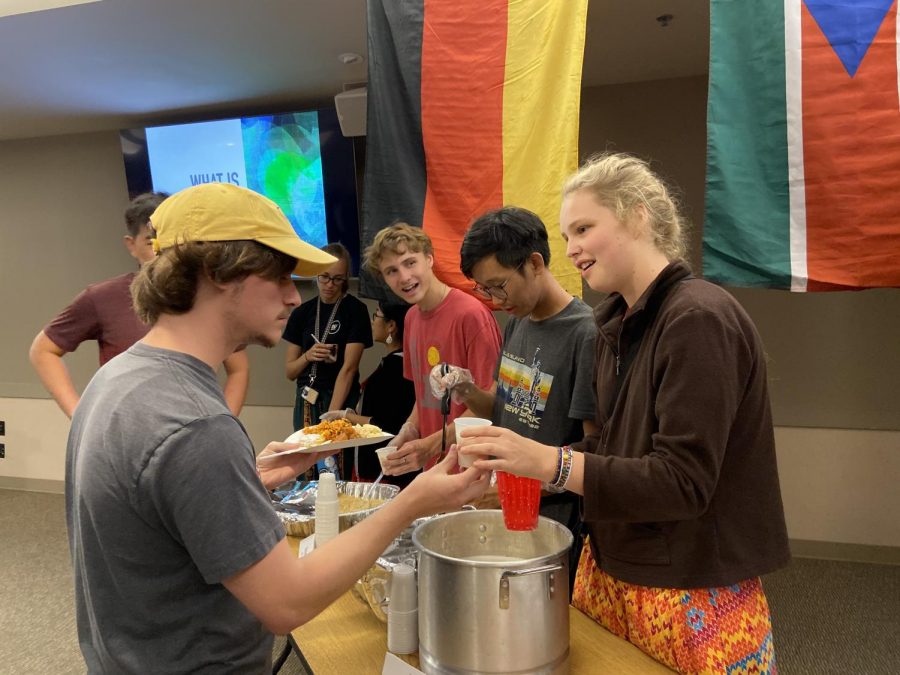 Flags, both familiar and international, lined the Cafeteria Banquet Room. Students from every background gathered together in a place filled with a heavenly aroma—an aroma that carried the history of nations and cultures. Students were given the opportunity to bond over diverse cuisine at "Meet the Neighbors," hosted by Global Student Programs and Development.
COMMUNITY THROUGH CUISINE
The food that was served was entirely international, representing countries such as Russia, Denmark, Myanmar, India, Libya, Panama and Madagascar. Junior human biology major Anastasiya Li, a global student from Thailand, said this event brought awareness to cultures that not everyone knows about.
"People, of course, are drawn in with food, but then they get to experience different cultures and different tastes that they might not regularly eat," Li said. "That brings awareness to all the different cultures out there in the world that they might not really know about."
Global students and GSPD members were not the only attendees at the event. Students who are not global also attended, like freshman sociology major Eden Macaraeg. For Macaraeg, this event brought to light the significance of food from different cultures. 
"It's a great way to bring Biolans together, we love great food," Macaraeg said.
LEARNING THROUGH DOING
GSPD team members were assigned dishes from different countries to prepare and serve at the event. Not only did this event expose students to different cultures through a variety of food, but it also made GSPD members go beyond their comfort zone by cooking food that was new to them.
For many students, such as senior physics major Josh Thamrin from Indonesia, this event was a great way to bond with different community groups and to partake in fellowship that extended beyond their norm. 
"I think it's just a great place to bond, especially over food," Thamrin said. "[It's] not just to know more people, but know people from all over the world."
About the Writer
Lacey Patrick, Deputy News Editor
Lacey Patrick is a journalism major who's aiming to graduate by 2021, but she's just rolling with it at this point. She's passionate about the people and world around her, but most importantly is enamored with her car, Ozzy.



I come from many different places: Auckland, Woodlake, Visalia—you name it. I grew up barefoot and running through mountains, like a little banshee child. Never would I have dreamed that I would be living in a city. To remind me of home, I keep a crow's foot...