Keren Godwin and Gretchen Ferguson vs. Timothy Houlihan and Ryan Arnaiz
The 2020 Student Government Association candidates share their thoughts through a Q&A.
(This story was originally published in print on Feb. 6, 2020).
Keren Godwin/Gretchen Ferguson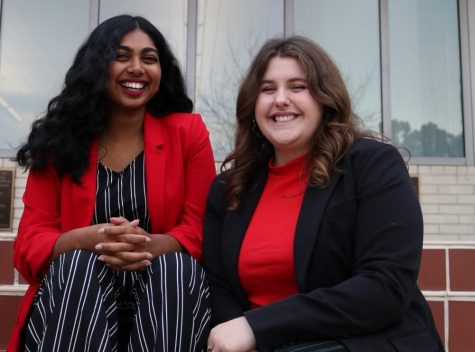 WHY DO YOU FEEL EQUIPPED TO LEAD SGA? 
Sophomore communication studies major Keren Godwin, presidential candidate: I've been in SGA this year as Horton [Hall] senator and I've really loved working with SGA, but I think I've been able to work with a lot of different administrative partnerships that are key on this campus… Horton is one of the bigger dorms on campus, so being able to interact with a lot of people has given me the experience to really hone questions that I'm asking to get at what students really want.
Sophomore public relations major Gretchen Ferguson, vice presidential candidate: I am actually the current Hope [Hall] senator, which I found to be really fulfilling and has really given me a good ground to feel equipped and to run for this position… Having worked with administrative partnerships with Facilities [Management] this year and also the Student Media Board and seeing very integral parts of campus.
WHAT DO YOU THINK SGA'S ROLE IS? HOW WOULD YOU DEFINE IT?
KG: SGA's role is really to be able to give students whose stories might not normally be heard a chance to get out there. So, our entire community can come together and kind of support people in their stories.
GF: I think SGA is just an opportunity to serve. That is what Christ has called us to do and it's just so amazing that it's an organization on campus that faculty respects and students can feel like their friend is there to listen to them, to be a shoulder to cry on but also be a shoulder to voice their complaints.
WHAT ARE SOME CHANGES YOU WANT TO BRING TO SGA?
KG: I really want people to understand what SGA's role is… the reason why we're doing this is because we genuinely love and care for them. I truly want SGA to be a group that people feel comfortable reaching out to.
WHAT DEPARTMENTS DO YOU FEEL LIKE YOU NEED TO EXPAND OR STRENGTHEN WITHIN SGA? 
KG: I think the diversity and inclusion of SGA is highly important because it's not trying to exclude anyone at all, it's trying to make sure that all students feel equally represented. I also would love to be able to strengthen relations with people that don't live directly on campus, like commuters and people who live in the Block and Bluff.
Timothy Houlihan/Ryan Arnaiz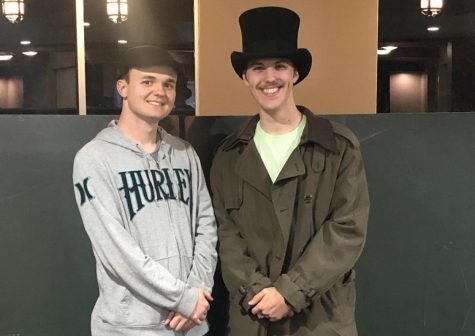 WHY DO YOU FEEL EQUIPPED TO LEAD SGA? 
Junior history major Timothy Houlihan, presidential candidate: I was the treasurer for my high school student government association for my junior and senior years… In general, I think we would be well equipped to not only continue the direction that student government has been going in its good ways but also to fix some of the financial instability that's been undergoing.
Junior business major Ryan Arnaiz, vice presidential candidate: I think I'd fit for vice president because I am a business major, and a vice president job is more organizing teams instead of talking. I also was the student president of the advant club for two years, and I had basically the same job.
WHAT DO YOU THINK SGA'S ROLE IS? HOW WOULD YOU DEFINE IT?
TH: It seems more of a servant position where we would be taking information from the students and then process it for administration.
RA: We see ourselves as the middle between students and administration getting the ideas from students to administration so they can be viewed from there, and getting what administration wants from students.
WHAT ARE SOME CHANGES YOU WANT TO BRING TO SGA?
TH: Obviously one of the things we would be looking into in the future hopefully is not only financial transparency, but also doing things better. A policy proposal that is dear to my heart, and probably student government is already working on to some extent, is extending open hours.
WHAT DEPARTMENTS DO YOU FEEL LIKE YOU NEED TO EXPAND OR STRENGTHEN WITHIN SGA? 
TH: I'm the one who comes up with ideas as we get information in from the other departments, and we'll be able to give specific recommendations there. But I would hate to commit myself to cutting a department that doesn't need to be cut or expanding one that doesn't need to be expanded.
About the Contributor
Lacey Patrick, Editor-in-Chief
Lacey Patrick is a junior journalism major who collects feathers, wears too much jewelry, and works too many jobs.



A year ago I had never written a news article. Now, I'm editor-in-chief of an entire student news publication. I had originally transferred to Biola as a Psychology major, but just three days before classes started, I had a revelation after watching the movie "Spotlight" at a Chimes training. I always felt dissatisfied with a career that did not help people. But journalism...