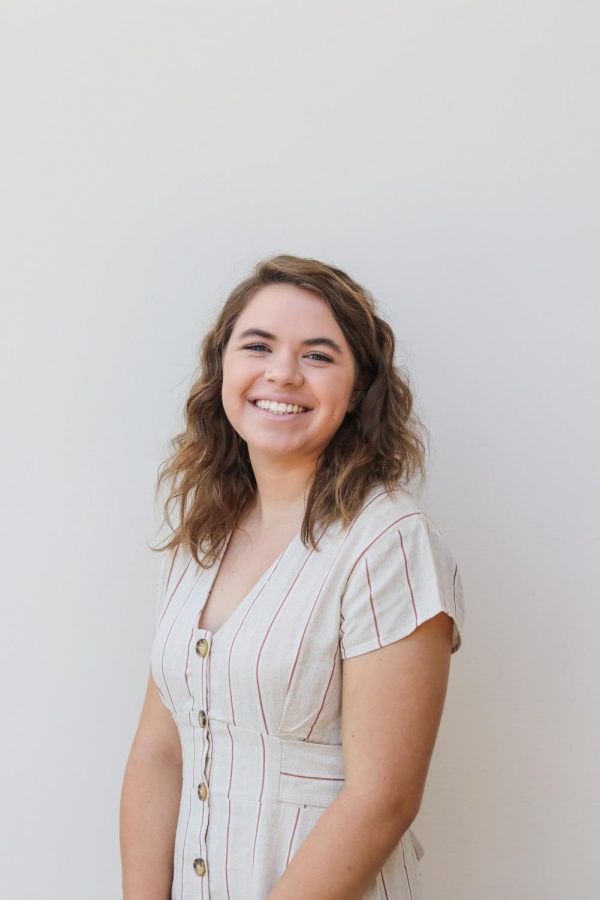 Amanda Frese is a sophomore journalism major who enjoys listening to Bob Dylan, riding bikes and writing.
[email protected]
At my home in Tuolumne, California there is a driveway etched with bike skid marks, "A House on Mango Street" by Sandra Cisneros sitting on the patio table, and the sound of "Mr. Tambourine Man" by Bob Dylan playing from radio speakers. When I moved to Biola University in 2018, I continued listening to all of Bob Dylan's albums, although I expanded my music taste a little. Unfortunately, I did not have room in my car to bring my bike to college, but you can find me skateboarding when I am not reading books or writing for the Chimes. 
I decided to study journalism in my senior year of high school because I knew that I loved writing and talking to people. In the spring semester of my freshman year, I started writing for the news section of the Chimes and fell in love with the process of putting together an article and seeing my own name in the byline. 
This year, I will be the Opinions Editor and I am so excited to serve the Biola community by helping to give people the opportunity to share their opinions and discuss important topics with others. I look forward to seeing how God uses the Chimes to further His Kingdom this year!
Amanda Frese, Opinions Editor (Fall 2019)
Feb 21, 2020

Anonymous social media fosters non-confrontation

(Story)

Feb 07, 2020

Start neglecting stress and stop neglecting sleep

(Story)

Jan 24, 2020

Australian government response shows passivity in response to climate change

(Story)

Dec 09, 2019

Servant leadership surpasses corrupt politics

(Story)

Nov 20, 2019

Boycotting corporations demands more than choosing a sandwich

(Story)

Nov 15, 2019

The enneagram test should not define personality

(Story)

Oct 28, 2019

Self-promotional advertisements deceive voters

(Story)

Oct 18, 2019

Affirmative action encourages diversity in colleges

(Story)

Oct 09, 2019

Let's be honest about cheating

(Story)

Oct 07, 2019

Impeaching Trump protects from future abuses of power

(Story)

Sep 23, 2019

Student athletes should be paid

(Story)

Sep 20, 2019

Instant gratification causes vape addiction

(Story)

Sep 11, 2019

Censorship at Liberty University deprives students of a well-rounded education

(Story)

Sep 09, 2019

America must consider involvement in Hong Kong

(Story)

Sep 04, 2019

Gun violence is the result of a violent culture

(Story)

May 04, 2019

Social media instigates chaos

(Story)

May 02, 2019

Health Center provides resources for students in case of measles infection

(Story)

Apr 26, 2019

Earth Day needs to be every day

(Story)

Apr 25, 2019

SGA Rundown: Senators receive CPR training and consider proposals

(Story)

Apr 24, 2019

Music majors show out at popular music concert

(Story)

Apr 16, 2019

Student writers celebrate spirit and story

(Story)

Apr 12, 2019

SGA Rundown: NCAA, change in senate positions and success for transfer students featured

(Story)

Apr 11, 2019

Students provide aid to victims of the floods in Indonesia

(Story)

Apr 05, 2019

The Force awakens with Men of Honor for Mock Rock 2019

(Story)

Mar 29, 2019

Speech and debate coach wins national award

(Story)

Mar 11, 2019

Biola hosts homeschool debate tournament after decade-long hiatus

(Story)

Feb 28, 2019

SGA Rundown: Senators revisit SGA positions and athletic boosters

(Story)

Feb 20, 2019

Spanish professor launches new language program

(Story)

Feb 13, 2019

Missions Conference announces 2019 theme

(Story)

Feb 07, 2019

SGA Rundown: Proposals given for film projects and new student planners

(Story)

Jan 31, 2019

SGA Rundown: Senators hear from The Dwelling and fund scholarships for students

(Story)

Jan 24, 2019

SGA Rundown: SCORR, scholarships and sharing come to the Senate

(Story)

Oct 05, 2018

Campus Safety brings earthquake simulator to Biola

(Story)