"Dear Evan Hansen" offers an important message on mental health
Despite an overgrown male lead, the musical turned movie is worth watching.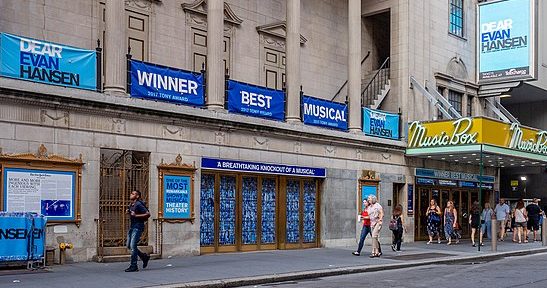 On Sept. 24, Tony Award-winning Broadway musical "Dear Evan Hansen" made its debut across theaters. While movie musicals grew in popularity after the successful release of "La La Land" and "The Greatest Showman," the adaptation of Evan Hansen was not met with enthusiasm. 
Despite an onslaught of negative reviews and concerns over inappropriate casting, the film addressed depression and loneliness intentionally—running head first into confusing feelings and difficult conversations. 
TRANSITION TO THE SCREEN
The film commences with the song "Waving Through a Window," as Evan Hansen watches his classmates walk to school, emphasizing his loneliness. The high school senior struggles with the intricate social hierarchy of high school while striving to improve his mental health. 
However, the film escalates when Connor Murphy, a troubled classmate, steals a note that Evan Hansen wrote to himself. Unfortunately, Murphy takes his own life, but Evan Hansen's note was found in his pocket—misleading the family into believing that Evan Hansen was his best friend. 
UNLIKABLE PROTAGONIST
The main qualm of the film lies with the protagonist and the actor who plays him. Platt revised his Broadway character, but without the blinding stage lights, his age shows. Platt looks washed out on the screen as the cake of his makeup is easily visible among his smooth-faced co-stars. 
The character himself is not without flaws either—but that is what makes him personable. A review from The New York Times describes the adaptation as emotionally manipulative by making the audience sympathize with a pathological liar. While this is true, the message of the film makes it necessary for the protagonist to be off-brand from the typical main character. 
Hansen is a liar and a manipulator—but he also has anxiety, depression and suicidal thoughts. He is a complex character who creates a tangled web of lies that ends up hurting a good family. As the aphorism goes, "hurt people, hurt people."
After his lies have been revealed, he does not seek forgiveness, instead he seeks to finally be himself without carrying the weight of society's expectations. Though this is not a predictable end to the plot, the realistic resolution to the story allows viewers to better relate to Evan Hansen. 
NECESSARY MESSAGE 
Creating a movie centered on mental health and suicide is no easy feat—it must be approached cautiously. "Dear Evan Hansen" tackles the intricate layers of mental health beautifully through excellent characterization and an engrossing plotline 
Though a theatrical production, "Dear Evan Hansen" manages to maintain the gravity of the plot line. Murphy's suicide is not explained because the film is meant to show others that the topic of suicide is exploited on social media. 
For instance, Murphy was an outcast with no friends. He was bullied by a group of high school athletes that would push him around and call him a "school shooter." After his suicide, the same athletes stood around Murphy's locker to pose for a selfie—seemingly to honor his life. That kind of double-handed treatment exposes those that overlook or even antagonize people with mental illnesses only to later exploit their pain for personal profit.
The message is a clear call to be better to those that suffer from mental illness. In the song, "The Anonymous Ones," Amandla Stenberg's character Alana Beck sings about those who, "Never let you see the ache they carry/All of those anonymous ones/Who never name that quiet pain they bury."
This song encompasses the idea that all people carry struggles and pain that may not be evident on the surface. However, people have a responsibility for each other and themselves to acknowledge this pain and grow through it—even if it is uncomfortable.