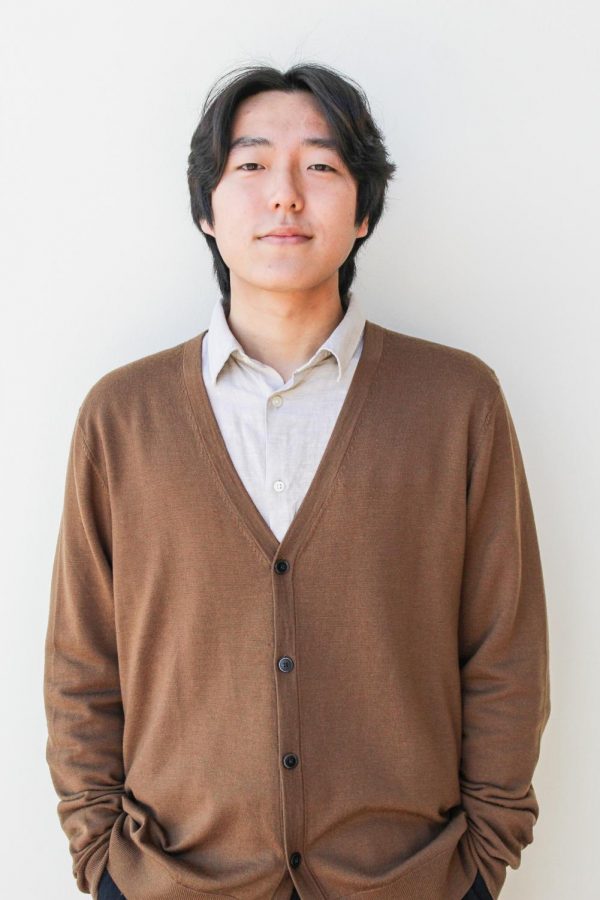 Micah Kim is a sophomore journalism major who would probably be asking for Spotify playlists from his friends. Other than that, he would be blasting his ears with Radiohead.
[email protected]
Born in Pennsylvania, having South Korean blood in my pulsing veins and hacking my way through family missions in China, life had been full of complex colors that I could not name. Finding ways to express my way out of the constant stress I was in was always full of music until I found writing as my new set of crayons. The Chimes has been the best opportunity for me to explore writing at the fullest. And as I've been given the chance to tells stories for the Biola community, I put effort into integrating God's purpose and mission within my writing.
Other than writing, listening to music is probably almost a skill I mastered with my ears. Like tasting different types of food, I constantly put effort into tasting distinct music whether it tastes bland or salty. Yet, my all time favorite band is and will be Radiohead just because of Thom Yorke's sleepy voice. If you guys don't understand Radiohead, too bad. You're missing out.
Micah Kim, News Editor
Sep 02, 2020

Biola around the world

(Story)

Mar 12, 2020

Biola takes precautions against the coronavirus

(Story)

Mar 10, 2020

Crime Log — Feb. 22 – March 10

(Story)

Feb 27, 2020

BREAKING: Senate votes unanimously to keep diversity coordinator position

(Story)

Feb 13, 2020

Hot water pipe burst causes water outage

(Story)

Feb 10, 2020

Meet your 2020-2021 senatorial candidates

(Story)

Feb 08, 2020

Students seek to revive Biola Film Festival

(Story)

Feb 08, 2020

Coronavirus? Yes, it's serious.

(Story)

Feb 07, 2020

Q&A: SMU presidential candidate Bobbi Thompson

(Story)

Feb 05, 2020

Crime Log — Jan. 29 – Feb. 2

(Story)

Jan 29, 2020

The new coronavirus appeared in Southern California, is Biola at risk?

(Story)

Jan 21, 2020

Crime Log ― Jan. 14 – Jan. 15

(Story)

Jan 18, 2020

Fuller Theological Seminary sued for expelling LGBTQ students

(Story)

Jan 14, 2020

Crime Log — Jan. 6 – Jan. 13

(Story)

Dec 13, 2019

The controversy behind Biola's new consulting firm, explained

(Story)

Dec 05, 2019

Here's why Deck the Haven isn't happening this year

(Story)

Dec 04, 2019

Giving Tuesday raises over $200,000

(Story)

Nov 14, 2019

SCORR conference almost didn't get funded, here's why.

(Story)

Nov 06, 2019

Biola's Health Center updates a new vaccination requirement

(Story)

Oct 29, 2019

Crime Log ― Oct. 24 – Oct. 29

(Story)

Oct 23, 2019

Crime Log ― Oct. 16 – Oct. 23

(Story)

Oct 18, 2019

"Parasite" invites audiences into laughter and horror

(Story)

Oct 17, 2019

Biola hosts the 2019 Southern California Great Shakeout

(Story)

Oct 15, 2019

Crime Log ― Oct. 9 — Oct. 15

(Story)

Oct 10, 2019

Torrey Conference day two delves deeper into "Incarnate" theme

(Story)

Oct 08, 2019

Crime Log ― Oct. 2 – Oct. 8

(Story)

Oct 01, 2019

Crime Log ― Sept. 25 – Oct. 1

(Story)

Sep 24, 2019

Crime Log ― Sept. 17 – Sept. 24

(Story)

Sep 21, 2019

Speech and debate team settles on closure

(Story)

Sep 17, 2019

Crime Log ― Sept. 11 – Sept. 17

(Story)

Sep 10, 2019

Crime Log ― Sept. 3 – Sept. 10

(Story)

Apr 30, 2019

Crime Log ― April 23 – April 30

(Story)

Apr 17, 2019

Crime Log ― April 9 – April 16

(Story)

Apr 11, 2019

Art league hosts free painting with Bob Ross

(Story)

Apr 05, 2019

The Force awakens with Men of Honor for Mock Rock 2019

(Story)

Apr 04, 2019

Meet the new SGA and SMU executive boards

(Story)

Mar 26, 2019

Almost 400 faculty and staff parking spaces repainted into open spots

(Story)

Mar 20, 2019

Missions Conference speakers reassure ambassadors of their identity

(Story)

Mar 13, 2019

Cause behind spring break gas leak explained

(Story)

Feb 27, 2019

Hope Hall welcomes 'Mr. Icy'

(Story)

Feb 19, 2019

Hope Hall floor tours training community for former gang members

(Story)

Feb 13, 2019

Carly Micheal wins SMU presidency

(Story)

Feb 11, 2019

SGA chapel encourages voting

(Story)

Jan 31, 2019

'You are still wanted'

(Story)

Jan 22, 2019

The URB-E scoots on campus

(Story)

Jan 18, 2019

Chapel speaker encourages Biola to learn from MLK's dream

(Story)

Dec 14, 2018

Caf's 6th Street Grill remodeling offers more options to the Biola community

(Story)

Nov 29, 2018

Soaring Stories: 'I am God's Miracle'

(Story)

Nov 16, 2018

ParaBrands aims to impact the world through fashion

(Story)

Nov 01, 2018

The Candyland tradition enters its second decade, serving over 1,200

(Story)

Oct 26, 2018

Punk 'n' Pie 2018: let's taco bout it

(Story)

Oct 12, 2018

Day two of 'Kingdom' proves just as full as the first

(Story)