Hot water pipe burst causes water outage
Facilities Management estimated the repair will take two to three days.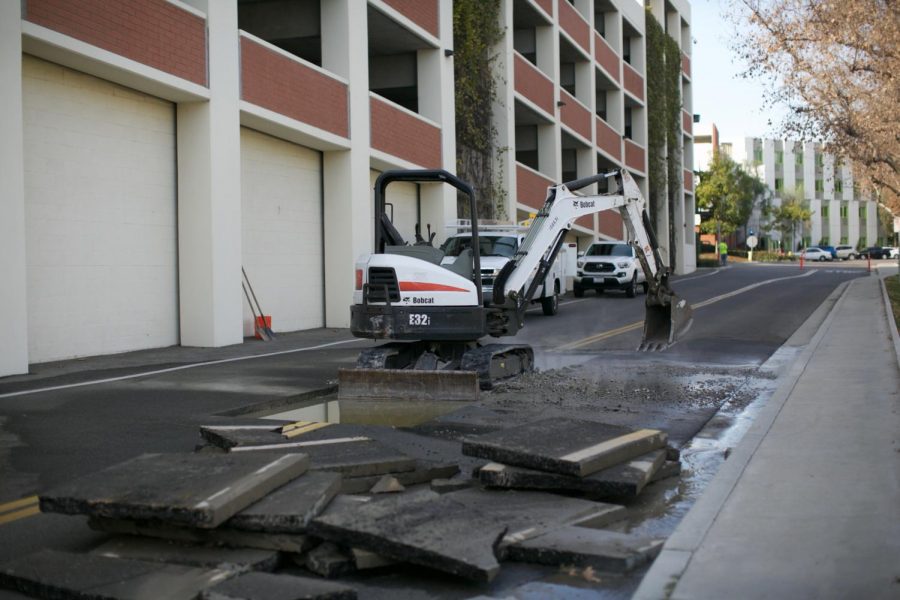 An underground hot water pipe between Lot K and the creek on University Drive burst this morning, causing a water outage in several of the upper campus residence halls and apartments. Director of the Physical Plant Jerrel Haugen estimated the leak will be fixed in two to three days.
Facilities Management discovered the leak around 7 a.m. At 9 a.m., facilities noticed the water bubbling up in the pavement and realized the pipe had burst. Facilities has isolated the leak and a contractor is fixing the water outage.
Due to the isolation, students in Thompson, Alpha, Sigma and Blackstone Halls and the Li and Welch apartments are recommended to use showers in Horton Hall or Chase Gymnasium, according to an email sent by Housing Service Specialist Priscilla Schubert. 
While the leak is being fixed, facilities will detour traffic through Horton Way from the intersection of Lot K and Sigma Hall.
About the Writer
Micah Kim, Managing Editor
Micah Kim is a senior journalism major who loves Radiohead, produces music, and admires people that can do a perfect backflip.



Born in Pennsylvania, having South Korean blood in my pulsing veins and hacking my way through family missions in China, life had been full of complex colors that I could not name. Finding ways to express my way out of the constant stress I was in was always full of music until I found writing as my new set of crayons. Fortunately, I had one of the most amazing opportunities...