Art league hosts free painting with Bob Ross
The club held a painting night at the art studio to bring the community together.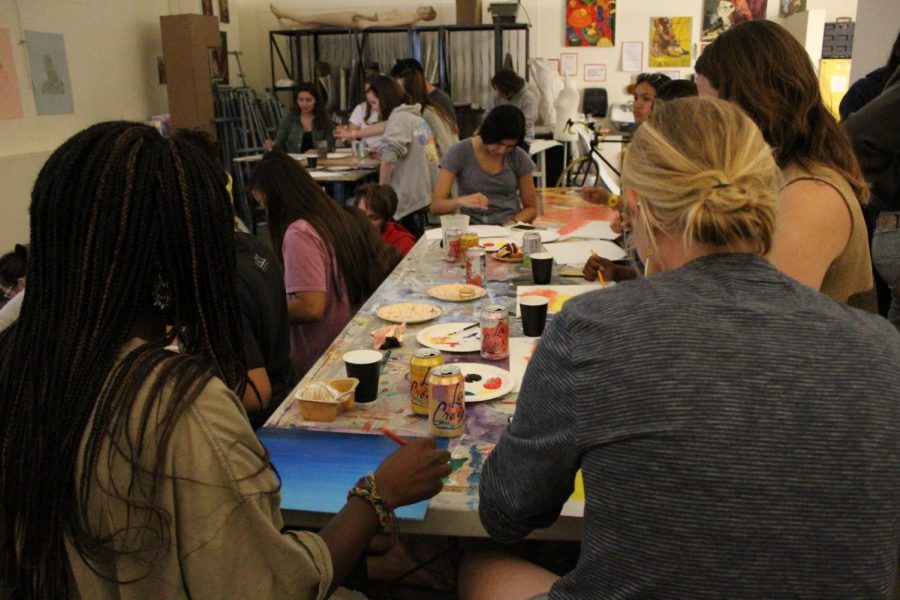 The art league club invited students to paint with a funky, afro-wearing painter on screen, Bob Ross on April 10. The event took place in art studio Room 91 where the club provided free paint, brushes and paper, paid for with a budget of around $200 from Student Programming and Activities.
BOB ROSS IN ACTION
Once the event started with an episode of "The Joy of Painting" on screen, each student grabbed their brushes and vibrant palettes and began adding color to their blank sheets of paper. Ross, a famous painter and television show host from the 1980s, was known for his calming personality that complemented his magnificent painting techniques.
"[He was] painting on television when my parents were kids, so he's kind of like in the culture," said sophomore social sciences major Karissa Gaffey, who attended the event. "I don't think I've ever watched a full video of his, but I knew that he was famous for his soothing voice."
While students painted with the goal of creating a beautiful landscape like Ross', many were busy chatting and laughing. The art league team paused the video every three minutes so that students could take their time following Ross' painting tutorial. The event ended with a Bob Ross costume contest where three winning students were each awarded a $10 Starbucks card.
ART LEAGUE REVIVES
According to president of the art league and junior studio arts major Ashley Logue, the league was a 20-year-old club on campus that had been falling short until they attempted to bring it back last semester. She and her team hosted a movie night and were pleased with the results, which led Logue's professor to assign her as the president of the art league.
Logue conveyed her passion and purpose for events like the Bob Ross painting night.
"I love seeing all the different majors. That's why we're really pushing people that don't feel comfortable doing art," Logue said. "I think it's so encouraging that it doesn't matter what [art] looks like, it's just Your expression… I think God puts that on our hearts because he created everything and now he gives a little bit of that to us."
About the Writer
Micah Kim, News Editor
Micah Kim is a sophomore journalism major who would probably be asking for Spotify playlists from his friends. Other than that, he would be blasting his ears with Radiohead.

[email protected]



Born in Pennsylvania, having South Korean blood in my pulsing veins and hacking my way through family missions in China, life had been full of complex colors that I could not name. Finding ways to express my way out of the constant stress I was in was always full of music until I found writing...