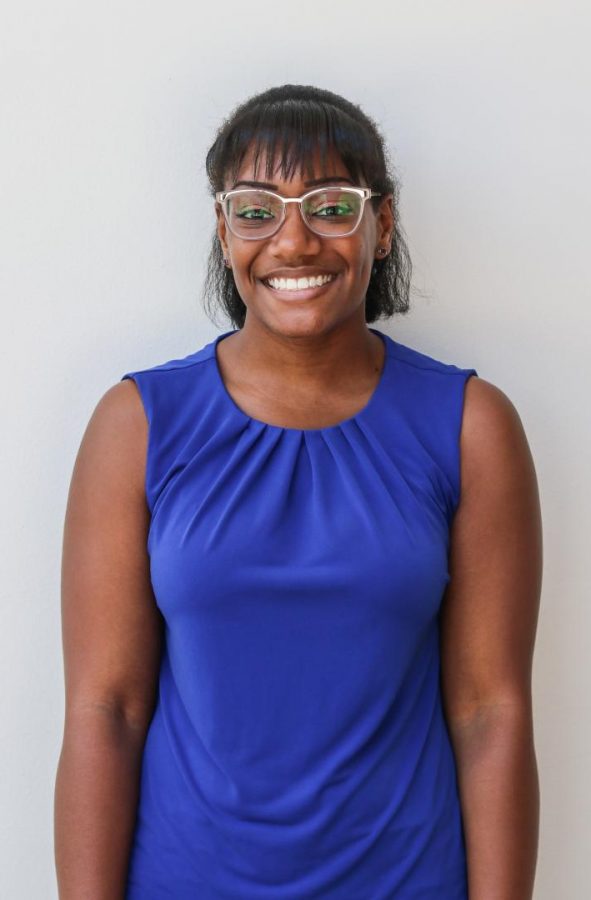 Sasha Terry is a junior journalism major who is known for her positivity and passion. She enjoys writing, playing sports, watching movies, traveling, shopping and spending time with friends and family.
[email protected]
After traveling from Auburn, Washington which is about 40 minutes south of Seattle, to Biola University, I declared to major in journalism with an emphasis in broadcast. I came to Biola University with a strong passion for being involved in activities on campus that would demonstrate my artistic and writing abilities.
The Chimes caught my eye the first semester of my freshman year and I decided to work with the staff as a freelance sports writer. I enjoyed attending the games, interviewing the coaches and players and writing game recaps. The next semester, I applied for the sports staff writer position and was accepted, which strengthened my writing drastically. 
Entering my second year as a Web Editor, I am continuing to work towards my goal of being a broadcast journalist by reporting stories and innovating the Chimes website and social media pages. I will also continue to write for the sports section to strengthen my writing even more. I'm so glad to be apart of the staff and I'm excited for what's to come next.
Sasha Terry, Web Editor
Feb 04, 2020

Women's golf misses out on PLNU Invitational

(Story)

Nov 14, 2019

Men's soccer wins overtime thriller against PLNU

(Story)

Nov 09, 2019

Men's cross country earns sixth place finish

(Story)

Oct 28, 2019

Men's soccer sweeps in overtime against Hawaii Pacific

(Story)

Oct 27, 2019

Men's soccer disappoints at home against Hawaii Hilo

(Story)

Oct 18, 2019

Men's soccer faces second tie in PacWest

(Story)

Oct 12, 2019

Men's and women's cross country earn high places

(Story)

Oct 10, 2019

Men's soccer tie in third double overtime

(Story)

Oct 04, 2019

Swim and dive jumps into first meet

(Story)

Sep 22, 2019

Women's soccer draws after double overtime

(Story)

Sep 15, 2019

Men's soccer drop second road game

(Story)

Sep 11, 2019

Men's soccer shuts out CSU San Marcos

(Story)

Sep 07, 2019

Women's soccer drops first road matchup

(Story)

Sep 07, 2019

Men's soccer lose first home matchup

(Story)

Sep 05, 2019

Men's soccer loses season opener

(Story)

Mar 16, 2019

Men's tennis falls at Point Loma

(Story)

Feb 22, 2019

Women's basketball ends five-game losing streak

(Story)

Feb 14, 2019

Women's basketball drops fourth straight loss

(Story)

Feb 05, 2019

Women's basketball takes tough loss

(Story)

Feb 01, 2019

Women's basketball beats Chaminade

(Story)

Jan 26, 2019

Women's basketball drops conference game

(Story)

Dec 16, 2018

Women's basketball falls against APU

(Story)

Dec 09, 2018

Women's basketball survives overtime thriller

(Story)

Dec 01, 2018

Women's basketball dominates in second conference matchup

(Story)

Nov 29, 2018

Women's basketball opens PacWest conference play with a win

(Story)

Nov 18, 2018

Women's basketball gets season's first victory in blowout fashion

(Story)

Nov 15, 2018

Women's basketball falls short in home opener

(Story)

Nov 03, 2018

Men's soccer kicks off last victory

(Story)

Nov 01, 2018

Men's soccer grabs victory in overtime

(Story)

Oct 29, 2018

Men's soccer gets first draw of the year in conference

(Story)

Oct 20, 2018

Men's cross country end victorious in final invitational of season

(Story)

Oct 20, 2018

"The Hate U Give" Review: this film represents the reality of complex social issues

(Story)

Oct 20, 2018

Men's soccer loses tough battle

(Story)

Oct 17, 2018

Men's soccer takes blowout after offense explodes for four goals

(Story)

Oct 13, 2018

Gabe Plendcio earns new record time in men's 8k race for the Eagles

(Story)

Oct 11, 2018

Men's soccer grabs second straight win

(Story)

Oct 06, 2018

Men's soccer earns victory in double overtime thriller

(Story)

Sep 29, 2018

Gabe Plendcio wins men's 8k, men's and women's cross country both place in top five

(Story)

Sep 22, 2018

Men's golf grabs first victory in second outing

(Story)

Sep 21, 2018

Men's and women's cross country each grab victories

(Story)

Sep 20, 2018

Men's soccer loses in blowout

(Story)

Sep 08, 2018

Men's cross country grabs first win of season

(Story)

Apr 22, 2018

Men's tennis ends season on a high note

(Story)

Apr 22, 2018

Softball splits rough doubleheader

(Story)

Apr 21, 2018

Softball disappoints with two losses

(Story)

Apr 21, 2018

Men's tennis suffers elimination from pacwest tournament

(Story)

Apr 15, 2018

Softball takes clean sweep over NDNU

(Story)

Apr 14, 2018

Men's and women's tennis encounter final victory

(Story)

Apr 10, 2018

Softball struggles for a win

(Story)

Apr 10, 2018

Men's and women's tennis face another loss

(Story)

Apr 05, 2018

Men's and women's tennis fall short in close matches

(Story)

Apr 05, 2018

Men's tennis lose against GSAC powerhouse

(Story)

Mar 28, 2018

Athlete of the week: Baseball's Ryan Gallegos

(Story)

Mar 26, 2018

Men's tennis hit with tough blowout at APU

(Story)

Mar 17, 2018

Men's and women's tennis lose close battle

(Story)

Mar 16, 2018

Men's and women's tennis suffer blowouts

(Story)

Mar 08, 2018

Men's and women's tennis suffer disappointing loss

(Story)

Feb 20, 2018

Men's basketball suffers another conference loss

(Story)

Feb 10, 2018

Women's basketball blown out by Cal Baptist

(Story)

Feb 06, 2018

Tennis suffer losses to begin season

(Story)

Feb 04, 2018

Women's basketball falls late to APU, snapping win streak

(Story)

Feb 04, 2018

Renewed rivalries re-ignite school spirit

(Story)

Jan 31, 2018

Eagles hold lead in rivalry competition by 20 points

(Story)

Jan 30, 2018

Women's basketball rallies for successful win

(Story)

Jan 28, 2018

Women's basketball gets another blowout

(Story)

Jan 28, 2018

Women's basketball soars with victory

(Story)

Jan 22, 2018

Swim and dive gain strong individual finishes

(Story)

Jan 20, 2018

Women's basketball loses in final minutes

(Story)

Jan 20, 2018

Women's basketball loses in final minutes

(Story)

Jan 18, 2018

Men's and women's swim and dive take top finishes

(Story)

Jan 18, 2018

Women's basketball wins a nail-biter

(Story)

Jan 17, 2018

Women's basketball douses Flames

(Story)

Dec 04, 2017

Women's basketball suffers another loss

(Story)

Nov 27, 2017

Women's basketball faces rough patch

(Story)

Nov 19, 2017

Women's basketball captures first victory

(Story)

Nov 14, 2017

Men's cross country wins NCCAA championship

(Story)

Nov 07, 2017

Men's soccer wins season's final game

(Story)

Nov 01, 2017

Women's golf finishes fall course strong

(Story)

Oct 25, 2017

Women's golf dominates first NCCAA championship

(Story)

Oct 16, 2017

Men's soccer suffers disappointing loss

(Story)

Oct 08, 2017

Men's and women's each placed third

(Story)

Oct 02, 2017

Cross country improves season records

(Story)

Sep 25, 2017

Men's soccer brings home first DII win

(Story)