Women's soccer drops first road matchup
The Eagles fail to score in their second nonconference game.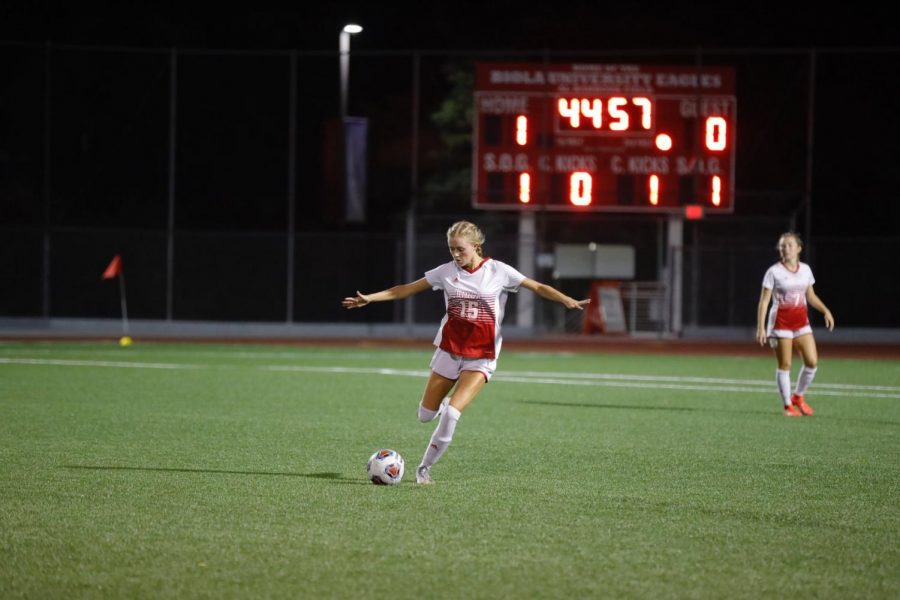 Women's soccer lost their second nonconference game to the University of California, San Diego Tritons on Saturday. The Eagles struggled to score through the Tritons' tight defense and were defeated with a final score of 2-0. 
In the first half, the Tritons took off quickly, scoring the first goal within the first three minutes of the game. After the goal, two Eagles worked to put a point on the scoreboard. Sophomore midfielder Jessica Penner and senior defender Colie Martin made two shot attempts on goal, forcing the Tritons' goalkeeper to make two saves. The Tritons held a tight defense, limiting the Eagles to four shot attempts on goal in the second half alone. 
The Eagles opened the second half of the game by attempting to make three shots in the goal within the first 10 minutes. Senior forward Annmarie Alvarez and freshman forward Mason Stansberry attempted two shots that were saved by Tritons' goalkeeper. Senior forward Sarah Yang also attempted a shot that was blocked. The Tritons then shot their second and final goal of the game, bringing the final score to 2-0. 
Biola's goalkeepers calmed the Tritions' offensive roar of 18 shot attempts as junior Briana Ruelas picked up three saves and senior Christina Rodriguez collected five saves overall.
The loss brings the Eagles to 0-2 in nonconference. The Eagles will look for their first win on the road in Washington against Seattle Pacific University on Thursday at 4 p.m.
About the Writer
Sasha Terry, Copy Editor
Sasha Terry is a senior journalism major who is known for her positivity and passion. She enjoys writing, playing sports, watching movies, traveling, shopping and spending time with friends and family.



After traveling from Auburn, Washington which is about 40 minutes south of Seattle, to Biola University, I declared to major in journalism with an emphasis in broadcast. I came to Biola University with a strong passion for being involved in activities on campus that would demonstrate my artistic...