Cross country improves season records
Women's 5k includes two Eagles in the top 10 at the Master's University Mustang challenge on Sept. 30.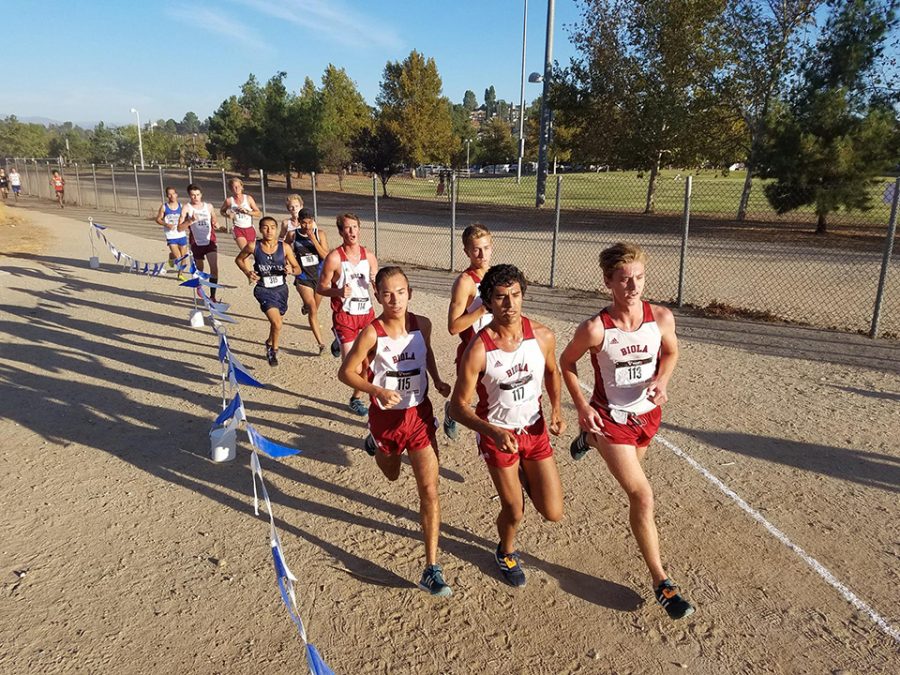 Men's and women's cross country teams improved their season bests in their second NCAA Division II invitational. The Eagles competed against more than 100 runners from several schools in the Master's University Mustang challenge in Santa Clarita, Calif. on Sept. 30.
The women's 5k race proved competitive. Senior Angel Valdez from California State University Bakersfield took first in the women's 5k race and finished in 17:34.8. Sophomore Shalet Mitei from El Paso Community College followed with a 17:45.6 finish.
Overall in the race, two eagles placed in the top 10. Senior Stephanie Croy led the way for the Eagles and placed third with a time of 17:48.2. Croy improved her time by one minute from her season record. Junior Hannah Hunsaker also dropped a couple seconds from her previous season record, finishing fifth and timing 17:55.6. Freshman MacKenna Mason placed 22nd and finished with a 18:33.5 time. Not too far behind Mason, junior Emily Ransom finished in 25th and timed 18:35.9. Ransom dropped just under 20 seconds from her season best time.
The men competed in the 8k race. Sophomore Millen Trujillo from UCLA took first and finished with a time of 25:01.5. Several Eagles placed within the top 100 finishers in the 8k race. The men moved up spots throughout the race but did not receive any new personal records this time around. Freshman Giovanni Orellana placed 51st overall and ran a 26:26.7 time. Freshman Ryan St. Pierre placed 58th and ran a 26:38.1 time. Not too far behind St. Pierre, freshman Tanner Dutchover finished 60th overall and timed 26:38.7. Sophomore Nic Nelson competed for the first time this season and finished with a time 27:52.8.
The Eagles' next competition is scheduled at University of California San Diego in La Jolla, Calif on Oct. 7.
About the Writer
Sasha Terry, Web Editor
Sasha Terry is a junior journalism major who is known for her positivity and passion. She enjoys writing, playing sports, watching movies, traveling, shopping and spending time with friends and family.

[email protected]



After traveling from Auburn, Washington which is about 40 minutes south of Seattle, to Biola University, I declared to major in journalism with an emphasis in broadcast. I came to Biola University with a strong passion for being involved in activities on campus that would...