Men's tennis ends season on a high note
After moving on to the consolation bracket, the Eagles grabbed one more victory and loss.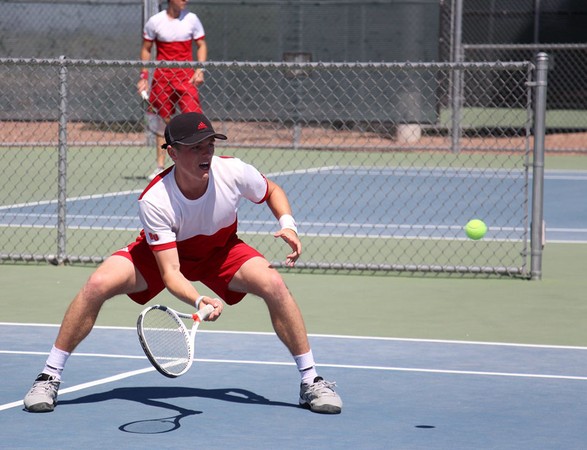 Men's tennis jumped back into the PacWest Championships in Sunrise, Ariz., after being accepted into a consolation bracket following their loss to the University of Hawaii Hilo on April 19. The Eagles took on the Sonoma State University Seawolves on April 20 and won by a final score of 5-3. The Eagles continued to the fifth-place game against the Hawaii Pacific University Sharks on April 21 but lost in a blowout 7-2.
EAGLES START DAY WITH A CLEAN SWEEP
In the doubles matches, the Eagles swept as each duo won their match. The pairing of seniors Lucas Lee and Philip Westwood grabbed a close victory by a score of 8-6. The duo featuring freshman Logan Blair and senior Joe Turnquist won 8-5 and the pairing of freshman Quentin Lau and sophomore Derek James came out on top by a score of 8-4.
The Eagles faced many close singles matches. Lau came out with a victory in a blowout by sets of 6-1 and 6-4, while Lee grabbed the final singles point for the Eagles by winning in a close match by sets of 6-1 and 7-6. James came close to a win after forcing a tiebreak set. He lost the first set 6-3 and won the second 6-4. In the final set, James fell short by a score of 6-2.
EAGLES LOSE IN FIFTH-PLACE MATCH
The sixth-seeded Sharks, took two of three doubles matches from the Eagles. The Eagles doubles squad featuring the pair of Westwood and Lee grabbed their final victory by a score of 8-6. Both players finished their doubles career on a high note by winning their final match with Westwood earning his 47th career doubles win and Lee winning his 44th.
Lau grabbed the only singles win for the Eagles in a close battle by sets of 6-4 and 3-2. Lee came close in a tiebreak match. He lost the first set 6-3 and won the second 6-1, but he fell in the tiebreak 1-0.
The Sharks took on a 2-1 advantage from the doubles matches and came out on top by winning five singles matches, earning them the fifth place finish. Biola finished sixth in the tournament, two spots higher than their eighth seeding.
The loss dropped the Eagles to 7-15 overall in their first NCAA Division llseason.