Women's basketball wins a nail-biter
Eagles come out on top in a back-and-forth contest.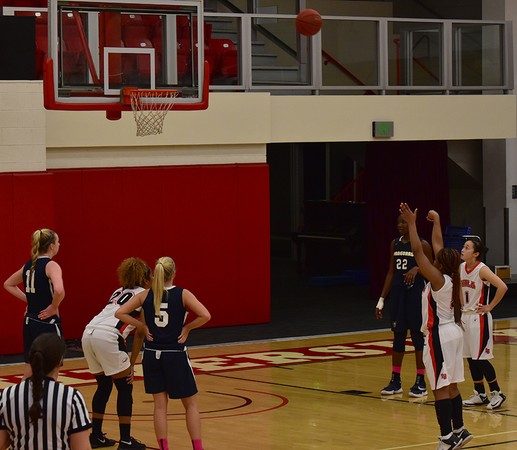 The Eagles played their first home game of 2018 against Concordia University Irvine on Jan. 13. The game consisted of numerous lead changes between Biola and Concordia, with the home team coming out on top 67-66 after Concordia airballed the final shot of the game.
GAME BEGINS WITH NUMEROUS TIES
Both teams struggled on offense after tip-off but traded baskets as they both started to get into a groove. The first quarter ended at a 17-17 tie. Biola led by as many as 10 in the second quarter, but Concordia went on an 11-1 run before halftime to tie the score at 33 heading into intermission.
Concordia rattled off five straight points to start the third quarter, but Biola strengthened its defense and kept pace with CUI, only trailing 46-43 at the end of the period. Biola poised itself for a comeback in the final 10 minutes. During the fourth quarter, the Eagles fought back and took a 60-54 lead thanks to stellar play from sophomore guard Tatum Brimley and senior guard Demoria White. Concordia stormed back, however, and took a 62-60 lead before layups from White and sophomore forward Mikayla Greens gave the Eagles a 64-62 advantage.
From there, the teams traded fouls, with Brimley and White keeping the Eagles in front by making three of four free throws. With the score 67-64, Concordia made a layup and got the ball right back after an offensive foul on White. However, the visitors airballed their final shot and Biola emerged victorious.
After the game, head coach Alan Nakamura described how the team played consistently with teamwork and ambition.
"POISED IN CHARACTER"
"I was really excited with the focus and energy and competitiveness we came out with. We are trying to get consistent at that. We've really grown and poised in character… and that helps us to finish well," Nakamura said. "The fourth quarter comes down to defense and rebounding and if we get stops, that's going to energize our offense."
Brimley scored 16 points and retrieved six rebounds throughout the game. Brimley noted that the team did not give up and each player stayed motivated.
"I put most of my efforts on defense and driving hard so I can find my teammates," Brimley said. "We kept fighting throughout all the adversity and the ties."
EAGLES EARN SECOND WIN STREAK
Overall, the Eagles tied the game six times and had 15 turnovers. White scored a high of 23 points and Greens recorded nine rebounds throughout the game. Junior forward Sara Dougan made five second-chances with offensive rebounds.
The second win streak moved the Eagles to 4-5 in the PacWest conference and 6-8 overall. The Eagles will stay home for their next game against Bethesda University on Jan. 17 at 7 p.m.